Making a Difference for Every County
NACo members have the opportunity to serve on 31 committees, caucuses, task forces and advisory boards to inform national policymaking and help solve problems impacting counties, boroughs and parishes.
NACo COMMITTEES FOCUS ON
Arts and Culture
Disaster Mitigation & Recovery
Economic Development
Elections
Environment, Energy & Land Use
Finance
Health
Housing
Human Services & Education
Infrastructure & Transportation
Intergovernmental Affairs
Justice Reform
Natural Resources Management
Public Lands
Public Safety
Telecommunications & Technology
Rural Affairs
Veteran Services
Who is eligible to join a NACo committee?
Any elected or appointed officials and county staff of NACo member counties, boroughs and parishes.
What's in it for county officials and staff?
Inform national policy and stay up-to-date on issues impacting your county
Access to best practices
Network with leaders facing similar issues
What are the differences in committees?
Policy steering committees: create and drive federal policy and advocacy
Standing committees, caucuses, task forces and advisory boards: drive programs and projects pursued by NACo for counties
What is the commitment?
Level of involvement is based on your schedule. Committees hold:

Monthly conference calls
Meetings at the NACo Annual and Legislative Conferences*
How long is the term?
Members serve one-year terms from July to July of the following year.
How do I apply?
NACo committee applications come in two forms:

Policy Steering Committees
Applications submitted to your state association of counties
Standing Committees, Task Forces, Advisory Boards & Caucuses
Applications submitted to NACo staff
Committee application forms can be found in the back of the brochure. If you have any questions about getting involved, please call us at 888.407.NACo (6226) or email committee@naco.org.
*Attendance to in-person meetings and participation on conference calls are encouraged, but not required.
These committees support NACo's ability to foster innovative programs and services focused on building stronger counties that result in a stronger America. Committee members work together to ensure NACo's initiatives align with the needs of county, parish and borough governments.
How to Join
County officials and staff applying as a member to these committees must submit the orange application to NACo at committee@naco.org. Applications submitted during a committee term will be accepted, but applicants will need to reapply for the following year leading up to July.
Members wishing to serve as the chair or vice chair of a committee must apply prior to the NACo Annual conference each year at www.naco.org/presidential_appointments.
Members are notified when committee applications open via email and articles in County News in early spring.
Arts and Culture Commission
Demonstrates how the arts can be used to promote economic development and provide solutions to many of the challenges they face
RESILIENT COUNTIES ADVISORY BOARD
Advises NACo on the development and implementation of programming that strengthens counties' ability to mitigate trying conditions, including social and economic stresses, sustainability challenges and disaster management
HEALTHY COUNTIES ADVISORY BOARD
Assists NACo in identifying the priorities and activities of the Healthy Counties Initiative and provides input and expertise on program execution
VETERANS AND MILITARY SERVICES COMMITTEE
Engages NACo and its members to develop and highlight best practices for innovative programs, services and benefits for our nation's military, veterans and their families
MEMBERSHIP STANDING COMMITTEE
Advises and supports NACo's membership recruitment and retention efforts while championing county engagement in NACo
IT STANDING COMMITTEE
Advises NACo on information technology issues and provides oversight on information technology projects
PROGRAMS AND SERVICES COMMITTEE
Advises the NACo officers and the board of directors regarding the development and evaluation of NACo programs and services for county governments
LARGE URBAN COUNTY CAUCUS (LUCC)
A coalition of elected county officials from large urban counties, working to identify urban challenges and develop solutions and programs that improve our communities
RURAL ACTION CAUCUS (RAC)
County elected officials from rural areas focus on solving critical issues impacting rural life and development, including infrastructure, broadband, rural health, business development opportunities and more
IMMIGRATION REFORM TASK FORCE
Provides a forum for county officials to discuss immigration issues and engage with federal agencies and coalition partners to work toward solutions
INTERNATIONAL ECONOMIC DEVELOPMENT TASK FORCE
Facilitates the exchange of information and resources while guiding NACo's programming related to international economic development activities
NEXT GENERATION NETWORK
Provides networking, educational and professional development opportunities for the next generation of county leaders
The steering committees review and make recommendations on federal policy issues and legislation that supports local decision-making, prevents unfunded mandates and provides direct federal investments in county priorities.
How to Join
County officials and staff wishing to join steering committees must submit the blue application to their state association of counties for approval by the executive director.
Members can only serve on one steering committee per year. Applicants should indicate their first and second choices.
No more than two individuals from the same county and eight individuals from the same state can serve on the same steering committee.
AGRICULTURE & RURAL AFFAIRS
Topics include: USDA agriculture, rural development programs, rural renewable energy development, research and extension, food safety and conservation programs
COMMUNITY, ECONOMIC & WORKFORCE DEVELOPMENT
Topics include: housing (including affordable housing), community and economic development, public works and workforce development
ENVIRONMENT, ENERGY & LAND USE
Topics include: water management, stormwater, air quality standards, hazardous waste handling, national energy policy, pipeline safety, brownfields and coastal management
FINANCE, PENSIONS & INTERGOVERNMENTAL AFFAIRS
Topics include: financial management, municipal borrowing, county revenues, pensions, the federal budget, federal tax reform, the census and elections
HEALTH
Topics include: public health, health financing, Medicaid, Medicare, long-term care, behavioral health services, substance abuse prevention and treatment
HUMAN SERVICES & EDUCATION
Topics include: foster care, public assistance programs, senior citizen and disability services, immigration policy, social services and education
JUSTICE & PUBLIC SAFETY
Topics include: law enforcement, courts, corrections, homeland security, community crime prevention, juvenile justice and emergency management
PUBLIC LANDS
Topics include: federal land management programs, natural resource revenue sharing payments, payments in lieu of taxes and property tax immunity concerns
TELECOMMUNICATIONS & TECHNOLOGY
Topics include: broadband, telecommunications and technology policies and the county role as a regulator, service provider and consumer
TRANSPORTATION
Topics include: highway and bridge development and safety, public transit development, airport development, railroads, ports and waterways and freight movement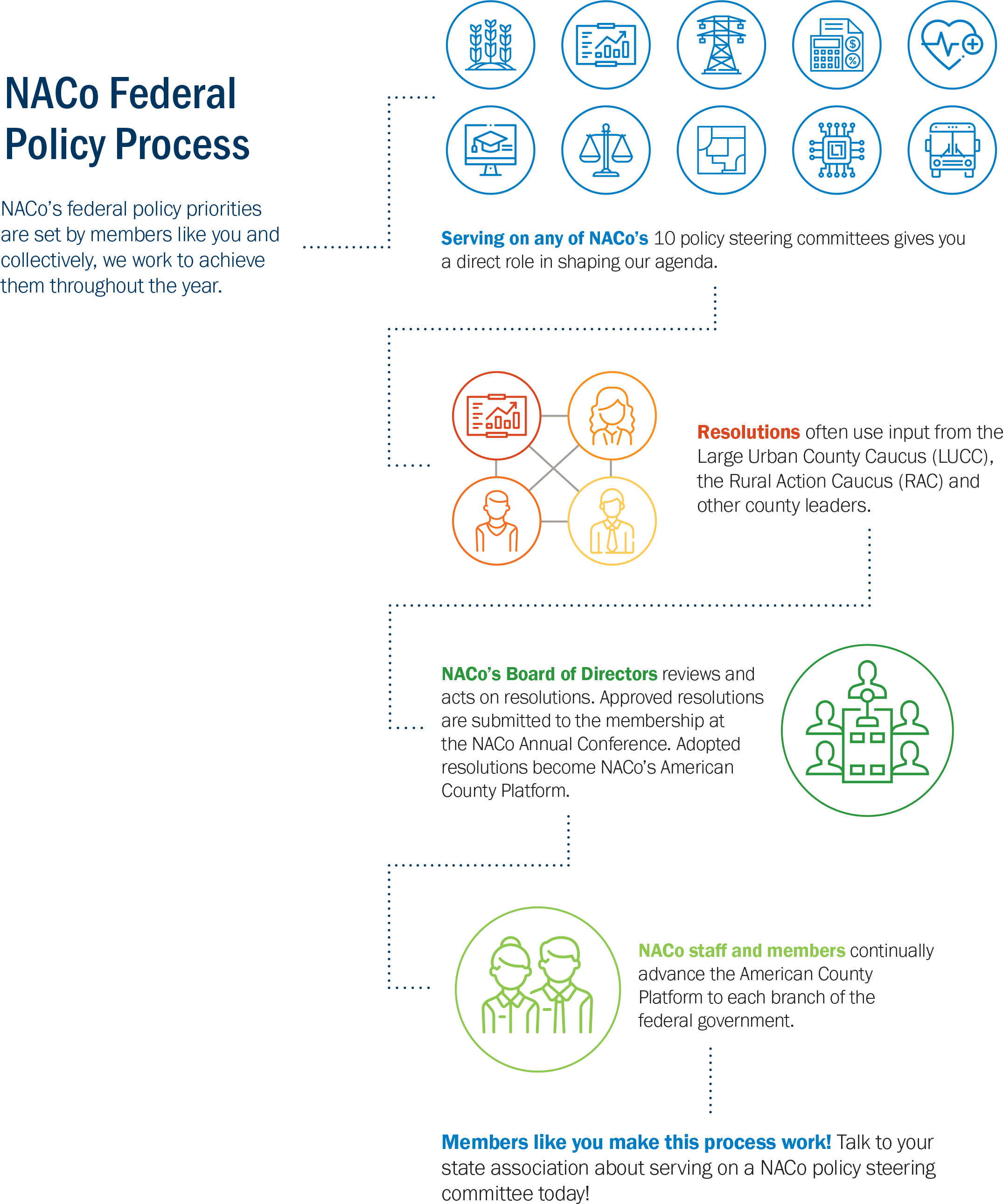 If you have any questions about getting involved, please call us at 888.407.NACo (6226) or email committee@naco.org.
Blue