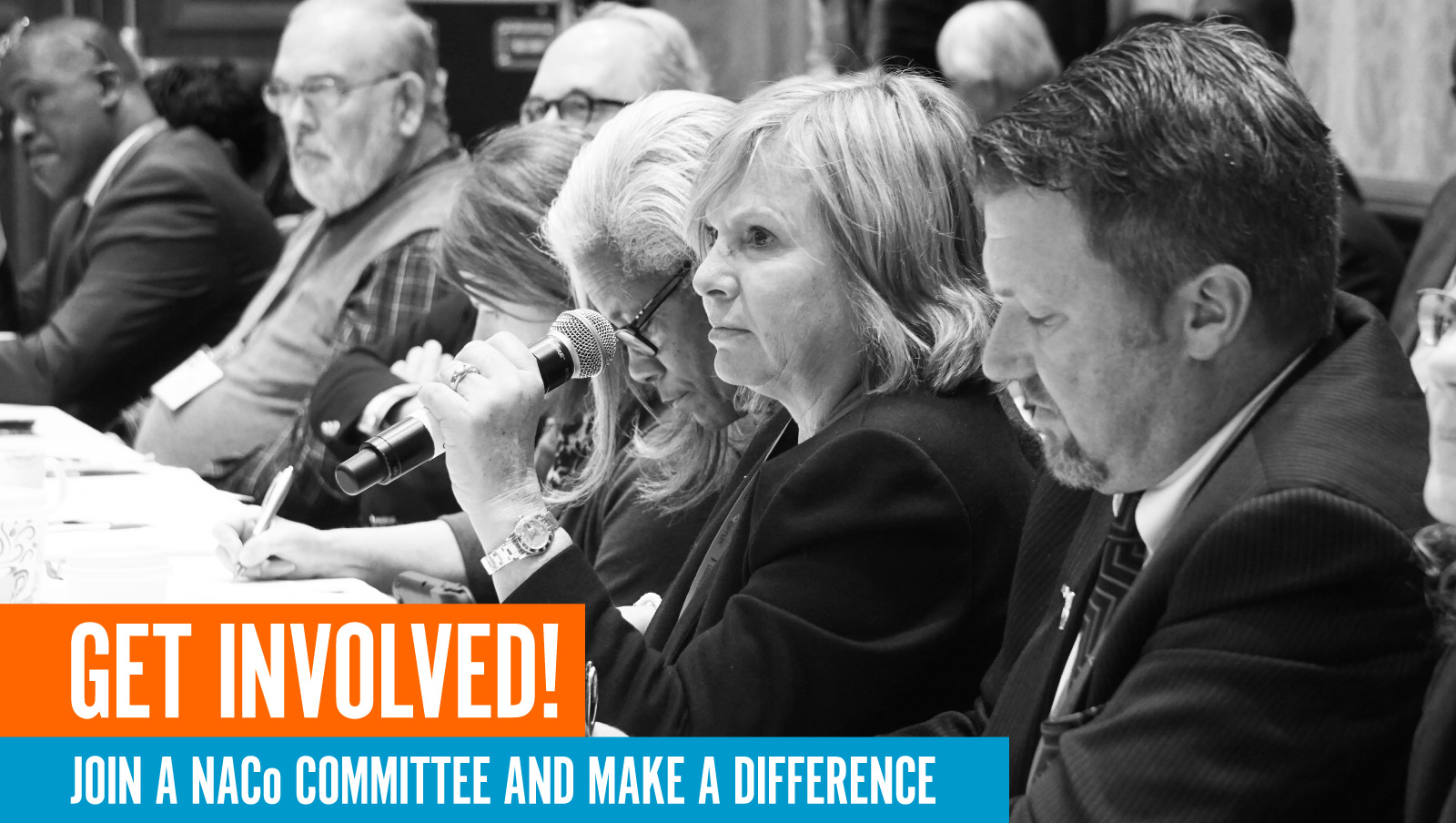 The president appoints all leaders to committees and members to standing, ad hoc, advisory, task force and other committees.
County officials and staff wishing to serve on a Policy Steering Committee must apply through their state associations of counties. After receiving a recommendation from the state association, the NACo president confirms the appointment.
Members of Standing Committees and Ad Hoc Committees are appointed by the NACo president. A Presidential Appointment Form is available on NACo's website here. Persons wishing to be considered for a leadership or committee appointment must complete the application and submit it by the posted deadline.
Appointments are announced by the president during the Annual Business Meeting held during the Annual Conference.
County officials and staff from NACo member counties with a population above 500,000 ay participate in the Large Urban County Caucus.
County officials and staff from rural counties that are NACo members may participate in the Rural Action Caucus.
The two big questions are:
What committee do you want to join?
How do you become a member of a committee?
Policy steering committee members are appointed by state associations and serve one-year terms. Members of all other committees are appointed by the NACo president and serve one-year terms.
Policy steering committees annually review and make recommendations on federal policy issues and legislation. They start the policy development process leading to the development of the American County Platform, which guides the county government message presented to the Administration, Congress, U.S. Courts and the American public.
Standing committees, such as the Membership Committee, Programs and Services Committee, Finance Committee and the Information Technology Committee, make recommendations on programs and projects for NACo to pursue that will help counties.
Other caucuses, task forces & ad hoc committees include
Large Urban County Caucus (LUCC)
Rural Action Caucus (RAC)
Arts and Culture Commission
Healthy Counties Advisory Board
Immigration Reform Task Force
International Economic Development Task Force
Resilient Counties Advisory Board, and
Veterans and Military Services Committee
To join standing committees, ad hoc committees, caucuses or other committees, or to apply to serve as a chair or vice chair of a NACo policy steering committee or subcommittee, please fill out the online application form at:
www.naco.org/presidential_appointments.
Policy Steering Committee Nomination Process is Simple
There are 10 NACo policy steering committees that cover the full range of county policy issues.
Here are the important points to remember for participating on a policy steering committee:
Fill out and submit a nomination form to serve on a NACo policy steering committee to your state association of counties. (www.naco.org/nomination).
Mark on the nomination form your first and second choice for which policy steering committee you would like to serve.
Members of NACo affiliate organizations who want to serve on policy steering committees should follow the same process.
Submit the form to your state association one month before the NACo Annual Conference, which usually occurs in July.
NACo works to accommodate a nominee's first choice of policy steering committee assignments. Officials cannot transfer membership to another committee during their year of service, or serve on more than one policy steering committee during the year.
Membership of 10 Policy Steering Committees:
Agriculture and Rural Affairs
Community, Economic and Workforce Development
Environment, Energy and Land Use
Finance, Pensions and Intergovernmental Affairs
Health
Human Services and Education
Justice and Public Safety
Public Lands
Telecommunications and Technology
Transportation
Appointments by NACo President
Chair and Vice Chairs of 10 Policy Steering Committees and Subcommittees
Large Urban County Caucus Chair, Vice Chair and members
Rural Action Caucus Chair, Vice Chairs and members
Arts and Culture Commission Chair, Vice Chairs and members
Healthy Counties Advisory Board Chair, Vice Chairs and members
Immigration Reform Task Force Chair, Vice Chairs and members
Information Technology Standing Committee Chair, Vice Chairs and members
GIS Subcommittee Chair, Vice Chairs and members
International Economic Development Task Force Chair, Vice Chairs and members
Membership Standing Committee Chair, Vice Chairs and members
Programs and Services Standing Committee Chair, Vice Chairs and members
Resilient Counties Advisory Board Chair, Vice Chairs and members
Veterans and Military Services Committee Chair, Vice Chairs and members
Policy Steering Committees Cover Issues Important to Counties
| | |
| --- | --- |
| AGRICULTURE & RURAL AFFAIRS | Responsible for all matters pertaining to USDA agriculture, rural development programs, rural renewable energy development, research and extension, food safety, and conservation programs. |
| COMMUNITY, ECONOMIC & WORKFORCE DEVELOPMENT | Responsible for all matters pertaining to housing, community and economic development, public works, and workforce development including the creation of affordable housing and housing options for different populations, residential, commercial, and industrial development, and building and housing codes. |
| ENVIRONMENT, ENERGY & LAND USE | Responsible for all matters pertaining to air, water, energy, and land use, including water resources/management, stormwater, pesticides, air quality standards, solid, hazardous, and nuclear waste handling, transport, and disposal, national energy policy, renewable/alternative energy, alternative fuel vehicles, energy facility siting, electricity utility restructuring, pipeline safety, oil spills, superfund/brownfields, eminent domain, land use, coastal management, oceans, parks and recreation. |
| FINANCE, PENSIONS & INTERGOVERNMENTAL AFFAIRS | Responsible for all matters pertaining to the financial resources of counties, fiscal management, federal assistance, municipal borrowing, county revenues, pensions, the federal budget, federal tax reform, elections and Native American issues. |
| HEALTH | Responsible for all matters pertaining to public health and healthy communities, including disease and injury prevention, health disparities reduction, health financing, health insurance, Medicaid, Medicare, long-term care, behavioral health services, substance abuse prevention and treatment. |
| HUMAN SERVICES & EDUCATION | Responsible for all matters pertaining to children's issues, foster care, public assistance and income support, services to senior citizens and individuals with disabilities, immigration policy, social services, and elementary, secondary and post-secondary education. |
| JUSTICE & PUBLIC SAFETY | Responsible for all matters pertaining to criminal justice and public safety systems, including law enforcement, courts, corrections, homeland security, community crime prevention, juvenile justice and delinquency prevention, emergency management, fire prevention and control, and civil disturbances. |
| PUBLIC LANDS | Responsible for all matters pertaining to federally-owned public lands including federal land management programs, natural resource revenue sharing payments, payments in lieu of taxes, and property tax immunity concerns |
| TELECOMMUNICATIONS & TECHNOLOGY | Responsible for all matters pertaining to telecommunications and technology policy, including the county role as a telecommunications regulator, service provider, and consumer. |
| TRANSPORTATION | Responsible for all matters pertaining to federal transportation legislation, funding and regulation and its impacts on county government. This includes highway and bridge development, finance and safety, public transit development and finance, transportation planning, airport development and service, passenger and freight railroads, ports and waterways, freight movement, and research and development of new modes of transportation. |
Caucuses Address Key County Issues
| | |
| --- | --- |
| Large Urban County Caucus | LUCC is a bipartisan coalition of elected county executives and board members from counties with more than 500,000 population. LUCC members work together to identify urban challenges, provide input in developing pragmatic national solutions, and implement grassroots programs that improve their communities. |
| Rural Action Caucus | RAC is the voice for America's rural counties before Congress and the Administration. County elected officials from rural areas are dedicated to solving many critical issues impacting rural life and development, including infrastructure development, broadband deployment, development of new rural clinics and hospitals, road and bridge construction and maintenance, business development opportunities, and many more county responsibilities. |
| Western Interstate Region | WIR is affiliated with NACo and is dedicated to the promotion of Western interests within NACo. WIR Board members are nominated by their state association of counties from only Western states. |
Committees, Task Forces and Advisory Boards Cover Issues Important to Counties
| | |
| --- | --- |
| Arts and Culture Commission | The Arts and Culture Commission demonstrates how the arts can be used by county officials to promote economic development and provide solutions to many of the challenges that they face, through workshop sessions, field trips and special publications. |
| Resilient Counties Advisory Board | The Resilient Counties initiative is governed by the Resilient Counties Advisory Board, which advises NACo on the development and implementation of the organization's resiliency and sustainability programs. The Advisory Board is made up of leaders from both county government and private organizations, and provides input to ensure that NACo's resiliency programming is timely, innovative and meets the greatest needs of the nation's 3,069 counties. |
| Healthy Counties Advisory Board | NACo's Healthy Counties is guided by the Healthy Counties Advisory Board, which is comprised of county officials and staff who are health leaders at NACo and corporate partners. The public/private Healthy Counties Advisory Board assists NACo in identifying the priorities and activities of the Healthy Counties Initiative and provides input and expertise on program implementation. |
| International Economic Development Task Force | This task force facilitates the exchange of information, ideas and resources, and guides NACo programming, concerning county-level engagement in international economic development activities. |
| Veterans and Military Service Committee | This committee engages NACo and its members to develop and highlight county best practices and policies to promote innovative programs, services and benefits for our nation's military, veterans and their families. |
| Immigration Reform Task Force | NACo's Immigration Reform Task Force provides a forum for county officials from across the nation to discuss immigration and its impact on local governments. Although the Task Force does not vote on, or set, policy, it advises NACo's policy steering committees on immigration matters and engages on these matters with federal agencies and coalition partners. |