New from KPMG
A thought leadership piece Elevating performance in the government & public sector can be found here.
At NACo's Annual Conference, KPMG gave an educational presentation called Behavioral Health & Justice: Challenge Your Assumptions, Uncover Your Opportunity. View the presentation here!
KPMG has a comprehensive set of resources to help government and the public sector respond and recover. See link to our insights here.
We are committed to helping you maximize strategic impact of funding decisions
As recovery from the human and economic impacts of COVID-19 pandemic gains strength, elected officials and executives leading county organizations are evaluating lasting changes to their delivery of service to constituents and communities – all while preparing to strategically prioritize and allocate unprecedented levels of Federal and State stimulus dollars to shore-up recovery and invest for future resilience – while ensuring compliance with evolving funding guidance. KPMG can help your county achieve key strategic objectives that benefit your fiscal and operational impact: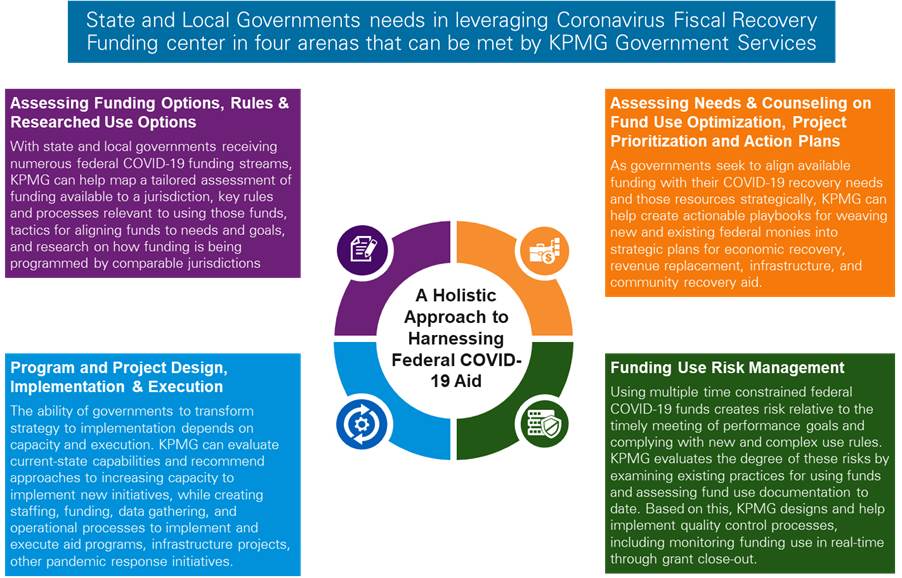 KPMG brings deep experience in key sectors of county government, including Justice & Public Safety, Health & Human Services, Transportation & Infrastructure, Housing & Community Development, and Finance & Administration. KPMG is committed to government and public sector organizations in their most challenging times. The KPMG difference lies in our people, passion, insights, and ready-to-use analytical tools, but most of all, our track-record of results. We bring a Rigorous, Rapid, and Results-Driven approach, rooted in Real Partnership and focus on improving the safety, health, and prosperity of the communities you serve.
Contact us
Bill Zizic 
Managing Director 
M: 312-259-2869
Rory Costello
Principal
M:  518 729 7159