The NACo High Performance Leadership Academy is an online 12-week program that will empower frontline county government professionals with the most fundamental leadership skills to deliver results for counties and communities. (Click here to learn about NACo's Enterprise Cybersecurity Leadership Academy.)
Without traveling away from the county, participants will use an online, interactive learning platform to engage in live events, video sessions and breakout group discussions.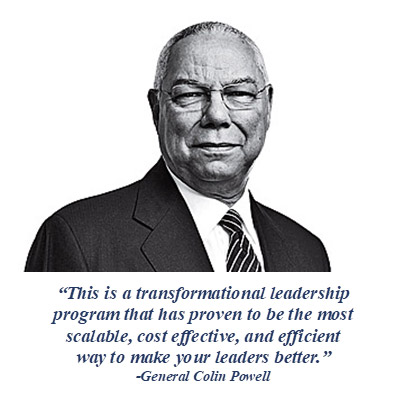 With a robust curriculum developed by the Professional Development Academy in a partnership with Fortune 1000 executives, public sector leaders, world-renowned academics and thought leaders, including General Colin Powell and Dr. Marshall Goldsmith, it focuses on five essential skills:
LEAD: Engage teams and stakeholders to foster positive climates and exceed common expectations
ORGANIZE: Plan, lead and execute organizational change more effectively and consistently
COLLABORATE: Establish alignment and strong partnerships through building stronger relationships
COMMUNICATE: Create clarity, confidence and community
DELIVER: Measure projects and processes to deliver results aligned with county and community priorities
A world-class faculty of prominent public, private and university sector leaders will deliver each course. All module content is guided by an expert moderator.
Who should participate?
The program is designed for county professionals — specifically entry- to mid-level county staff. 
Each participant remains accountable for their training and progress through the direct involvement of their supervisor at the county. Supervisors are encouraged to meet with participants and review the program content as related to individual development plans. Supervisors also receive regular dashboard reports that outline the learning progress of the program participant.
What is the time commitment?
The program is built to accommodate busy work schedules without interfering with daily operational responsibilities. Participants must commit to spending about 3-5 hours per week engaged with the program to complete a mixture of synchronous and asynchronous activities along with a cohort of professional peers from other county governments as well as other public and private sector entities.
What is the cost?
The retail price of the 12-week program is $1,995 per enrollee. The first enrollee from each NACo member county will receive a one-time NACo scholarship of $1,000 and a $500 discount. As outlined in the table below, additional enrollees receive a discount based on the number of enrollees per county.
| Enrollees | Retail Price | Discount | Enrollee Cost |
| --- | --- | --- | --- |
| 1st Enrollee Per County | $1,995 | $1,500 | $495 |
| 2nd – 19th Enrollee Per County | $1,995 | $300 | $1,695 |
| >19th Enrollees Per County | $1,995 | $400 | $1,595 |
Learn More