County Leadership Institute

About CLI
The County Leadership Institute (CLI) is a rigorous program comprised of three days of in-person instruction and virtual meetings offered by NACo to enhance the capability of county officials to identify and implement innovative solutions to complex challenges facing county government. Attendees learn how to effectively address the demands of personal leadership in a new era of government. This era is characterized as a "permanent crisis" by CLI Program Developer and Cambridge Leadership co-founder Marty Linsky. Please note that nominations are accepted from state county associations. If you are interested in attending the CLI program, please contact your state county association for a nomination.
If you are nominating a CLI attendee, please submit this form or download the 2023 brochure and submit your nomination via the link in the brochure. For further assistance or information about CLI, please reach out to Leenah Hegazy at LHegazy@naco.org.
Frequently Asked Questions
The Institute opens with an evening reception on Sunday, June 11 and concludes on Thursday, June 14, 2023. Participants are expected to arrive on June 11 and leave anytime on the 15 of June. Participants should be present for all in-person and online activities. If a candidate cannot meet the time requirements, then they are encouraged to apply for the next cycle of applications.
The program's format includes three in person days located at NACo HQ in Washington, D.C., followed by a one-day virtual learning session in September, which is also mandatory.
CLI is designed for elected officials with at least three years of experience in county government. Candidates must be a representative of a NACo member county. The class is limited to a maximum of 30 participants. CLI accepts only one candidate from any given state.
(For State Associations) If you wish to nominate more than one person, please rank your nominees. If your first nominee withdraws, your second nominee will be considered as an alternate. Nominations will close on April 1, 2023. You can access the nomination form here.
Those who will benefit the most from CLI are successful county officials with bold aspirations and a driving sense of purpose. These individuals are willing and ready to move beyond their comfort zone. They are ready to push themselves and others in service of transformation, while striving to reach the next level of impact.
Participants gain exposure to the adaptive leadership framework and consultation on a current challenge facing them and the community they serve. Throughout the week, participants will engage in networks of interested parties to develop solutions to difficult challenges facing their communities. Challenged by faculty and peers, CLI attendees explore concepts and develop relationships that affirm and direct their leadership potential at local, state and federal levels.
The $1800 registration fee covers the program, hotel room, several meals, a meal stipend, and local transportation. Attendees are responsible for travel costs, including airfare, ground transportation, some meals and other incidentals.
If your nomination is confirmed and you are unable to attend, contact Leenah Hegazy at Lhegazy@naco.org or 202-9472-4263 as soon as possible.
Jill Hufnagel is an international expert on adaptive leadership and case-in-point learning, she provides coaching and consultation on unwieldy organizational challenges and designs and delivers immersive leadership workshops built on deep capacity development and possibility thinking.
Her clients include Fortune 500 companies, tech firms and financial institutions, school districts and health care organizations, as well as both federal government and global governing organizations. In addition to her e-book Teachable Moments of Leadership, her writing has appeared in The Kansas Leadership Center's Journal, The Spin and the International Leadership Association's Building Bridges. Jill began her career working for the Secretary of the U.S. Senate, was the Associate Director of the Batten Leadership Institute, and has served on the executive education faculty at Harvard's Kennedy School and as a Senior Consultant with Cambridge Leadership Associates. She is a Senior Associate with the Kansas Leadership Center and on the senior faculty of the Beacon Leadership Collaborative. Jill believes the work of leadership is about using strategically the tool that is you to help your corner of the world to thrive and as such: is everyone's to claim.
Tim Steffensmeier is faculty at the Kansas Leadership Center, teaching leadership to thousands of adults in government, business, education, non-profit, and faith sectors.
This includes facilitating leadership programs for elected legislators. In 2017, Steffensmeier became the founding director of Third Floor Research, a KLC applied research center aimed at improving the way leadership is exercised in communities and organizations. Tim also serves as professor and director of the Kansas State University Office of Engagement, connecting Kansans and communities beyond the state to the resources and expertise of a land-grant University. As a professor of communication, Tim's scholarship and practice focus on community engagement, public deliberation, and leadership. His current book, Leading Change in the Public Square, is an analysis of how rural communities embraced cross-sector problem-solving. Tim is a former department head, director of an inter-disciplinary doctoral program, and earned a Ph.D. in Communication Studies at the University of Texas, Austin.
2023 County Leadership Institute Participants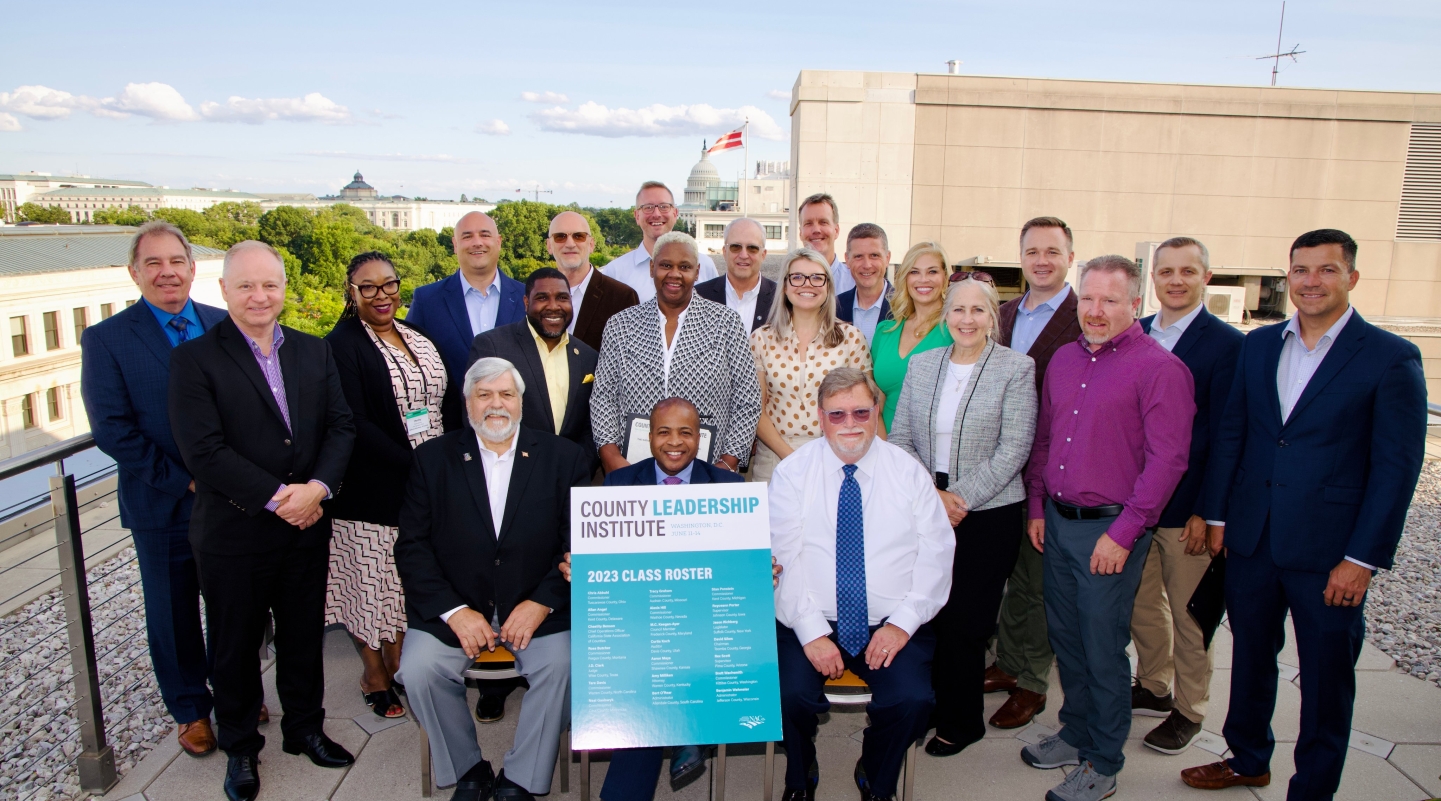 Commissioner Chris Abbuhl
Tuscarawas County, Ohio
Commissioner Allan Angel
Kent County, Del.
Chastity Benson
Director of Operations & Educational Programs
California State Association of Counties, Calif.
Commissioner Ross Butcher
Fergus County, Mont.
County Judge J.D. Clark
Wise County, Texas
Commissioner Tare Davis
Warren County, N.C.
Commissioner Tracy Graham
Audrain County, Mo.
Commissioner Neal Gaalswyk
Cass County, Minn.
Commisioner Alexis Hill
Washoe County, Nev.
Council Member M.C. Keegan-Ayer
Frederick County, Md.
Auditor Curtis Koch
Davis County, Utah
Commissioner Aaron Mays
Shawnee County, Kan.
Attorney Amy Milliken
Warren County, Ky.
Administrator Bert O'Rear
Allendale County, S.C.
Commissioner Stan Ponstein
Kent County, Mich
Supervisor Royceann Porter
Johnson County, Iowa
Legislator Jason Richberg
Suffolk County, N.Y.
Supervisor Rex Scott
Pima County, Ariz.
Chairman David Sikes
Toombs County, Ga.
Commissioner Brett Wachsmith
Kittitas County, Wash.
Administrator Benjamin Wehmeier
Jefferson County, Wis.