About Pew
We are driven by the power of knowledge to solve today's most challenging problems. Pew applies a rigorous, analytical approach to improve public policy, inform the public, and invigorate civic life.
Resources from Pew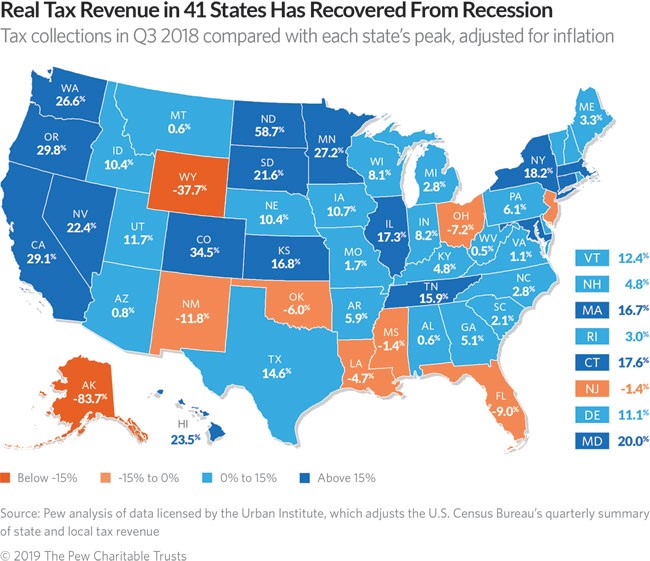 Fiscal 50: State Trends and Analysis
pewtrusts.org/Fiscal50
Escape the annual budget bubble with insights into states' long-term fiscal health from Fiscal 50, an interactive tool from The Pew Charitable Trusts. This resource provides 50-state data and analysis on key fiscal, economic, and demographic indicators.  With the Fiscal 50, you can:
Examine your state's trends over time.
Compare your state with its peers and the nation.
Gain insights into your state's long-term financial well-being.
Understand what it all means with analysis from Pew experts.
Fiscal 50 drills down into five core areas of state fiscal health: revenue, spending, economy and people, long-term costs, and fiscal policy. The tool is not meant to be a comprehensive assessment of a state's finances or a replica of state budget statistics. Rather, Fiscal 50 selectively presents data and analyses that help you look beyond your current budgets, size up your progress over time, consider different ways to measure performance, and easily compare your outcomes with neighbors or peers that have similar resources and challenges.
Visit Fiscal 50: pewtrusts.org/Fiscal50