Heritage Health Solutions offers outside-the-walls care for correctional facilities and provides significant savings on their medical claims. When an incarcerated individual needs medical attention outside of a correctional facility, the medical expenses can start to pile up. Heritage Health Solutions helps reduce those medical costs by negotiating pricing with providers up front as a part of our Outside Medical Network (OMN).
Our ability to integrate with a facility's existing jail medical provider means they don't have to worry about claims processing and off-site providers have us as a dedicated support team when they need it.
Why Heritage?
Our experience managing outside-the-walls care for correctional facilities has led to:
Saving individual counties over $6 million.
Our customers saving over 70% on outside-the-walls medical care.
Cost-saving analyses customized to the facility's need.
Heritage Health Solutions will quickly review your claims at no cost and provide a recommendation for increased savings, improved outcomes, and better managed care.
---
Why is the SAME procedure a different price depending on the hospital?
Diabetes with Complications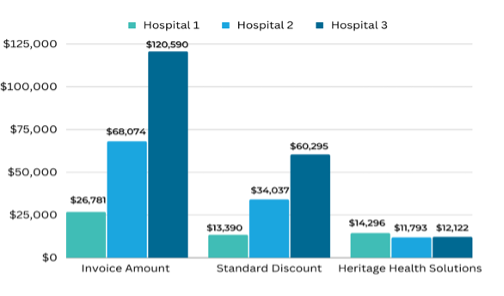 Heritage Health Solutions. We have a better way.