County Countdown – Nov. 20, 2023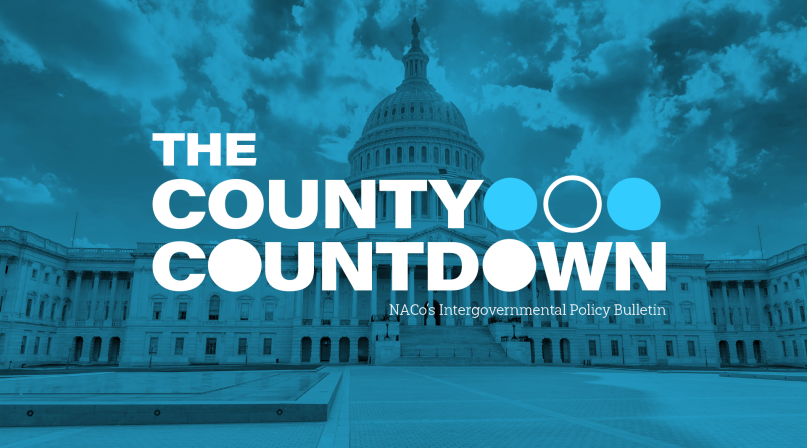 Every other week, NACo's County Countdown reviews top federal policy advocacy items with an eye towards counties and the intergovernmental partnership.
Watch the video above and explore NACo resources below on some of the top issues we're covering this week.
1. Mental Health
NACo continues to champion mental health policies in Congress to support counties and residents.
Continuity of care: A recent letter to leaders on Capitol Hill reiterated county priorities in mental health, including urging passage of the Due Process Continuity of Care Act, advocating for Medicaid benefits for pre-trial detainees.
Workforce development: The letter also pushed for increased funding for programs to recruit and retain behavioral health workers.
What's next: NACo's Commission on Mental Health and Wellbeing is working with Congress to reform mental health policies that exclude vulnerable populations.
2. Operation Green Light
Thank you to the hundreds of counties, plus our intergovernmental partners, businesses and individuals, who participated in Operation Green Light for Veterans.
Bipartisan support: Congressional resolutions in both the House and Senate recognized Operation Greenlight and the vital role of County Veterans Services Officers (CVSOs).
CVSO Act: In 29 states, county-funded CVSOs help veterans access over $50B annually in VA benefits. NACo urges the passage of the CVSO Act to secure federal resources to support this work.
Explore highlights: Check out the Operation Green Light showcase for pictures submitted by counties – and submit yours!
3. Bipartisan Infrastructure Law
As we mark the two-year anniversary of the Bipartisan Infrastructure Law (BIL), NACo is ensuring that counties have a voice in its implementation.
4. Support for Rural America
U.S. Senators Bob Casey (D-Pa.) and Deb Fischer (R-Neb.) introduced the Rural Partnership and Prosperity Act.
Addressing community needs: The bill would create a grant program to address needs like affordable child care, housing and job training, as well as providing guidance to help rural communities navigate existing funding opportunities.
NACo's endorsement: NACo urges swift passage of this legislation, which will enable rural counties to optimize federal resources.
5. American Rescue Plan
The U.S. Treasury Department introduced a new rule clarifying counties' use of American Rescue Plan Act (ARPA) funds, further extending the reach of these resources.
Key points for counties: Counties can now allocate funds for administrative costs tied to ARPA reporting and compliance.
Clarifying responsibilities: Details on managing sub-recipient obligations offer counties more flexibility for effective resource utilization.
Dive deeper on ARPA: Explore all of NACo's ARPA resources here.
2024 NACo Legislative Conference
The NACo Legislative Conference brings together nearly 2,000 elected and appointed county officials to focus on federal policy issues that impact counties and our residents.