Naloxone to Reverse Opioid Overdose

What is naloxone?
Naloxone is a "rescue" drug that quickly and safely reverses opioid overdose. It is available as an injectable solution and as a nasal spray. Naloxone works by blocking the effects of opioids in the body.2 Virtually all opioid overdose deaths are preventable if naloxone is administered in time.
A person who has overdosed cannot administer naloxone to themselves — it must be administered by someone else nearby. The most effective way to prevent fatal opioid overdose with naloxone is to prioritize naloxone distribution to people who use drugs3,4 (for example, through harm reduction and syringe services programs) as this group is the most likely to witness an overdose.5,6
Distributing naloxone to the public at pharmacies is also highly effective.3,7 All states but one (Neb.) allow pharmacists to prescribe or dispense naloxone to anyone.8
Other new and innovative methods for naloxone distribution include:
"Focus on things that actually work: medications, providing naloxone and syringe service programs."

– Michael Botticelli, Director of the Office of National Drug Control Policy, 2014-20171
Jump to Section
Watch
Hear from individuals and families about the importance of naloxone.
What evidence supports naloxone to reverse opioid overdose?
NALOXONE SAVES LIVES Opioids produce their effects on the body (including pain relief and slowed breathing) by attaching to and activating certain receptors in the brain.13 Naloxone is able to reverse opioid overdose by blocking those receptors and preventing opioids from attaching.2
NALOXONE EFFECTIVELY BLOCKS ALL OPIOIDS Although certain opioids, like fentanyl, produce stronger effects on the body, they do not require more naloxone to counteract.14,15 Multiple studies have demonstrated that the same amount of naloxone works to reverse opioid overdose regardless of fentanyl exposure.16,17
NALOXONE ACCESS SAVES LIVES Between 1996 and 2014, syringe services programs across the U.S. distributed over 150,000 naloxone kits, resulting in tens of thousands of opioid overdose reversals by community members.18 The reach of naloxone access programs has since expanded. For example, North Carolina received reports of 4,152 successful community overdose reversals with naloxone in the year 2021 alone.19
NALOXONE DOES NOT WORSEN SUBSTANCE USE Common myths about naloxone are that it encourages drug use and discourages people who use drugs from seeking treatment.20,21 These claims are untrue; multiple studies have found no association between naloxone access and worsening patterns of substance use.22–25
WHAT ARE NALOXONE ACCESS LAWS? In response to rising overdose rates, states have implemented laws that make it easier for members of the public to access naloxone. State naloxone access laws vary, but many states have established a standing order that authorizes the dispensing of naloxone to persons meeting set criteria.26 Naloxone access laws are associated with lower rates of fatal opioid overdose.7,27–30
Watch
Watch a short video about NC Harm Reduction Coalition's naloxone distribution model.
Are there risks to my community or institution if we don't support naloxone to reverse opioid overdoses?
Yes.
NALOXONE ACCESS LAWS DO NOT GUARANTEE NALOXONE ACCESS7 County leaders can help ensure that local residents successfully obtain the naloxone needed to save lives by providing institutional and financial support for naloxone access programs.
WITHOUT NALOXONE NEARBY, THERE MAY BE MORE OVERDOSE DEATHS Though most first responders already carry naloxone,20,31 the fastest way to reverse an overdose is to ensure that the person on scene when the overdose occurs (usually someone else who uses drugs5,6) has naloxone on hand before the overdose occurs.
How much naloxone do we need?
The amount of naloxone each community needs depends on a number of local factors. The website NaloxoneNeededToSave.org provides evidence-based estimates of the quantity of naloxone each state needs to achieve naloxone saturation.
State and federal block grants support the purchase of naloxone by public safety and public health agencies, but this may not be enough. One study compared naloxone access in 12 states and found that only one state met the national target for naloxone access.3
Remedy Alliance for the People is a non-profit organization that negotiates with pharmaceutical companies to provide community-based organizations, health departments and other entities with lower prices for generic injectable naloxone.32
In September 2022, the U.S. Food and Drug Administration issued new guidance that explicitly permits the bulk purchase of naloxone for harm reduction programs regardless of whether or not the purchaser is covered by a statewide standing order or a medical license.33
As of March 29, 2023, nasal spray naloxone (Narcan) is classified by the FDA as an over-the-counter medication.34
What are best practices for supporting or implementing naloxone to reverse opioid overdoses?
Increase the local supply of naloxone by funding procurement or coordinating local or regional stockpiles.
Provide funding and voice strong, unambiguous support for programs and sites that distribute naloxone. High-volume distribution though syringe services programs is typically the most effective strategy for preventing overdose death with naloxone.3
Prioritize naloxone distribution to recently incarcerated persons and their social networks. Recently incarcerated people are at high risk of overdose34,35 and regularly use naloxone to save lives.36,37
Reduce mandatory training requirements for those who distribute naloxone. About five minutes is all that's needed to deliver successful and effective naloxone training.38,39
Educate local pharmacies about naloxone access laws and dispensing naloxone to the community. Despite new regulations allowing pharmacists to dispense naloxone, levels of pharmacy distribution remain low.40 Reasons may include: poor understanding of naloxone access laws; not keeping naloxone in stock; and stigma against naloxone or people who use drugs.41,42
Support policies that treat naloxone as a public health tool, not drug paraphernalia. Naloxone possession should be encouraged and does not indicate criminal activity.
What are examples of successful naloxone distribution programs?
The first large scale effort to distribute naloxone to people who use drugs was pioneered by Dan Bigg at the Chicago Recovery Alliance in 1996.43
In Anne Arundel County, Md., the department of health offers free, ongoing trainings to teach community members how to administer intranasal naloxone. Led by the county's Overdose Response Coordinator, the trainings are held a few times per month and equip each participant with a naloxone kit to take with them into the community.44
In 2022, the San Diego Board of Supervisors unanimously approved a resolution to provide overdose prevention education and naloxone distribution in schools. The Board's action will educate students and their parents about overdose risks and increase the availability of naloxone among student first responders.45
Rikers Island Correctional Facility, New York City's jail, distributes naloxone to community members who come to the jail for visitation. In the first six months of this program, 20% of the 226 visitors who received naloxone witnessed an overdose, and most used that naloxone to reverse the overdose and save a life.37
Project DAWN (Deaths Avoided with Naloxone), an initiative coordinated by the Ohio Department of Health, provides naloxone supplies to a diverse network of hundreds of organizations providing overdose education and naloxone distribution in communities.46
Brandeis Opioid Resource Connector
These and many other model programs are described online at the Brandeis Opioid Resource Connector.
Additional Resources
Where can I learn more about naloxone to reverse opioid overdoses?
Where can I find support or technical assistance for scaling up naloxone to reverse opioid overdoses in my county?
State-specific Technical Assistance Programs
Many U.S. states and territories fund robust technical assistance providers to assist communities in implementing naloxone distribution programs. Examples include:
Approved Strategies
The two largest opioid settlements include requirements on how funds can be spent. Learn more about approved uses of the funds that are high-impact and under county authority.
Featured Initiative
Opioid Solutions Center
NACo's Opioid Solutions Center empowers local leaders to invest resources in effective treatment, recovery, prevention and harm reduction practices that save lives and address the underlying causes of substance use disorder.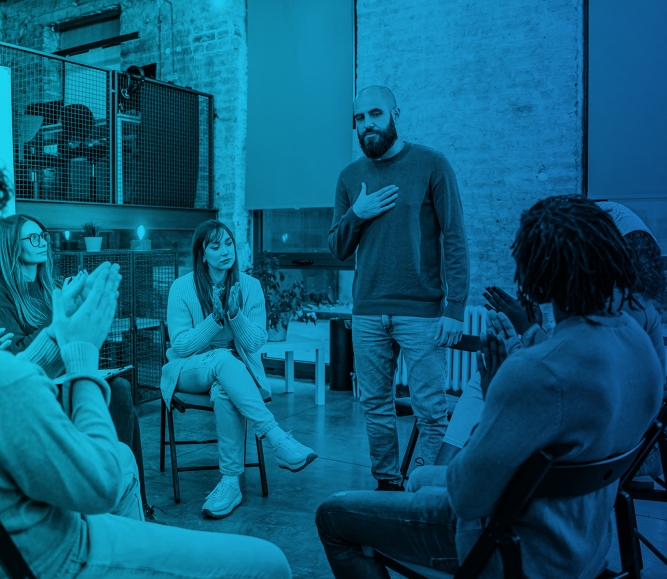 About the Brief
Author
Jennifer J. Carroll, PhD, MPH
References
Botticelli M. This is perhaps one of the most dangerous and ill-informed responses to the epidemic. Focus on things that actually work: medications, providing naloxone, and syringe service programs. https://t.co/dxxQ62y3Vz. Twitter. Published February 20, 2020. Accessed June 14, 2022. https://twitter.com/MBotticelliBMC/status/1230558459256438785
Brownstein MJ. A brief history of opiates, opioid peptides, and opioid receptors. Proc Natl Acad Sci U S A. 1993;90(12):5391-5393. doi:10.1073/pnas.90.12.5391
Irvine MA, Oller D, Boggis J, et al. Estimating naloxone need in the USA across fentanyl, heroin, and prescription opioid epidemics: a modelling study. The Lancet Public Health. 2022;7(3):e210-e218. doi:10.1016/S2468-2667(21)00304-2
Carroll JJ, Green TC, Noonan RK. Evidence-Based Strategies for Prevention Opioid Overdose: What's Working in the United States. Published online 2018. Accessed October 10, 2018. http://www.cdc.gov/drugoverdose/pdf/pubs/2018-evidence-based-strategies.pdf
Wheeler E, Davidson PJ, Jones TS, Irwin KS. Community-Based Opioid Overdose Prevention Programs Providing Naloxone — United States, 2010. MMWR Morb Mortal Wkly Rep. 2012;61(6):101-105.
Walley AY, Xuan Z, Hackman HH, et al. Opioid overdose rates and implementation of overdose education and nasal naloxone distribution in Massachusetts: interrupted time series analysis. BMJ. 2013;346. doi:10.1136/bmj.f174
Abouk R, Pacula RL, Powell D. Association Between State Laws Facilitating Pharmacy Distribution of Naloxone and Risk of Fatal Overdose. JAMA Internal Medicine. 2019;179(6):805-811.
Prescription Drug Abuse Policy System. Naloxone Overdose Prevention Laws. PDAPS. Published January 1, 2022. Accessed June 14, 2022. https://pdaps.org/datasets/laws-regulating-administration-of-naloxone-1501695139
NaloxBox. NALOXBOX - Making Public Access Naloxone Easy. NaloxBox. Published 2022. Accessed June 14, 2022. https://naloxbox.org/
Lieberman A. Addressing the Inequitable Distribution of the Life-Saving Overdose Drug Naloxone: Could Vending Machines be an Answer? Network for Public Health Law. Published February 9, 2022. Accessed June 14, 2022. https://www.networkforphl.org/news-insights/addressing-the-inequitable-distribution-of-the-life-saving-overdose-drug-naloxone-could-vending-machines-be-an-answer/
NEXT Distro. Next Distro: Free Naloxone Access for Impacted Communities. NEXT Distro. Published 2022. Accessed June 16, 2022. https://nextdistro.org/naloxone
Scharf BM, Sabat DJ, Brothers JM, Margolis AM, Levy MJ. Best Practices for a Novel EMS-Based Naloxone Leave behind Program. Prehosp Emerg Care. 2021;25(3):418-426. doi:10.1080/10903127.2020.1771490
Trescot AM, Datta S, Lee M, Hansen H. Opioid pharmacology. Pain Physician. 2008;11(2 Suppl):S133-153.
Bell A, Bennett AS, Jones TS, Doe-Simkins M, Williams LD. Amount of naloxone used to reverse opioid overdoses outside of medical practice in a city with increasing illicitly manufactured fentanyl in illicit drug supply. Substance Abuse. 2019;40(1):52-55.
Hill LG, Zagorski CM, Loera LJ. Increasingly powerful opioid antagonists are not necessary. Int J Drug Policy. 2022;99:103457. doi:10.1016/j.drugpo.2021.103457
Krotulski AJ, Chapman BP, Marks SJ, et al. Sentanyl: a comparison of blood fentanyl concentrations and naloxone dosing after non-fatal overdose. Clin Toxicol (Phila). 2022;60(2):197-204. doi:10.1080/15563650.2021.1948558
Carpenter J, Murray BP, Atti S, Moran TP, Yancey A, Morgan B. Naloxone Dosing After Opioid Overdose in the Era of Illicitly Manufactured Fentanyl. J Med Toxicol. 2020;16(1):41-48. doi:10.1007/s13181-019-00735-w
Wheeler E, Jones TS, Gilbert MK, Davidson PJ, Centers for Disease Control and Prevention (CDC). Opioid Overdose Prevention Programs Providing Naloxone to Laypersons - United States, 2014. MMWR Morb Mortal Wkly Rep. 2015;64(23):631-635.
North Carolina Department of Health and Human Services. Opioid Action Plan Data Dashboard. NCDHHS. Published 2022. Accessed June 14, 2022. https://www.ncdhhs.gov/about/department-initiatives/opioid-epidemic/opioid-action-plan-data-dashboard
Carroll JJ, Mital S, Wolff J, et al. Knowledge, preparedness, and compassion fatigue among law enforcement officers who respond to opioid overdose. Drug Alcohol Depend. 2020;217:108257. doi:10.1016/j.drugalcdep.2020.108257
Agley J, Xiao Y, Eldridge L, Meyerson B, Golzarri-Arroyo L. Beliefs and misperceptions about naloxone and overdose among U.S. laypersons: a cross-sectional study. BMC Public Health. 2022;22(1):924. doi:10.1186/s12889-022-13298-3
Coffin PO, Behar E, Rowe C, et al. Nonrandomized Intervention Study of Naloxone Coprescription for Primary Care Patients Receiving Long-Term Opioid Therapy for Pain. Ann Intern Med. 2016;165(4):245-252. doi:10.7326/M15-2771
Dwyer K, Walley AY, Langlois BK, et al. Opioid education and nasal naloxone rescue kits in the emergency department. West J Emerg Med. 2015;16(3):381-384. doi:10.5811/westjem.2015.2.24909
Doe-Simkins M, Quinn E, Xuan Z, et al. Overdose rescues by trained and untrained participants and change in opioid use among substance-using participants in overdose education and naloxone distribution programs: a retrospective cohort study. BMC Public Health. 2014;14:297. doi:10.1186/1471-2458-14-297
Maxwell S, Bigg D, Stanczykiewicz K, Carlberg-Racich S. Prescribing naloxone to actively injecting heroin users: a program to reduce heroin overdose deaths. J Addict Dis. 2006;25(3):89-96. doi:10.1300/J069v25n03_11
Legislative Analysis and Public Poilcy Association. Naloxone: Summary of State Laws. Legislative Analysis and Public Poilcy Association; 2022. Accessed October 17, 2022. http://legislativeanalysis.org/wp-content/uploads/2022/09/Naloxone-Access-Summary-of-State-Laws.pdf
Rees DI, Sabia JJ, Argys LM, Dave D, Latshaw J. With a little help from my friends: The effects of good samaritan and naloxone access laws on opioid-related deaths. Journal of Law and Economics. 2019;62(1):1-27. doi:10.1086/700703
McClellan C, Lambdin BH, Ali MM, et al. Opioid-overdose laws association with opioid use and overdose mortality. Addict Behav. 2018;86:90-95. doi:10.1016/j.addbeh.2018.03.014
You HS, Ha J, Kang CY, et al. Regional variation in states' naloxone accessibility laws in association with opioid overdose death rates-Observational study (STROBE compliant). Medicine. 2020;99(22):e20033.
Cataife G, Dong J, Davis CS. Regional and temporal effects of naloxone access laws on opioid overdose mortality. Substance Abuse. Published online 2020:1-10.
National Association of State EMS Officials. Model EMS Protocol Relating to Naloxone Administration by EMS Personnel. Published online September 2018. Accessed June 15, 2022. https://nasemso.org/wp-content/uploads/Model-EMS-Protocol-Relating-to-Naloxone-Administration-by-EMS-Personnel.pdf
Remedy Alliance For The People. Remedy Alliance's Work. Remedy Alliance For The People. Published 2022. Accessed September 23, 2022. https://remedyallianceftp.org/
Sokolowska M. FDA Issues New Guidance to Help Facilitate Availability of Naloxone to Prevent Opioid Overdoses and Reduce Death. U.S. Food and Drug Administration. Published September 23, 2022. Accessed October 17, 2022. https://www.fda.gov/news-events/fda-voices/fda-issues-new-guidance-help-facilitate-availability-naloxone-prevent-opioid-overdoses-and-reduce
Office of the Commissioner. FDA Approves First Over-the-Counter Naloxone Nasal Spray. U.S. Food and Drug Administration. Published March 29, 2023. Accessed March 29, 2023. https://www.fda.gov/news-events/press-announcements/fda-approves-first-over-counter-naloxone-nasal-spray
Mital S, Wolff J, Carroll JJ. The relationship between incarceration history and overdose in North America: A scoping review of the evidence. Drug Alcohol Depend. 2020;213:108088. doi:10.1016/j.drugalcdep.2020.108088
Leung TC, Colyer S, Zehireva S. An Outcome Study on the Naloxone Education/Dispensing Program for Departure Patients at Cermak Health Services of Cook County. J Correct Health Care. Published online September 15, 2020:1078345820954586. doi:10.1177/1078345820954586
Huxley-Reicher Z, Maldjian L, Winkelstein E, et al. Witnessed overdoses and naloxone use among visitors to Rikers Island jails trained in overdose rescue. Addictive Behaviors. 2018;86:73-78.
Behar E, Santos GM, Wheeler E, Rowe C, Coffin PO. Brief overdose education is sufficient for naloxone distribution to opioid users. Drug Alcohol Depend. 2015;148:209-212. doi:10.1016/j.drugalcdep.2014.12.009
Wenger LD, Doe-Simkins M, Wheeler E, et al. Best practices for community-based overdose education and naloxone distribution programs: results from using the Delphi approach. Harm Reduct J. 2022;19:55. doi:10.1186/s12954-022-00639-z
Guy GP, Khushalani JS, Jackson H, Sims RSC, Arifkhanova A. Trends in State-Level Pharmacy-Based Naloxone Dispensing Rates, 2012-2019. Am J Prev Med. 2021;61(6):e289-e295. doi:10.1016/j.amepre.2021.05.042
Pollini RA, Ozga JE, Joyce R, Xuan Z, Walley AY. Limited access to pharmacy-based naloxone in West Virginia: Results from a statewide purchase trial. Drug Alcohol Depend. 2022;231:109259. doi:10.1016/j.drugalcdep.2021.109259
Green TC, Donovan E, Klug B, et al. Revisiting pharmacy-based naloxone with pharmacists and naloxone consumers in 2 states: 2017 perspectives and evolving approaches. J Am Pharm Assoc (2003). 2020;60(5):740-749. doi:10.1016/j.japh.2020.03.005
Szalavitz M. Dan Bigg Is a Harm-Reduction Pioneer and His Overdose Doesn't Change That. Vice. Published October 24, 2018. Accessed June 16, 2022. https://www.vice.com/en/article/7x3yag/dan-bigg-overdose-harm-reduction
Anne Arundel County Department of Health. Opioid Overdose Response Training. Published April 18, 2023. https://www.aahealth.org/oort/
Aerre J. County supervisors approve required fentanyl education, Narcan distribution at schools. kpbs. Published October 11, 2022. https://www.kpbs.org/news/local/2022/10/11/county-supervisors-approve-required-fentanyl-education-narcan-distribution
Ohio Department of Health. Project DAWN. Ohio Department of Health. Published 2022. Accessed June 16, 2022. https://odh.ohio.gov/know-our-programs/project-dawn/