On April 28, President Biden released the American Families Plan (AFP), a $1.8 trillion proposal to strengthen the economy through investments in child care, education, nutrition and other supports for children and families. The plan represents the second half of the President's "Build Back Better" agenda and is a companion to the $2.3 trillion infrastructure framework proposed in the American Jobs Plan (AJP), which the administration unveiled earlier in April. If enacted, the two plans combined would cost more than $4 trillion over ten years. However, both plans include corporate and individual tax increases that, according to the administration, will offset the combined cost of the proposals over 15 years. The administration also expects the plans to reduce deficits over the long term.
With the AJP already receiving criticism from Republicans for its broad focus and high cost, the AFP faces an even steeper uphill battle in Congress due to its inclusion of controversial revenue-raising provisions, short-term price tag and focus on social programs that have less bipartisan support.
Proposed Spending in the American Families Plan Over 10 Years ($ Billions)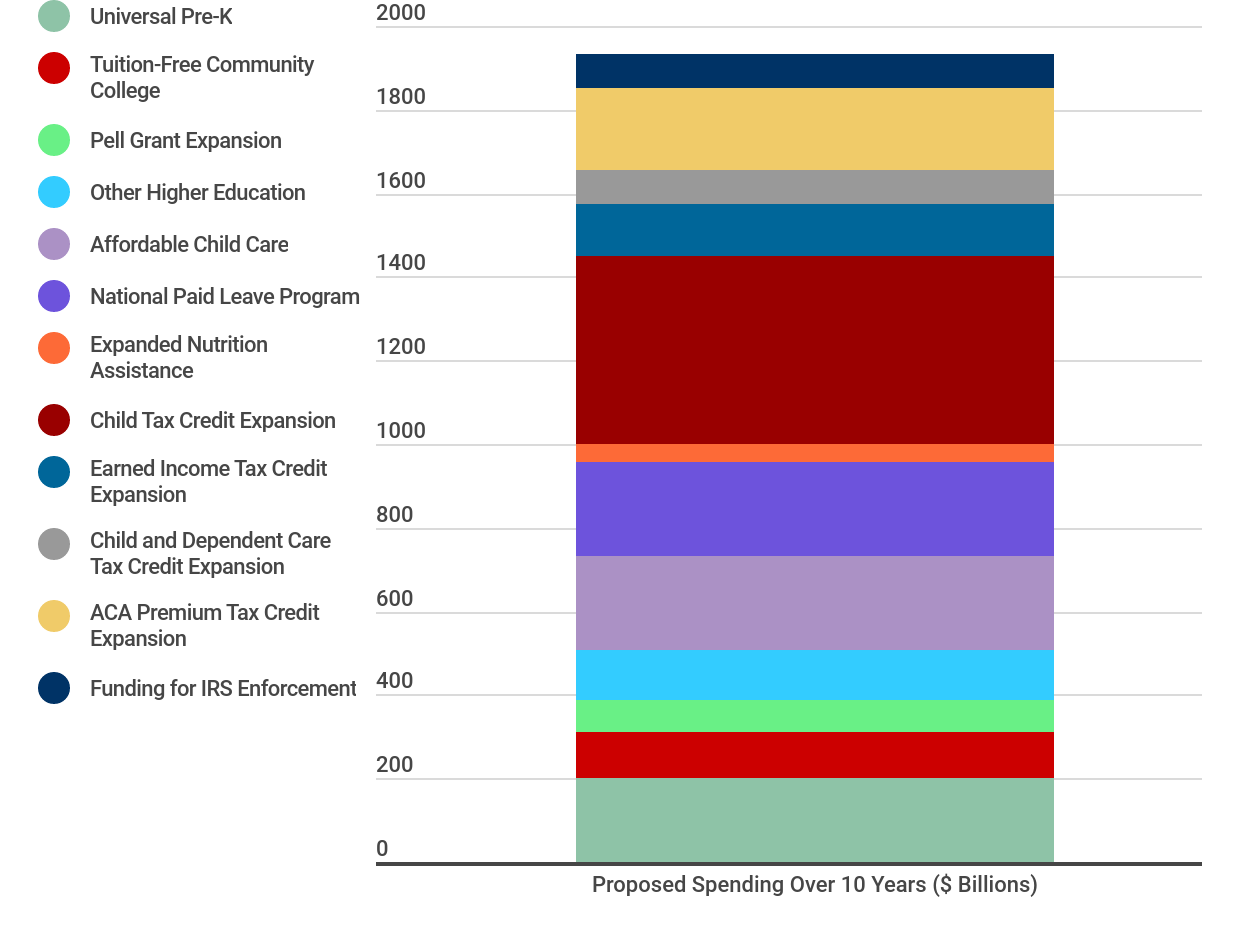 Child Care and Early Education
Child Care: $225 billion to increase the supply of high-quality, affordable child care. These funds would expand the existing federal child care subsidy program to a sliding scale ranging from no-cost to 7 percent of household income. They would also support quality improvement costs for child care providers and a $15 hourly minimum wage for child care workers along with other professional supports.

Universal Preschool: $200 billion national partnership with states to offer free preschool to all three-and four-year olds, prioritizing high-need areas and providing a $15 hourly minimum wage for employees in participating programs.

Permanent Child and Dependent Care Tax Credit (CDCTC) expansion: Families earning less than $125,000 annually would receive a tax credit worth 50 percent of their spending on qualified child care for children under age 13, up to a total of $4,000 for one child or $8,000 for two or more children. Families with incomes between $125,000 and $400,000 would receive a partial credit no less generous than their current CDCTC refund.
Counties play a major role in shaping early childhood systems and investing in core services for children, including by administering the federal Child Care and Development Fund in eight states and serving as Head Start grantees across the nation. We support federal initiatives to help counties develop and expand voluntary early childhood and parent education programs as well as increased federal funding to expand the child care subsidy program to meet the needs of eligible families and ensure that quality services are available to low-income families. Counties also support making the CDCTC refundable.
Community College and Pell Grants
Access to Community College: $109 billion to support two years of free community college for first-time students and workers wanting to reskill. Should all states, tribes and territories participate, the plan would support some 5.5 million students in earning a degree without paying for tuition and fees.

Pell Grants: $85 billion to increase the maximum Pell Grant award, which provides financial support to low-income college students, by approximately $1,400.  

College Retention Grants: $62 billion to boost completion and retention rates at schools that serve high numbers of low-income residents, through grant programs for schools that offer extra support like child care and mental health services. States, territories and Tribes would receive grants to provide funding for colleges that establish evidence-based retention and remediation programs.
The county role in the post-secondary education sector varies, however counties are critical actors in administering programs and services that comprehensively address education and workforce development. According to the American Association of Community Colleges, there are 986 public community colleges nationwide and local funds provide 17 percent of their revenues. Several local governments also fund four-year colleges. Counties support federal programs that preserve equal educational opportunities to our residents, including Pell grants, which play a significant role in community college financial aid.
Nutrition Assistance
Summertime Supplemental Nutrition Assistance Program (SNAP) benefits for children: $25 billion to provide SNAP benefits during the summer months to the 29 million participating in free/reduced price federal child nutrition programs.

Increased access to no-cost school meals: $17 billion to expand free school meals for children in the highest poverty districts (those with at least 40 percent of students participating in SNAP) by reimbursing a higher percentage of meals at the free reimbursement rate. The plan would also facilitate a more generous meal reimbursement structure to ensure more school children have access to meals at no-cost, while streamlining enrollment processes to confer eligibility for free meals based on participation in the federal Medicaid and Supplemental Security Income (SSI) programs.
While the role of county governments in administering, operating and funding child nutrition programs varies, these programs support key county priorities such as improving early child development, combating food insecurity, preventing child poverty and stimulating the local economy through the procurement process. Counties urge our federal partners to support policies that ensure all children have access to healthy meals at no-cost in school and child care and during the summer months. 
SNAP benefits for formerly incarcerated individuals: Would allow individuals convicted of a drug-related felony to receive SNAP benefits (currently only allowed when states take the option to eliminate or modify this restriction).
Counties administer the SNAP program in 10 states and recognize the important role this program plays in providing food assistance and employment and training programs for low-income individuals and families. Counties support lifting the lifetime SNAP ban on individuals with felony drug convictions in all states. 
Income Supports
Child Tax Credit (CTC) expansion: The American Rescue Plan Act of 2021 temporarily expands the CTC for the year 2021, increasing the credit size from $2,000 per child to $3,000 per child aged 6-17 and $3,600 for children under age 6. Additionally, it makes the credit fully refundable in 2021, expanding eligibility to families who typically do not have sufficient income tax liability to receive the full credit. The AFP would extend the credit increase through 2025 and make it permanently refundable.  
Earned Income Tax Credit (EITC) expansion: The American Rescue Plan Act of 2021 temporarily expands the EITC for childless workers in 2021, roughly tripling the maximum benefit and expanding the age of eligibility. The AFP would make these changes permanent.
Counties support the Earned Income Tax Credit (EITC) and Child Tax Credit (CTC) as important policies that encourage employment and increase earnings, promote economic independence and combat poverty in low to middle-income working families. Counties support legislation to increase and expand the EITC and CTC, including increasing the EITC and lowering the age of eligibility for childless adults and making the CTC fully refundable so it benefits all families.  
Paid Leave
National paid family and medical leave program: $225 billion for a program that will guarantee twelve weeks of paid parental, family, and personal illness/safe leave in ten years. The program would also immediately ensure workers get three days of bereavement leave per year. The program would offer workers between 67 and 80 percent average weekly wage replacement up to $4,000 monthly.
Counties employ 3.6 million employees, roughly one percent of the U.S. population and provide services to over 314 million county residents. Counties support family and medical leave programs that permit county employees to attend to family and medical matters without the threat of the loss of one's job or the loss of benefits or seniority.
The AFP is unlikely to garner significant bipartisan support in Congress. The framework not only proposes ambitious spending on several progressive policy priorities, but it also seeks to offset those costs with tax provisions that may prove unpopular with Republicans and some moderate Democrats. For instance, the plan would raise the top income tax bracket from the 37 percent authorized under the Republican Tax Cut and Jobs Act of 2017, President Trump's signature legislative initiative, back to 39.6 percent. It also calls for increasing taxes on capital gains for Americans earning more than $1 million, ending certain tax breaks for hedge fund partners and real estate investors and raising $700 billion over ten years via enhanced IRS enforcement, among other provisions.
At the same time, The AFP also omits certain progressive priorities, such as a making the Child Tax Credit increase permanent and providing significant rental assistance. Several Democratic lawmakers have also called for as much as $700 billion in support for child care, more than triple the amount proposed under the AFP.
Even if the 50 Senate Democrats come together in support of the package, passing the AFP by a simple majority in that chamber would require the majority to use the budget reconciliation process—meaning any final legislation would need to meet specific and complex budgetary requirements. Ongoing efforts to negotiate a bipartisan infrastructure package could further complicate or delay negotiations around the AFP.
Each year, counties invest $58 billion in federal, state and local dollars on human services while serving as the frontline social safety net. We look forward to working with our federal partners to promote bipartisan policies that help vulnerable county residents overcome barriers to employment and ensure children have the resources they need to thrive, while ensuring that new anti-poverty programs reduce administrative burden for county officials and adhere to local flexibility and control.
Standard