Keith Carson channels Berkeley upbringing on Alameda County Board
Key Takeaways
Keith Carson didn't plan on running for the Alameda County, Calif. Board of Supervisors, despite some pleas from local politicians.
As a longtime staffer to Rep. Ron Dellums (D-Calif.), Carson saw himself as more of a background actor in politics, but he did his due diligence, knocking on some doors in his native Berkeley to see for himself if he had a future. Then late one night, he was confronted by an intimidating group of men as he walked back to his car.
"They started asking 'What are you doing here?' and I got kind of nervous and told them I was surveying running for office," Carson said. "They let me go on ahead and when I was leaving, they said 'Why don't you go ahead and run for office? Maybe you can get us off the street corner.'"
Carson ran, and he lost by about two dozen votes, but two years later, he prevailed and began what is now a 30-year career on the county Board and has included terms as president of the California State Association of Counties and a long tenure on NACo's Board of Directors.
His own trajectory in government drew parallels to the men who gave him the push to run for office. As a rebellious teenager, after being kicked out of his public school in Berkeley, he ran afoul of the law. As he was being arrested, a man named Harold Davis, later executive director of the Oakland Housing Authority, saw him and suggested the police remand him to the Youth in Government program.
"The police asked me what I wanted to do," Carson said. "I didn't know this guy at all, but where he was taking me sounded better than jail."
The program involved joining a student assembly in Sacramento, where teenagers debated legislation, and he found an environment that energized him like nothing he'd felt before — a chance to participate in a formal process to affect change mirroring what he saw in popular demonstrations throughout the East Bay. That said, his political instincts were a little off at that point.
"I proposed a bill that people over the age of 60 wouldn't be allowed to drive," Carson said. "I'm way over 60 now, so I'm glad that failed."
Though he didn't know a life outside of the socially conscious atmosphere in Berkeley, his parents did, having migrated from Texas, just one generation removed from slavery.
"My father could never talk to me about his experiences as a Black man in Texas, they were too painful," Carson said. "I just knew they wanted to get as far away as possible."
It was important, Carson said, that his parents showed him the options for social change available to them, even as restaurants wouldn't serve them. Neither had graduated high school, but they worked hard to afford Carson and his sisters advantages they never had, including private high school for him.
"My parents would take me to picket lines and sit-ins that were taking place, even in Berkeley and Oakland, which were supposed to be progressive. That was a part of the experience and the learning process."
Unable to enter a stadium where President Kennedy spoke, the family listened from a hillside nearby. They heard Martin Luther King Jr. preach at a local church. Politics, in one form or another, was in the air in Berkeley.
After the student legislature, Carson was placed as an intern in the office of Warren Widener, Berkeley's first Black mayor (who Carson would run against for the county Board decades later). Already a confident speaker, Carson turned his newfound studious efforts to refining his writing skills.
When Dellums ran to be the area's first Black member of Congress, Carson's parents volunteered for his campaign. Following college at the University of California, Carson started working for Dellums, from whom he gained a particular interest in public finance, which prompted his graduate studies.
"That gave me a better understanding of the totality of government," he said, pointing out that while naysayers can claim a program isn't affordable, understanding the intricacies of finance gives leaders options.
In addition to 10 years working in Dellums' district office, he spent five years in his Washington, D.C. office. The breadth of his government experience made his transition to the Alameda County Board in 1993 virtually seamless.
"In organizing for the race, my campaign had connected with a cross-section of the community," Carson said. "We had people feeling energized because they knew we were focused on their issues, even though they know several other constituencies also had priorities we were listening to."
As chair of the Board's budget committee, Carson worked to make the meetings more open and inclusive, soliciting more budget input throughout the county.
"It wasn't just a few people carving up the budget anymore," he said. "I just tried to make it a more inclusive, more transparent process and through that process hopefully having a more equitable outcome."
Through his participation in both the state and national associations, Carson has gained a lot of perspective for how other leaders manage their counties' needs. But he is very concerned about the impact of broad economic trends on his own district, which he has seen become less diverse over his tenure as the cost of living throughout the Bay Area drives many, including his son, farther inland if they want to stay in California.
"Now there's an exodus because people can't afford to live in our area," he said. "People on the economic margins are becoming part of our homeless or the incarcerated population and the need for the services county government provides has become so much greater and these groups struggle to survive. We spent $100 million on food programs in 2022, but just a few years ago it was $10 million before the COVID pandemic."
His district, which was 20 percent Black when he was elected in 1992, is now closer to 10 percent Black.
"We're seeing less of the diversity that made our area so distinctive and vibrant," he said.
His response is to live unapologetically through his identity as an African-American, and he feels that by gearing his attention to the needs of one marginalized group, he's much more receptive to others, citing LGBTQ and disabled communities as examples of constituencies for whom attention to their concerns have made the country stronger overall.
"We want to minimize competition among groups, but also constantly using the data that highlights the disparities and redirect resources accordingly," he said. "We're currently in the process of sitting down with each of the distinctive groups, coming out of the pandemic, trying to solicit what does life look like for the population. For some groups, family connections get tighter and we want to make sure nobody pulls away from society at large and feels forgotten by county government."
While work in the community is crucial, Carson saw John George, the county's first Black supervisor, die in office from a heart attack, due in part to overextending himself in an effort to keep up a hectic public schedule. North of 70, Carson prioritizes his physical and mental health with regular appointments with a heavy punching bag, on which he unleashes his frustrations while working up a sweat before giving the bag a cathartic embrace after a long workout and moving on with his day.
His eye has always been on the future, even as he looks to the challenges his parents faced in an effort to use county government to make life better for everyone. Though his father died before he took office, his mother lived to see most of his county government career thus far.
"I've been blessed to be placed in a position to be in the room where I can lend a voice to trying to figure out how we move forward," he said. "I feel so blessed that I have the ability to do this work."
Related News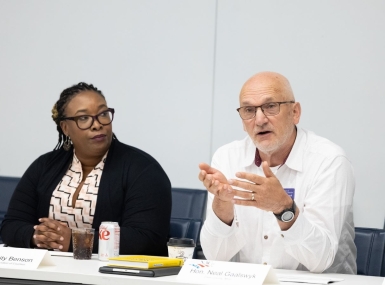 Cass County, Minn. Commissioner Neal Gaalswyk made efforts to relate to and understand his indigenous constituents.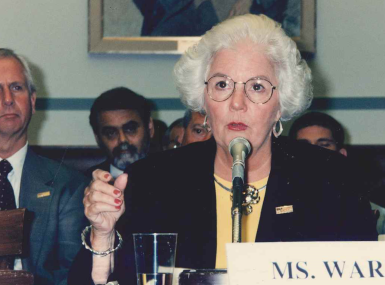 Her involvement with her children's PTAs drove Betty Lou Ward to run for the Wake County, N.C. Board of Commissioners to work to improve schools, libraries and parks.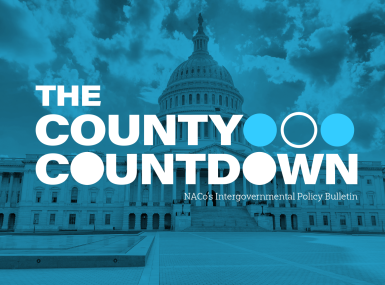 Watch this week's County Countdown for the latest federal advocacy updates on topics related to counties and the intergovernmental partnership.