Arts champion, NACo president, Betty Lou Ward dies at 87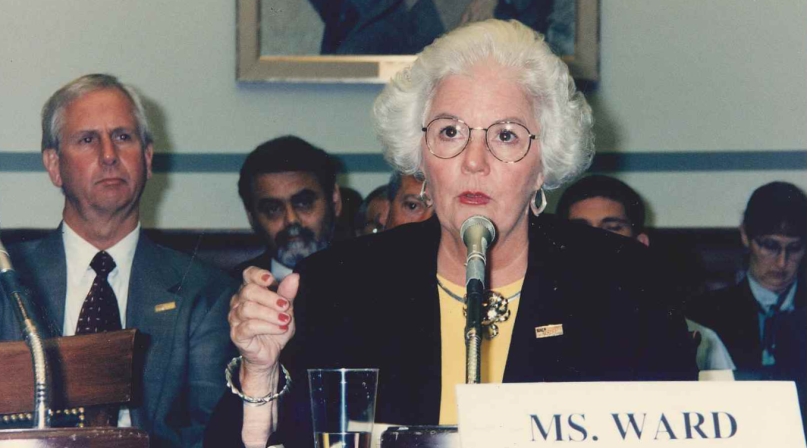 Key Takeaways
Any new county building that directly serves the people of Wake County, N.C. has Betty Lou Ward's signature on it.
Shortly before she retired in 2016 after 28 years on the county Board of commissioners, her colleagues passed an ordinance in her honor requiring an artistic component to any major capital projects that involve public access or interaction. Libraries, park facilities, EMS buildings, health and human services buildings and more will all include design aspects to make them aesthetically distinctive. So far, two public art installations have been completed, with two in the planning stages and another five likely by 2028.
Ward, who served as NACo president from July 1998 to July 1999 and as chair of its Arts and Culture commission from 2000 to 2008 died Nov. 8 at age 87.
"She could look at a project like the water works and wonder if we could make it something spectacular like the fountain at the Bellagio in Las Vegas," said James West, a Wake County commissioner who spent six years on the Board with Ward.
In 2000, she was the first recipient of the National Award for County Arts Leadership from Americans for the Arts.
"Her true love was the arts and education," said Sig Hutchinson, a former Wake County commissioner who had a long public service background with Ward before spending two years with her on the Board.
"There were several years she pushed back when Board members tried to cut education or the arts or human services programs. She really stood up for the things that made people's lives better."
Ward's involvement in three PTAs inspired her to run for the county Board in 1988, aiming to improve the county's parks system, with hopes of keeping the county's children engaged both in and out of school. The ballot displaying her name from her first run for office remains displayed in the lobby of the county's Board of Elections.
"My sister and I, every first day of school, the teachers would tell us we couldn't get away with anything because they knew our mom," said her son, Jeff.
"She saw the flaws, the needs and the wants in the education system, and she wanted to address them. Then on the commission, she had the power to make things happen.
"Her passion was making sure others had what they needed to succeed. That started with students, teachers and libraries, but went on to do that for all of Wake County."
When running for NACo leadership in 1995, she pushed counties to embrace technology, advocated for a stronger network of state associations of counties and beseeched county officials to connect and engage with their citizens in hopes of activating civic energy.
"She loved to meet people, she was a great networker," said Larry Naake, NACo executive director during her presidency. "She was very easy to get along with and she took on a lot of travel to connect with people in county government."
Her presidential theme stressed civility in politics, appropriate for a gridlocked Washington amid a presidential impeachment and prescient about the looming deterioration of legislative comity.
"She was ahead of her time," Naake said."
Ward was proud of the success NACo saw during her term in winning a seat on the Advisory Commission on Electronic Commerce.
Hutchinson said she had an internal clock that governed her phone calls.
"We'd get to talking and I started noticing after 43 minutes, she'd say 'Well, Sig, I'd better let you go,'" he said. "It was like clockwork."
He also remarked on her encyclopedic recall for people's families, particularly children and grandchildren's names.
"She had this gift of knowing everything about everyone and being passionately interested in helping people," he said.
"She encouraged me to run for the commission and taught me more about advocacy and leadership than I could have imagined."
Though Jeff Ward's voice was hoarse a week after his mother's passing, his grief was buoyed by the joy of rediscovering parts of his mother's personality he had either not been privy to or had forgotten in the fog of activity.
"It's hit me that when you're so close to somebody like that, a lot of times you take for granted or maybe overlook the big picture and what she had done and accomplished in her life, all the friends she made. Sometimes you forget about it and it has been an awesome thing to be reminded of it all."
West said that while she was a proponent of racial inclusion, she also helped him broaden his horizons as a public servant as he adjusted to his county role.
"I had just come from the Raleigh City Council, and when the city and county were working on an interlocal agreement to use hotel/motel room tax, she made sure I knew there were rural parts of the county that could use that revenue, not just the convention center."
In the '90s, she served as co-chair of a task force to examine how North Carolina handled federal block grants for human services and other programs.
She also served on the National Council on Air Quality Standards, as chair of the Wake County Social Services Board and on the Wake County Council on Fitness and Health.
"She was a true out-of-the-box thinker," West said.
"When people would talk about why we couldn't do something, she would tell us why we should find a way. She was a driver and a catalyst for a lot of change in Wake County."
Related News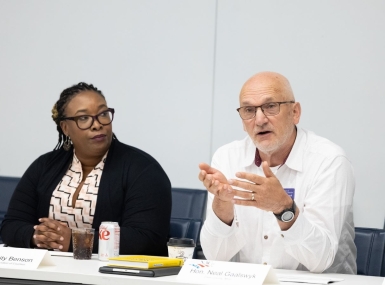 Cass County, Minn. Commissioner Neal Gaalswyk made efforts to relate to and understand his indigenous constituents.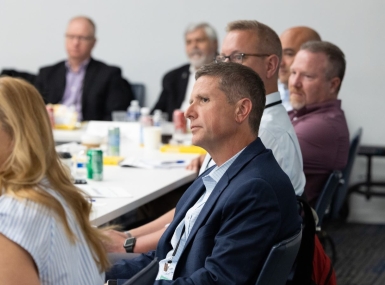 Jefferson County, Wis. Administrator Ben Wehmeier learned how to include the public and make them feel like their input was heard and respected.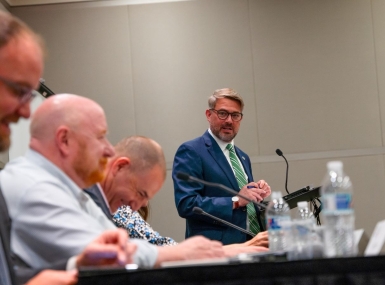 The past decade has seen a drastic increase in states passing laws that preempt county authority and limit local policymaking.
County News
NACo program will advance arts-based economics