Beating the Odds: How Counties are Overcoming Barriers to Behavioral Health Service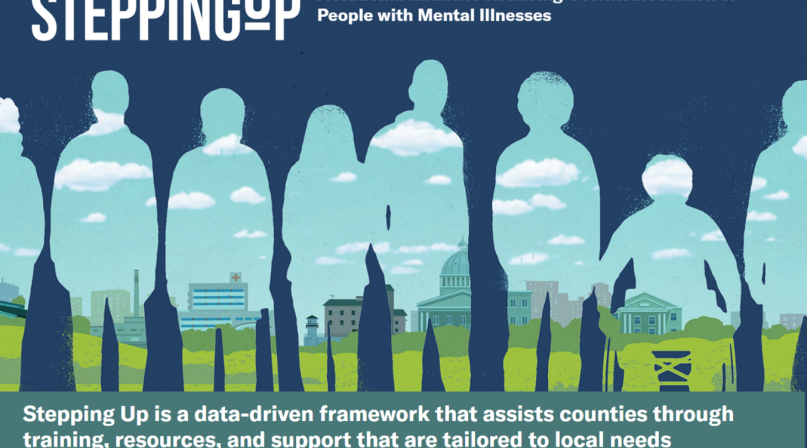 Key Takeaways
The Stepping Up Initiative — supported by NACo, the American Psychiatric Association Foundation and the Council of State Governments Justice Center— assists local governments in their commitment to reduce the overincarceration of people with mental health conditions. Stepping Up provides county governments with the resources and tools necessary to develop effective localized solutions, set and reach measurable goals and participate in a national learning community of 569 counties at the time of publication.
As counties continue to sign on and make use of Stepping Up resources, the initiative's lead organizations recognized a need to study local participation and identify drivers of and barriers to local system improvement efforts. As part of an evaluation of the Stepping Up Initiative, researchers at George Mason University examined the characteristics of participating and non-participating counties for themes and trends. The study found that counties with robust mental health and substance use care delivery systems were most likely to participate in Stepping Up. The study also found that counties classified as medically underserved and/or mental health shortage areas are less likely to participate in improvement activities. Additionally, utilization of the legal system to address mental health, as denoted by more police per capita and greater jail populations per capita, detracted from participation in Stepping Up.
Counties with substantially better community mental health and substance use care delivery infrastructure are more likely to participate in national initiatives aimed at improving behavioral health care for justice-involved clients." (George Mason University, p.711)
To overcome barriers to participation related to under-resourced health systems, counties are exploring innovative cost-sharing models to expand services, including establishing multi-county or regional resource networks and engaging with non-profit organizations or other community-based organizations. State-level funding and evaluation support can make a substantial difference in supplementing county capacity to provide health services. Below are a few county examples of regionalized approaches to county efforts to address community health needs.
In California, a six-county cohort – Fresno, Sacramento, San Bernardino, San Mateo, Siskiyou and Ventura counties – in partnership with Third Sector and the California Mental Health Services Oversight and Accountability Commission developed the Full Service Partnership Innovation Project. This Project takes a collaborative data-driven approach to allow the diverse county cohort to leverage their collective capability and shared information. The cohort utilizes effective stakeholder engagement to provide a deeper understanding of their stakeholder challenges and experiences, which ultimately helps direct solutions.
Four Kansas counties – Barton, Pawnee, Rice and Stafford counties – work with regional non-profit organization, the Center for Counseling & Consultation, to support therapy, medication management and case management for young people and adults. The Center recently received a state grant to support a new Jail Program that will assist incarcerated individuals in the region's local jails. Center staff will work closely with jail personnel and incarcerated individuals who otherwise would not have insurance or private funds to access medication, therapy and other needed resources upon release, such as food stamps, housing and employment.
In Minnesota, six central rural counties – Atkin, Cass, Crow Wing, Morrison, Todd and Wadena – have developed a regional partnership that applies for state and initiative-based grants to fund mental health services. The multi-county partnership contracts with Crisis Line, a local provider for mobile behavioral health services that offers crisis assessment, crisis intervention and crisis stabilization services.
The Stepping Up Initiative acknowledges that public health and safety are interconnected. Stepping Up counties are working to reduce overreliance of the criminal legal system and better address behavioral health needs. Engagement in Stepping Up demonstrates a county's commitment to improved outcomes for local residents. Studies like this can help NACo and partners help counties overcome barriers to participation in improvement efforts and pursue innovative strategies within their current capacity.
To learn more about the Stepping Up Initiative visit https://stepuptogether.org/#/.
To learn more about this NIMH-funded evaluation of Stepping Up and to participate in this study visit: www.gmuace.org. This link contains studies that may aid county agencies in addressing the needs of individuals in the justice system with mental health disorders.
Featured Initiative
The Stepping Up Initiative
Stepping Up is a data-driven framework that assists counties through training, resources, and support that are tailored to local needs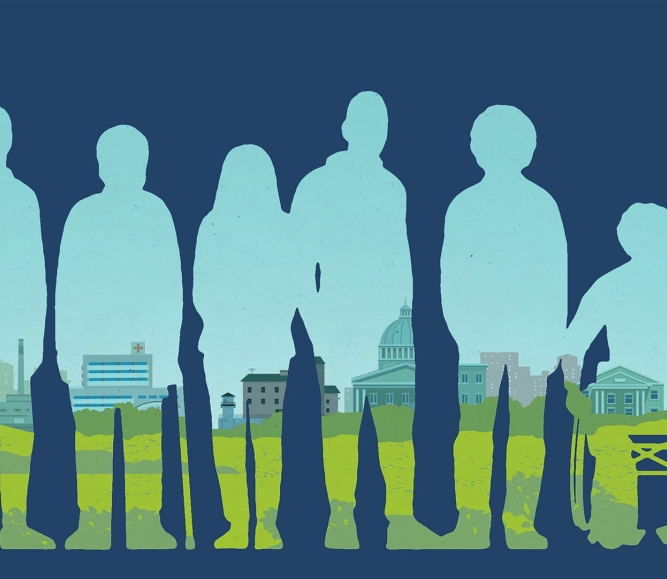 Featured Initiative
NACo Commission on Mental Health and Wellbeing
Launched in February 2023, the NACo Commission on Mental Health and Wellbeing brings together county leaders from across the nation to take action to address the ever-growing mental health crisis from the county government perspective.