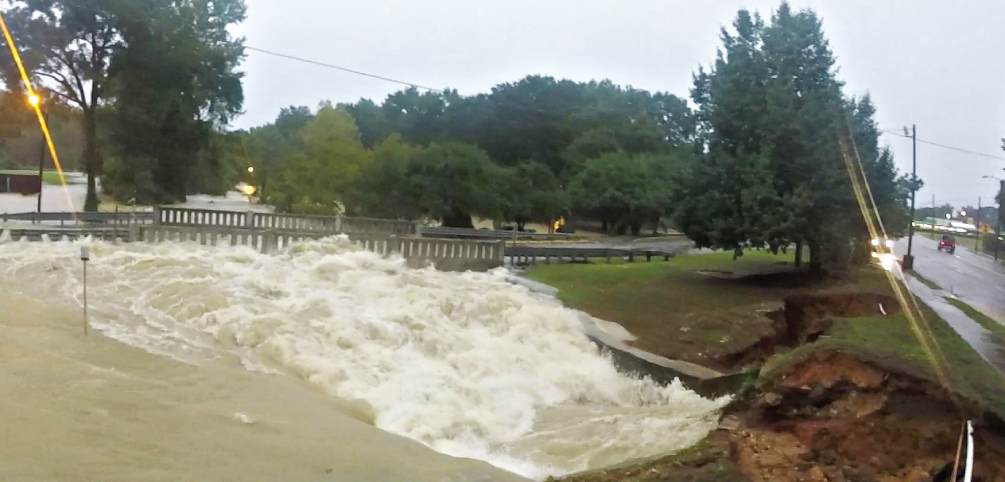 Lexington County, S.C. (pop. 277,000)
Flood by the Numbers

146 county roads closed

92 state roads closed

100 miles of county roads destroyed

14 pond dams breached

9 dams failed

3 of the 12 county -maintained bridges closed

7,208, number of 911 calls, Oct.4–6

2,869 calls over 24-hour period on 10-4 at height of storm

1,400 calls daily average

167 swift water rescues by Fire Service

Source: Interview, 10-19-15, David Kerr, Lexington County public safety director
Mother Nature can sometimes play the nastiest practical jokes. Take for example South Carolina at the end of September. The National Drought Mitigation Center said three-quarters of the state was facing drought conditions.
Less than a week later, flood-bearing rain pelted parts of the state with 24-hour totals in the 15- to 19-inch range. If it had been snow, the 24-hour totals would have ranged from 12 feet to 15 feet.
Gov. Nikki Haley (R) called it a "1,000 year event," and it devastated parts of 16 counties: Berkeley, Charleston, Clarendon, Dorchester, Georgetown, Horry, Lexington, Orangeburg, Richland, Sumter and Williamsburg, Calhoun, Darlington, Florence, Kershaw and Lee — all declared federal disaster areas.
"I've been doing this for 33 years, and I've never seen any kind of incident like this in South Carolina ever before," said Cathy Haynes, chief of operations for the Charleston County Emergency Management Department. "Things evolved so quickly with this incident." Coastal Charleston was hit early on before the rains moved inland.
In Richland County, home to the state capital of Columbia, nine people drowned. Richland County Coroner Gary Watts said that while he's been in the business for a long time, he didn't remember that many deaths from flash floods.
Indeed, Richland registered the bulk of the deaths from the storm, reported by various media to stand at 19 throughout the state for the period of Oct. 2–6. Many deaths occured on washed out roads. A South Carolina Department of Transportation spokesperson said 500 miles of state roads and bridges were washed away.
That included 35 bridges and more than 110 state roads in Richland County, according to County Council Chairman Torrey Rush.
Many roads remained closed two days after the sun reappeared Oct. 6, added Joyce Dickerson, his council colleague. Even though her district escaped serious damage and was "100 percent intact," she remained uneasy about travelling the roads in the county. "I'm scared to go on a road, afraid it might fall through because the roads are bad anyway." Rush said the state and county are working to get infrastructure back in place as soon as possible.
He had nothing but praise for the cooperation between state and county government, and "kudos" for county first responders — and others.
"The private community has definitely stepped up," he said. "You talk about neighbors helping neighbors, just seeing the way businesses and people from all over the country — just chipping in — it was just tremendous…. We're moving forward now and I think we're in a good place."
Bev Harris, Richland County public information officer, said,"There was a lot of destruction, but we're doing really well." They had to, she explained. In addition to being home to the state capital, the county is also hosting the State Fair, which began Oct. 14.
Upbeat assessments of county resiliency were also on tap from another Midlands county official, Lexington County Administrator Joe Mergo. "Our heart really shined at this event," he said.
Volunteers poured into neighborhoods, some of which were completely underwater, to help in the clean-up. Already, the county has collected eight and a half tons of debris, Mergo said. Meanwhile, Department of Public Works crews have have been working 14-hour shifts, seven days a week, to reopen county roads.
He strongly praised the collaboration that occurred between all jurisdictions in facing the storm's challenges. "I completely attribute our success to those relationships we made prior to the event."
State police deployed swift-water rescue teams to rescue residents in deluged subdivisions, he related. School systems shared their bus routes with the county, so the public works crew could prioritize road repair efforts and get "the kids back to school."
Heavy rains, totaling 23 inches, caused flash flooding throughout Horry County, a destination spot for persons vacationing in Myrtle Beach. Days later, the Waccamaw River flooded, giving the county's military surplus vehicle, dubbed Rescue 1, its debut in a disaster.
County spokeswoman Lisa Bourcier said the rescue of six people was made possible by Rescue 1, which is 10 feet high and 8 feet wide and capable of traveling through three feet of water.
Not all rescues, though, came via special equipment. Three off-duty Horry County corrections officers saved a drowning woman who had been pulled through a drainage pipe by fast-moving water. Two were on their way to work and another saw and joined in the effort.
The woman, Amber Lloyd, and her boyfriend had been walking and taking pictures of the flooding, when the boyfriend slipped and fell in the ditch. Lloyd, attempted to help him, but was sucked underneath the roadway through the drainage pipe and was stuck underwater for up to three minutes.
The officers, who saw Lloyd fall in the water went over to the other side of the drainage pipe and found her submerged, facing down in the water, bluish-purple with no sign of life. Officers immediately began administering CPR and continued until she showed a slight sign of life.
They carried her to one of the officer's trucks and drove her to meet the ambulance, which couldn't reach the scene. Lloyd was treated at a hospital and released.
More than a week after the Waccamaw River peaked at 16.1 feet, waters were still at 11 feet. Bourcier said measures put in place by the county's stormwater management department, formed in 1999, likely kept the river from cresting over the September 1999 mark set after Hurricane Floyd, which pushed the river to 17 feet.
Damage to both private and public property in neighboring Georgetown County is, for now, around $48 million, though county spokeswoman Jackie Broach said there were western parts of the county that could not be reached and that estimate was sure to increase. State DOT workers cannot reach some bridges to assess their damage.
The county's secondary emergency operations center suffered severe damage, including mold issues resulting from a few feet of water that flooded the building. Rain caused a ceiling to collapse in an administrative office, and that same building had a flooded basement.
(Charlie Ban, Bev Schlotterbeck and Charles Taylor, County News staff, contributed to this report.)
Hero 1