About six weeks ago there was a day which began in a routine and peaceful way. There was the enjoyable beauty of a quiet morning complete with dark roast Italian coffee and two newspapers demanding to be read. Later, however, word came, followed by a phone call, that changed all of that. Something horrific had happened. It was an overwhelming challenge — beyond what anyone usually experiences in an entire career.
This was the incredible tragedy of the mass shooting at Marjory Stoneman Douglas High School in Parkland, Fla. Parkland is located in Broward County just below the border with Palm Beach County. I know it well, having spent about 12 years as its director of human resources. Parkland is a small community in Broward with beautiful properties.
That day, I spoke with a good friend — an amazing colleague who retired after more than 30 years of leadership in another city in Broward County.
After a relatively short period of retirement, my friend Robert Payton was recruited to become the city manager of, you guessed it, Parkland, Fla. Parkland wanted a seasoned, ethical and innovative city manager for a quiet city with not a huge amount going on. That was an attractive prospect for an experienced city manager who also happened to live in Parkland.
No matter how experienced a person might be in critical incident management every one of us needs help and friends to talk with when facing this kind of challenge. I wanted to offer any help I could to my friend Bobby.
By this time, Parkland was flooded with media trucks and reporters. There were law enforcement agencies from many jurisdictions all over the area. Residents, parents and people around the world were in shock about this latest violent outburst in what should be a safe haven.
The first thoughts in the management of critical incidents like this is to understand the magnitude and essence of the event. Was the shooter in custody? Were the victims receiving the extraordinary care they deserved? What about counseling for students? What about communication with anxious residents?
The desire to cooperate fully with the media, telling the truth and repeating it frequently, would also need to be weighed against the risks that some of the information could be distorted and add to the harm instead of to the healing.
These are extremely difficult situations. They are well beyond the capability of any one jurisdiction to effectively manage.
Having sat in the emergency operations centers of both city and county governments during events like major hurricanes and, in fact, sitting in some of these activities with Bob Payton, I knew that this situation called for a firm hand, experienced leadership, and a very caring heart to keep the events in perspective.
We talked about all of these things and an array of suggestions were shared. Some of them were likely to be implemented quickly but others likely not as disaster events change faster than administrative actions and policies can be established.
Some of the major ideas were that this was a time for truth and a time to never let thoughts of the victims be diminished in the actions to follow.
An array of memorials to the victims were discussed. There were ideas shared about enhancing the physical security of not only schools and hospitals in the area but perhaps also day care centers and assisted living facilities and other vulnerable facilities.
This could include city recommendations for security measures, which had to be considered even by private developers. Those who chose not to implement the recommendations, could, as a condition of receiving final certificates of occupancy, have to submit an explanation to the city commission about why the developer chose not to follow the suggestions made.
There was talk of endowed college scholarships and internships in honor of each of the victims.
We spoke of enhanced procedural security of schools and other facilities, including better access controls for persons entering and leaving, not unlike practices followed in Israeli schools. Perhaps some of the available funds could be used for the conduct of physical security assessments at each facility, not to mention improvements in alarm protocols and the training of the first law enforcement officers and school administrators to arrive on the scene.
Often in cases of workplace violence or sexual or race-based harassment and threats, behavioral symptoms by perpetrators appear earlier than the time that an actual incident might take place.
Most employers and schools are not trained or equipped for forensic psychological assessment. When such symptoms appear, most supervisors, managers or teachers simply don't know what to do.
If an effective system for rapid referral for an assessment by a licensed forensic psychologist existed, perhaps on a regional basis, with referrals made quickly by better trained staff, the evil intent of this particular shooter might have been interrupted. Perhaps not. However, the fact that it might have been makes it worth considering. Certainly, a community-wide highly skilled employee assistance program and student assistance program could provide a resource that smaller jurisdictions could not afford on their own. This could be a most valuable asset indeed.
Swift action to focus the attention of the media, the public, students and perhaps most importantly, elected officials could be an effective response to this day of horror.
Elected officials are better at reacting to short-term needs and expediencies than to strategic long-term needs. This is a mistake which, for the sake of America's future, should not persist.
I can think of few if any colleagues better able to lead this kind of effort in association with local elected officials than my friend and my colleague Bob Payton.
I can think of no issue more likely to tear down jurisdictional boundaries and interagency territoriality than what happened in Parkland.
My discussion with Bob began by noting how incredibly fortunate the small city of Parkland was to have him there when they needed such a person most.
I hope they appreciate that and I hope they provide the support needed for a truly humane and effective role model city manager to excel. Be strong, Bobby, as you provide the firm and humane leadership everyone craves when things are at their worst.
Hero 1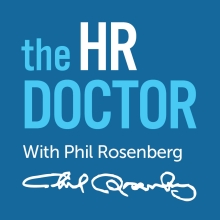 About Phil Rosenberg (Full Bio)
The H.R. Doctor
---
More from Phil Rosenberg
---