Gupta: Harm reduction, data, treatment drive national strategy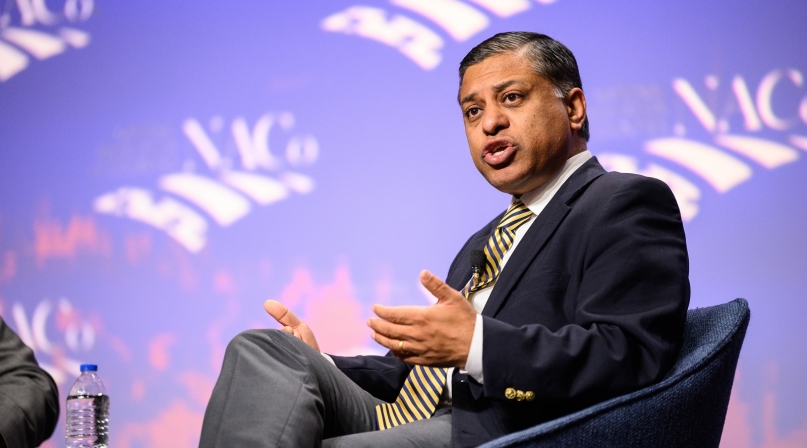 Key Takeaways
While the country has focused on the COVID-19 pandemic, substance use and opioid addiction continue.
Now Rahul Gupta, director of the Office of National Drug Control Policy (ONDCP), is leading the federal effort to combat both the human toll and the illicit drug markets that have plagued the United States for decades.
"The president's strategy puts together and delivers on his unity agenda, a call to action to beat overdoses," he said in an address Friday, July 22 to a General Session audience at NACo's Annual Conference in Adams County, Colo. "It's really important because it recognizes that this is not a red state issue, this is not a blue state issue — this is America's issue."
Gupta, who previously served as director of both the Kanawha-Charleston and Putman County health departments in West Virginia and as the West Virginia health commissioner, is the first county official and the first physician to lead the ONDCP.
NACo has launched an Opioid Solutions Center to help counties navigate the aftermath of the $26 billion multi-district litigation settlement with opioid manufacturers and distributors that will soon be distributed to states and counties.
The national drug control strategy focuses on four main tenets to reduce demand for dangerous narcotics and choke the supply. Chief among them is the first response for addressing overdoses — making sure the overdose-reversing drug naloxone is in the hands of anyone who may need it, without fear or judgment. Any life saved from immediate threat of overdose is a life that could eventually be treated for addiction.
"It enables us to work with people who use drugs to build trust in engagement and ultimately, keep them alive," he said.
"Securing naloxone is the best thing that counties could do right now to save lives," he said later in a discussion with NACo Past President Gary Moore, the Boone County, Ky. judge/executive who served as co-chair of NACo's joint Opioid Task Force with the National League of Cities.
"It not only saves dollars, it saves lives," he said. "But it also helps figure out what are the highest risk populations and how to get the help when people need it where they need it."
Gupta said counties are in the best position to figure out where to most effectively distribute federal funding to their highest-risk populations.
But even after someone survives an overdose, those who want to work toward recovery face long odds, he said, not just because of the nature of addiction but because of the dearth of treatment opportunities, with less than 10 percent of the population with substance use disorders able to enter rehabilitation treatment. The national drug policy aims to double treatment admissions for populations at most risk of overdose death, en route to offering universal access to treatment for opioid use disorder by 2025.
"If somebody is needing the help, how can we make them wait for a month, or two months or three months?" Gupta asked.
The lack of actionable data on opioid addiction is a missed opportunity, Gupta said, because of the predictive nature of addiction trends.
"We know that one of the best ways to predict a fatal overdose is having a previous non-fatal overdose," he said. "The sooner we get this data, the sooner we can use it to drive all these decisions and save lives."
Following an industry-wide restriction on the prescription of opioid-based painkillers, the preeminent threat comes from illicitly manufactured drugs that often contain fatal doses of fentanyl. Those markets are fueled by international traffickers but, Gupta said, they are businesspeople.
"These folks are driven by profits, not ideology, but profits," he said. "We will focus on disrupting transnational criminal organizations and their illicit financial networks and supply chains. We'll be focusing on where it hurts them most — their wallets."
Gupta reflected on how his local and state experience have helped him prepare for his federal role. That experience, and the way he sees a way out of the addiction epidemic, is cooperation.
"We can't move forward without working together," he said. "This is such a complex and large problem, with an American dying every five minutes around the clock, but no one agency, no one department, no one community can take care of itself.
"We've got to bring in faith-based communities, the business community, law enforcement partners, first responders, the medical community, the public health community, folks in transportation, housing… all those people."
Related News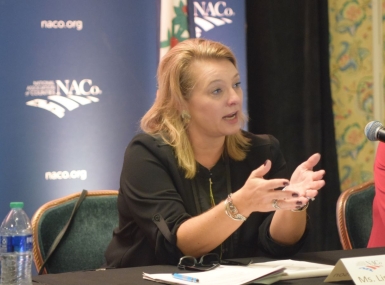 Elected officials can help promote the use of a more holistic approach to combatting substance use disorder.