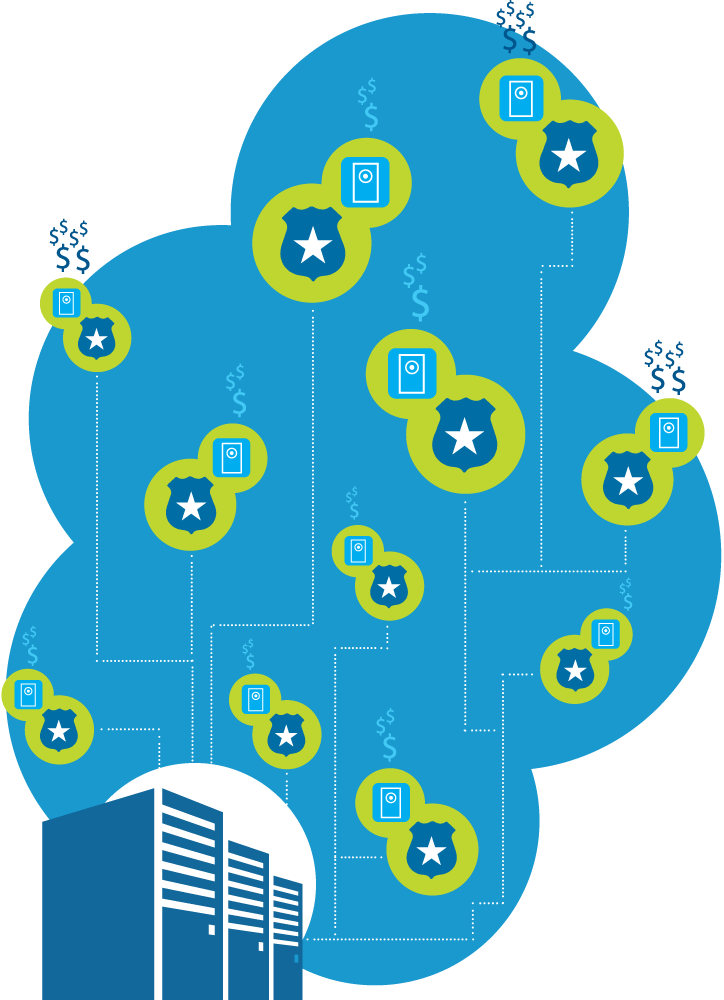 With $45,000 in hand, Sheriff Barry Virts was excited about buying body-worn cameras for his deputies in Wayne County, N.Y. 
"It's something I've been pushing for, and have been excited about," he said. "When our deputies leave their homes to go on the road, they know to act like they're on camera all the time, because everyone has them these days." 
But not the deputies. When the county's chief information officer looked into the cost of storing the data from the cameras — video is particularly large — estimates ranged from $120,000 to $192,000 to buy a new server. 
"The front-end costs aren't bad, but the back-end is prohibitive," Virts said. "I had to table the plan because what I'd have to give up in budget and patrol time would be too much." 
Adding to the complexity is the download time for the cameras. Virts said tests took about 50 minutes for a complete download. In addition, one or two staff members would be needed to index the files. 
"Body cameras are a very useful tool, but they're not a cure-all," he said. "At this cost, I can't justify it to the taxpayers." 
The cost is a reckoning point for a lot of counties as the cameras spread even faster on the heels of high-profile allegations of police misconduct over the past two years. 
Baltimore County, Md., with the 21st largest sheriff 's department in the country, will outfit its 1,435 officers with cameras at a cost of $1.25 million for the cameras, and $5.6 million for maintenance and data storage for five years. The $7.1 million total will also include the cost of hiring at least 21 additional full-time personnel in several departments to manage the program, with the annual program cost reaching an estimated $1.6 million. 
In smaller Muskingum County, Ohio, the sheriff 's office is expected to spend about $45,000 for the cameras and first year of data storage, and about $35,000 for data storage in each year to follow, according to The Times Recorder. 
In mid-September, the Bureau of Justice Assistance's Body- Worn Camera Pilot Implementation Program awarded $19 million in matching grants to local law enforcement agencies, with $1.5 million going to nine counties. Miami- Dade County received $1 million — on par with five cities — and Hamilton County, Ohio scored $139,500. The grant program was part of the Obama Administration's three-year $75 million proposal that will ultimately pay for 50,000 body cameras and associated costs. Cameras themselves typically run between $500–$700 each. 
Wyandotte County, Kan.'s $88,000 portion of a $352,000 shared with Kansas City, Kan. will go toward the long-term cost for keeping records. 
"All of that money will go to buy storage space for data," said department PIO Lt. Kelli Baliff. "The expenses will be staggering." 
The county had already spent $70,000 for cameras and some server space before learning it had won the grant. The department is finalizing its camera policy, developing a training plan and synchronizing the body cameras with in-car cameras. 
"We'd like to have that finished by December," she said. "Once we have these operational, it will help us be more transparent and make our community relations better." 
Data storage costs depend on the volume of data being preserved, and those policies vary. The News and Tribune reports that Pierce County, Wash. is holding off on acquiring cameras until the state's public records laws are updated for the digital age. 
Henrico County, Va. will spend $100,000 a year to license software from its vendor and for cloud storage. 
"We have a six-hour training session from Fair and Impartial Policing, which includes two hours of body camera training," said Lt. Dennis O'Keefe, who coordinates the police department's body camera program. "Once they upload the videos, officers can view them, but they can't alter or delete them." 
The county policy stores non-evidentiary videos for 90 days, and evidentiary videos for 180 days, or longer, if flagged. From March to September 2015, Henrico County's growing number of cameras have gathered 38,000 videos, which take up 4.24 terabytes of storage space. 
The Scott County, Mo. Sheriff 's Office has established 71 categories for recordings. They range from two weeks — for recordings of administrative tasks — to five years, for arrests and search warrant execution. Recordings involving the use of force must be manually deleted, according to the Southeast Missourian. 
Sonoma County, Calif.'s draft video retention policy makes relatively cut-and-dry distinctions between what should and should not be saved. 
"For the vast majority of police encounters with the public, there is no reason to preserve video evidence, and those recordings therefore should be deleted relatively quickly," it says. "Retention periods should be measured in weeks not years, and video should be deleted after that period unless a recording has been flagged." 
That policy puts three conditions on video flagging: an incident involving the use of force, an incident that leads to detention or an arrest, or an incident in which a formal complaint has been registered. 
Several companies offer secure remote storage options, but they too are expensive. Some sheriff offices have had the good fortune of upgrading their servers while planning their camera purchase. Parke County, Ind. is one of them. It had just finalized, in September, its body-worn camera policy, much of which defers to state public record retention laws. 
"When our deputies file the videos at the end of the shift, they categorize what's on them," said Sheriff Justin Cole. "If there's nothing worth keeping, we don't keep it." 
Some counties are financing camera purchases and data storage outside of the normal county budget process. Lee County, Ga. purchased cameras with money seized in drug forfeitures. 
DeWitt County, Ill. has had cameras for two years and is saving money as a result. A vendor left four cameras with the department, which went to two deputies on patrol and two in corrections. In the course of daily work in the jail, one of the corrections officers' camera captured video of an inmate doing pushups. 
"That inmate had complained that we had blocked his access to medical care for his shoulder," Chief Deputy Mike Walker said. "We had evidence his shoulder was fine, and it saved us from litigation." 
Likewise, footage from incidents during arrests can help stem the flow of court cases. 
"Our state's attorney can show a defendant video from an incident and more than a few times that has convinced them that a plea bargain was in their best interest," Walker said. "That's saving the county money it would have to spend on a trial." 
When it comes to storage, Walker said the county's recent server upgrade gives the department ample space for the records. The deputies are big fans of the cameras. 
"They were kind of cynical about them at first, but after they had them for a few months and we took them back while we decided what to do about them, they kept asking when they'd get them back," Walker said. 
As for Wayne County, N.Y., Virts is hoping to give his deputies the cameras someday soon. 
"Whenever the technology improves and gets more affordable, I want to buy them," he said. "I absolutely feel they will be an asset to the department." 
The Department of Justice's Bureau of Justice Assistance offers an online body-worn camera toolkit with implementation guidelines and best practices at https://www.bja.gov/bwc/. 
Hero 1