Blaine County, Idaho goes for the gold with new commissioner Dick Fosbury, the 1968 Olympic high jump champion
Dick Fosbury wasn't trying to change history when he adjusted the way he jumped, he was just looking for a few extra inches.
But he did, and in winning the 1968 Olympic gold medal in the high jump, the "Fosbury Flop" became the standard bearer for how the event was contested.
Likewise, 50 years later, he isn't aiming for anything revolutionary as he starts his term as a Blaine County, Idaho commissioner, but he does want to make something of the years he has spent involved in the county in different professional and public service capacities.
Born and raised in Oregon, he met his wife, "an Idaho girl," in Eugene and moved to Blaine County 42 years ago, starting a civil engineering firm.
That wasn't long after his win in the Mexico City games while a student at Oregon State, which, although it made him a household name in the sport on a stage that transcends track and field, didn't bode well for a professional athletic career.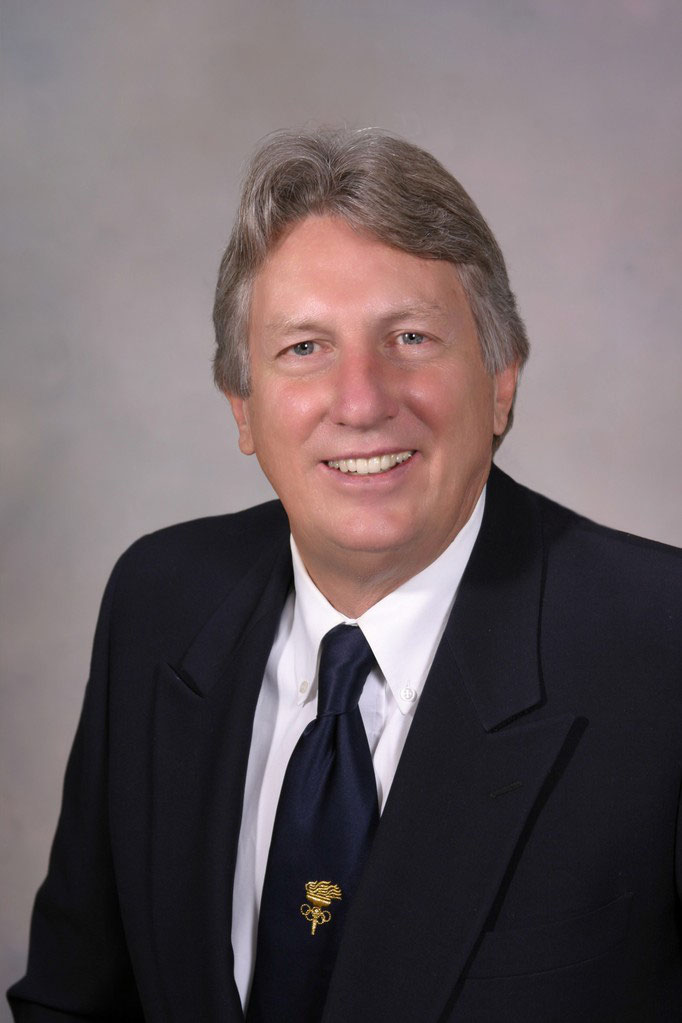 "It was the height of the amateur era," he said, years before athletes could be legally paid for their performances. "My opportunity was my profession. I was the first in my family to graduate with a college degree, and while sport was an exciting activity for me, and it's always been an influence, my career path has always been to become an engineer."
While operating his engineering firm, Fosbury also served as the city engineer for the Blaine County towns of Ketchum and Sun Valley. He also served on the local transit system board for 12 years, further bolstering his involvement in the community.
He sold his share of his business to his partners more than a decade ago, but the recession limited his local work and he began working on the corporate speaking circuit — the demand for his services being a testament to his athletic legacy — and conducting track and field camps around the country.
"The building stopped around here for a while," he said. "I mostly worked outside of the county for a while."
An appointment to the Blaine County's planning and zoning board put him on the other side of the table from where he stood representing engineering clients over the years. His planning and zoning board term gave him a chance to help shape the county's comprehensive plan for development.
"That really got me thinking about how I could serve the county," he said. "When I added it all up, I had a lot of experience and involvement in the community, and I felt like I could do something with that."
Fosbury made an attempt at elected office in 2016, losing a state House race by 126 votes.
"It was a lesson in campaigning and a blessing in reality," he said, noting that county government service will keep him closer to his farm in southern Blaine County.
Fosbury's primary victory in May 2018 effectively handed him the seat, which gave him plenty of time to spend getting oriented, attending budget meetings. It also gave him time, as the president of the Olympic alumni association, to plan the 50th anniversary celebration, honoring the national track and field team that traveled to Mexico City for the games.
"It's been a fairly smooth transition," he said of the time since he took office Jan. 14. "I'm the low man on the totem pole on the Commission, but I'm learning things pretty quickly. The biggest challenge is finding out just how broad county services are, there are a lot of different departments."
He recognizes the value of well-trained and experienced county staff, and wants to make sure they aren't priced out of a housing market that can easily be dominated by second homes and hasn't fully recovered from the recession.
That all ties back to his basic philosophy that has driven him.
"I want to be part of government that is by the people and for the people," he said. "Part of that is recognizing who our people are and where they want to be. We've lost parts of our community, the tradespeople, and we want to bring them back."
Blaine County, in central Idaho, is pushing to break the 22,000-resident mark and is among the more diverse counties in the state.
"The community is small enough that everybody seems to know everybody," he said.
The county's recreation opportunities attract a lot of visitors, and the post-secondary education level is high, with 40 percent of residents having earned a bachelor's degree. It's also ensconced in federally-managed land, challenging the county budget.
Less than two months in, he's not treading water yet.
"I'm new and my phone and email haven't buried me so far," he said. "I know that will change in another several months."
The Flop
Prior to the late 1960s, high jumpers would launch themselves into the air and kick their legs to add momentum or roll sideways over the bar.
Fosbury launched himself backwards, twisting headfirst over the bar, immediately improving his own performances and legitimizing a technique that had not caught on in the sport. At the 1968 Summer Olympics, Fosbury used that technique to clear a personal best height of 2.24 meters, then an Olympic record.
Steve Taylor, assistant track and field coach at the University of Richmond, recently acquired a cache of Track & Field News magazines and traced Fosbury's influence.
"Back in 67, they were writing 'What is this guy doing?' 'Can it work…?' Taylor said. "A year later, he became the standard. It seemed like everyone was doing it his way."
By 1980, 13 of 16 Olympic finalists were using the "Fosbury Flop" and it remains the standard technique for one of athletics' most venerated events.
Rick Wanamaker compares jumping against @DickFosbury1 at the 1969 @DrakeRelays to seeing "an alien space ship land in Des Moines and have a Martian walk out and high jump." Highlight of another fantastic @TrackGuyUSA event! pic.twitter.com/wsMgo2AJgw

— Blake Boldon (@blakeboldon) February 27, 2019
Hero 1