The State and Local Coronavirus Fiscal Recovery Fund, part of the American Rescue Plan Act (ARPA) which NACo helped to develop and strongly advocated to pass, allocates $65.1 billion directly to every county across the nation. These funds provide direct, flexible aid for every county, parish and borough in America.
Counties are on the front lines in delivering this aid to residents and are a driving force connecting communities and strengthening the economy. Counties can invest Recovery Funds into a broad range of programs, services and projects under the following categories to support the public health response: address negative economic impacts caused by COVID-19, replace lost revenue, provide premium pay to essential workers and invest in water, sewer and broadband infrastructure.
Counties have begun allocating ARPA funds toward both short and long-term projects within these categories. A significant portion of counties are utilizing funds to improve broadband infrastructure and expand service to underserved parts of the county, recoup lost revenue incurred over the past year and restore government services that were previously cut or placed on hold.
Many counties are also utilizing the funds to strengthen local social safety nets, such as expanding childcare provider access, investing in affordable housing, providing additional workforce development opportunities and expanding public health outreach and access to care.
For example, Travis County, Texas has allocated $250,000 to develop a comprehensive method of tackling the interconnected issues of behavioral health, mental health and substance use disorders that were worsened due to the pandemic. Additionally, Dane County, Wis. invested $13.2 million to launch and maintain a rehousing initiative that will transition households into permanent housing through case management and support services.
Furthermore, Nassau County, N.Y. set aside $500,000 for a new resource center dubbed "Boost Nassau" that will serve as a one-stop-shop for information and guidance on the various programs available to small business owners and non-profits in the county. Lastly, Kern County, Calif. plans to devote $10 million to outfit all county parks with public Wi-Fi and address technology equity gaps.
COVID-19 resources for counties
County recovery funds database
This is a collection of more than 187 county plans that describe the investment funds from the $65.1 billion allocated directly to every county across the nation through the American Rescue Plan Act. 150 of the plans are sourced from the county's performance report, as submitted to the Department of the U.S. Treasury. The plans can be sorted by topic, county size, state and source. Read analysis and trends of county investment priorities, share how your county is supporting your residents and explore our database of county ARPA Recovery Fund investment plans. Learn more.
Mental health resources from the Substance Abuse and Mental Health Services Administration
Recent data and reports show that fatal drug overdoses in the United States have been increasing before and during the COVID-19 pandemic. The Substance Abuse and Mental Health Services Administration: Learn more.
Resources for workforce development and jobs training in response to COVID-19
The COVID-19 pandemic significantly affected U.S. employment patterns. The federal government has responded with new initiatives and flexibilities to improve the capacity of workforce development and job training assistance programs to address changing labor market conditions. This Insight describes selected federal assistance programs available to state, local, and tribal governments, nonprofit organizations, and educational institutions. Learn more.
Health equity resources addressing disproportionate outcomes for marginalized groups
National Academy of Medicine's Culture of Health Program advances the scientific underpinnings for progress in health equity and sharing evidence-based strategies to bring about the transformation in policy decision-making and public recognition necessary to dismantle structural racism and ultimately achieve health equity for all – mitigating the effects of the current crisis and safeguarding the well-being of our nation for the future. Resources on health equity in the context of COVID-19 are available: Learn more.
Infrastructure resources
The COVID-19 pandemic has made a difficult situation with regards to America's infrastructure worse. A sizable portion of our existing infrastructure systems are supported with user-generated revenue streams. With the onset of the pandemic, commercial water use was down, commuters have been staying off the roads and away from transit, and airports were virtually empty for months. Meanwhile, municipal and state budgets buckled under unprecedented demands, meaning less support is available for parks, schools, and other publicly-owned infrastructure, precisely at the time we should be investing.
The American Society of Civil Engineers adapted its Infrastructure Report Card to reflect construction-ready infrastructure projects covering the categories of dams, inland waterways, clean and drinking water and multimodal freight. Learn more.
Broadband resources
The National Telecommunications and Information Administration's BroadbandUSA program promotes innovation and economic growth by supporting efforts to expand broadband connectivity and meaningful use across America. BroadbandUSA serves state, local, and tribal governments, industry and nonprofits that need to enhance broadband connectivity and promote digital inclusion. Learn more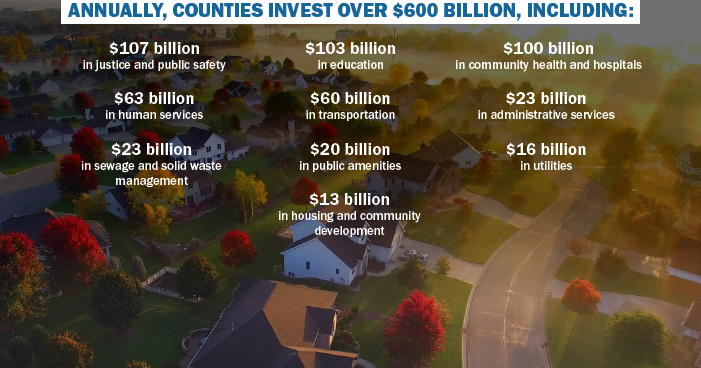 Hero 1