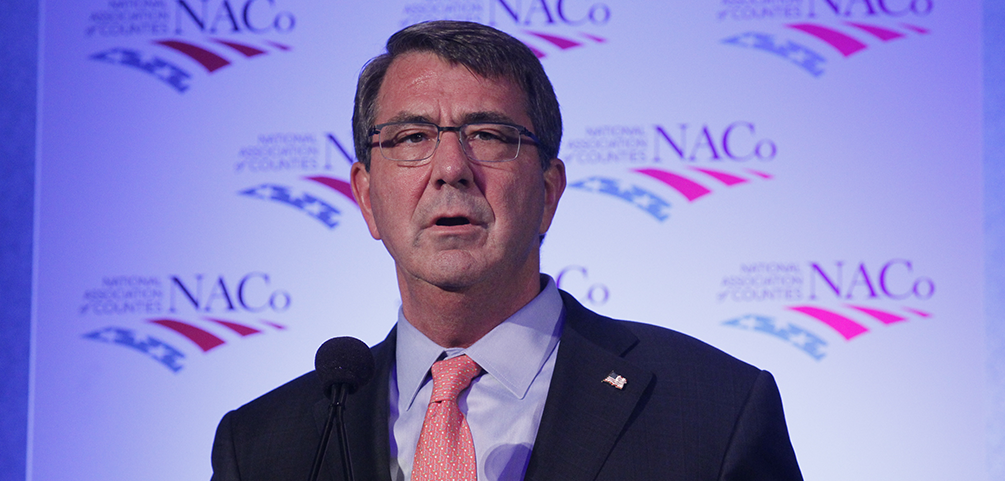 (Remarks are excerpted from his speech.)
President Hokama, thank you much for that wonderful introduc­tion, for your leadership of the National Association of Counties, and thank you for inviting me here today and all of you for coming. Because what you do in your counties and your communities is so important. And not just to our country, but — and that's the point I want to make — our military.
Our people and technology are vitally important, and I'll continue to spend a lot of my time and atten­tion on them. But I want to focus today on the third reason why we're the world's finest fighting force: the foundation of community and support we receive from counties and families nationwide, from all of you and the people you represent.
You and your communities are a source of our military's enduring strength, because you provide our men and women in uniform with the preparation, the care, and the purpose they need to defend our country.
It may not always be obvious to everyone, but our military Service members, veterans, families, and survivors are part of almost every community in America. And frequently, their local issues are your local issues. They visit the same parks and museums as you do. Their kids go to school with your kids. They're our neighbors, our community leaders, and most of all, our friends.
And some of them are also colleagues, because hundreds of thousands of Americans serve in the National Guard and Reserves. As some communities know firsthand, when disaster strikes — storms, earthquakes, tornadoes, and the like — they pitch in, laying sandbags, clearing debris, keeping security, conducting search-and-rescue. And more importantly, when we call on them for other operations — like we did for the long wars in Iraq and Afghanistan — they serve as a vital complement to our active-duty forces.
By stepping forward in times of need, Guardsmen and Reservists from your communities uphold one of our oldest traditions. … Militias were raised from local communi­ties, and neighbors and friends went to war together, while back home, their parents, siblings, and communities rationed food and clothing, tended victory gardens, gathered scrap metals, or retooled entire industries.
That's no longer the case anymore. We have fewer Ameri­cans serving, and fewer who are personally connected to those who serve on our behalf.
All this means that the com­munity foundation we have today must similarly evolve for the future. This isn't the World War II-era, and because of what DoD is doing to build the force of the future, transitioning out of the military will look different from how it did 70 years ago — or, for that matter, 10 years ago.
We know we can't push a one-size-fits-all career model anymore, and we can't keep pushing a one-size-fits-all, one-stop-shop community foundation anymore, either. As we've seen in recent years, each community's different, and the foundations of preparation, care, and purpose they provide to Service members and their families should be dif­ferent too. People from urban areas and rural areas may have different ideas of what their community should look like, just as a model that works for Riley County, Kansas may be different than one that's right for Florida's Miami-Dade.
Still, in a future where each community's foundation will be different, and uniquely tailored to reflect their local civic traditions, resources, and populations, there should be some elements that they have in common.
For example, let's make a future where more Americans nationwide strive not only to sup­port our troops, but to also know our troops—and not just when they come home, but from the moment they start to contribute to our mission
Let's make a future where this relationship is a two-way street, where both military and civilian communities contribute to each other, share ideas and best practices that can benefit all of us.
NACo's new partnership with Vets' Community Connections is a great example of how we can get closer to that commu­nity foundation. By taking the initiative to provide local Service members, veterans, and families with personal, human connections to their own communities — by engaging with the many existing community resources and tools, making them work together in a smarter way — Veterans' Com­munity Connections is making a real difference in the lives of our people, and we're grateful.
Let me tell you what else you can do, because your communities are the front lines of the effort.
As you see more of our mili­tary Service members, veterans, families, and survivors, I ask that you embrace them as they join your communities, and empower them with opportunities to con­tinue leading lives of meaning and purpose.
It won't be very hard, because they already tend to be more civically engaged. According to one recent study, veterans are 20 percent more likely to give to charity, they volunteer 30 percent more hours a year, and they're three times more likely to join a service or civic organization. To be clear, they aren't looking for handouts. The 9/11 Generation volunteered to serve at a time of war, and they have a strong desire to continue making a difference in the world. All that it takes is finding the right opportunity.
Maybe your school board needs a fresh perspective. Maybe your county fair needs new people to help organize it each year. Maybe your son or daughter's scout troop or sports team needs a mentor they can look up to.
In all these situations and so many more, I encourage you to seek out and ask your citizens to seek out someone who's served — whether they're on active-duty, Guard or Reserve, a veteran, or a military family member. Harness the invaluable experience, global perspective, and extraordinary talent they bring to the table, tal­ent you've invested in and helped develop. Because when you grab hold of our people, you'll never forget it, and you'll never regret it.
Hero 1