Reports & Toolkits
County News Spotlight: Environment and Energy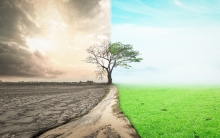 Error message
In order to filter by the "in queue" property, you need to add the Entityqueue: Queue relationship.
Related News
Related Resources
Related Resources
Blog

NACo is partnering with PACENation to host a free, three-part webinar series exploring the Property Assessed Clean Energy (PACE) program. The first of three webinars will be held on Tuesday, October 8 at 2:00 PM. Registration and webinar information can be found at the bottom of this post.

Blog

On September 18, the U.S. House Committee on Natural Resources passed the bipartisan Digital Coast Act (H.R. 2189), which would codify the National Oceanic and Atmospheric Administration's (NOAA's) Digital Coast program.

County News

King County, Wash. is one of the first local governments to allow businesses to purchase carbon credits to offset emissions.
Press Release

Washington – The National Association of Counties (NACo) today responded to the Environmental Protection Agency's and Army Corps of Engineers' plan to withdraw the 2015 "Waters of the U.S." definition and replace it with previous regulations. NACo CEO/Executive Director Matthew Chase said:

Policy Brief

UPDATE ON WOTUS RULEMAKING

Policy Brief

Unfunded Mandates and Other Regulatory Impacts on Counties 
Upcoming Events
Meeting

Oct. 22, 2019 – Oct. 25, 2019

Maui County (Lahaina), Hawaii

Webinar

Oct. 22, 2019

, 1:00 pm – 2:00 pm

Webinar

Oct. 24, 2019

, 2:00 pm – 3:30 pm
See all events