Reports & Toolkits
County News Spotlight: Environment and Energy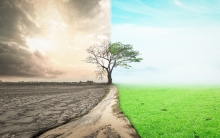 Error message
In order to filter by the "in queue" property, you need to add the Entityqueue: Queue relationship.
Related News
Related Resources
Related Resources
Blog

The EPA is seeking applications for projects to help reduce food loss and waste and divert food waste from landfills by expanding anaerobic digester capacity in the United States. EPA anticipates awarding up to $3 million in total funding. Individual projects could be in the range of $50,000–$300,000 for the funding period.

Blog

On April 21, the U.S.

Blog

On April 23, the U.S. Supreme Court released their highly anticipated opinion surrounding the Clean Water Act (CWA). In County of Maui, Hawaii v.
Reports & Toolkits

On May 6, the U.S. Senate Committee on Environment and Public Works favorably passed S. 3591, the America's Water Infrastructure Act of 2020, and S. 3590, the Drinking Water Infrastructure Act of 2020.

Workshop

The FEMA Public Assistance (PA) Program provides aid to counties in the wake of major disasters to help in recovery efforts. This workshop explores the PA process, what systems counties should have in place before a disaster and how the process has changed with implementation of the Disaster Recovery Reform Act of 2018.

Workshop

There are several regulatory proposals pending at the U.S. Environmental Protection Agency (EPA) that will directly impact counties. During this workshop, attendees will learn about pending air regulations that impact local governments and receive an update on the implementation of the Affordable Clean Energy (ACE) rule.
Upcoming Events
Webinar

May. 28, 2020

, 3:30 pm – 5:00 pm

Webinar

Jun. 3, 2020

, 2:00 pm – 3:00 pm

Webinar

Jun. 5, 2020

, 2:30 pm – 3:30 pm
See all events