Counties are on the front lines protecting our communities from the coronavirus and other illnesses that have the potential to become a pandemic. Counties support over 900 hospitals and operate over 1,900 public health departments, which are the ground troops in the fight against the coronavirus outbreak.
Local health departments are working to protect public health by communicating with transportation officials, educating health care providers and communicating to the public best practices to reduce the spread of infectious diseases. Local public health systems need sustained, predictable and increased federal funding to support their work.
| | |
| --- | --- |
| | NACo's comprehensive analysis highlights relevant components of the CARES Act for county governments, including a section-by-section breakdown outlining items of significance for America's counties, parishes and boroughs. |
| | NACo's legislative brief highlights the county role in COVID-19 pandemic response, mitigation and recovery and outlines key county federal policy priorities. |
| | Though reluctant to impose measures that may impact their local economies, counties recognize that safer at home policies and closures of nonessential businesses can help to curb the spread of COVID-19. |
SUBSCRIBE TO UPDATES

NACo is focused disseminating useful information to our members, and facilitating the exchange of effective strategies and approaches. Sign up to recieve the latest coronavirus news and resources.

Subscribe Now
The COVID-19 outbreak is demanding swift responses from local leaders. When permitted by state statute, a county may declare a state of emergency to increase flexibility and free up additional resources. This action can decrease government emergency response time and address the health and well-being of residents. Alongside the federal government and states, counties are declaring states of emergency in their jurisdictions to improve their ability to serve residents quickly. Click the map above to access county and state emergency declarations.
 
| | |
| --- | --- |
| | This guide is a framework for actions which local and state health departments can recommend in their community to both prepare for and mitigate community transmission of COVID-19 in the United States. |
County & State Emergency Declarations
Click here to access an interactive map listing county and state emergency declarations along with the corresponding documents.
Containment
2016 Total Local Health Departments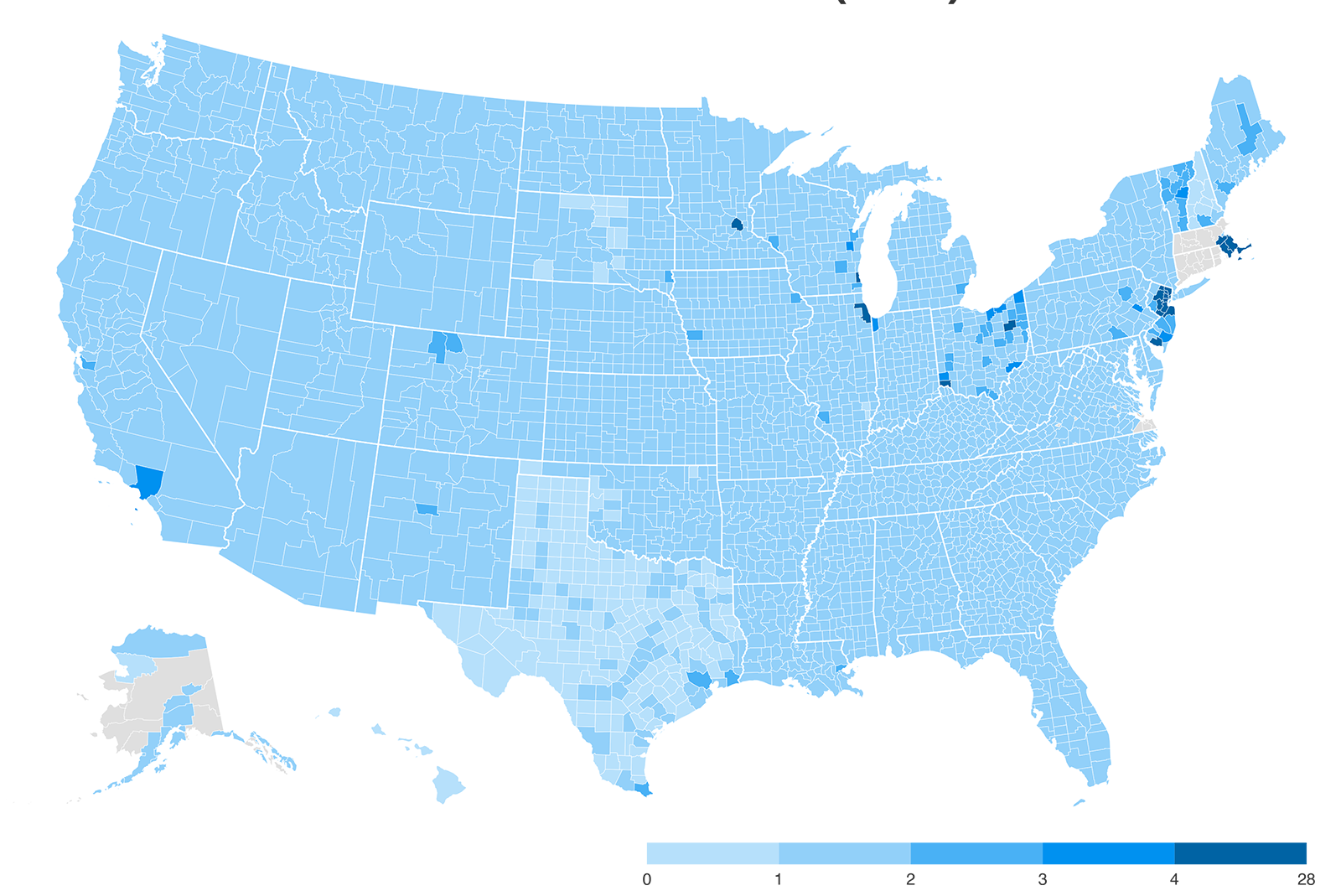 Counties operate over 1,900 public health departments. Click here to view the map in County Explorer.
Community Mitigation
2017 Number of Hospitals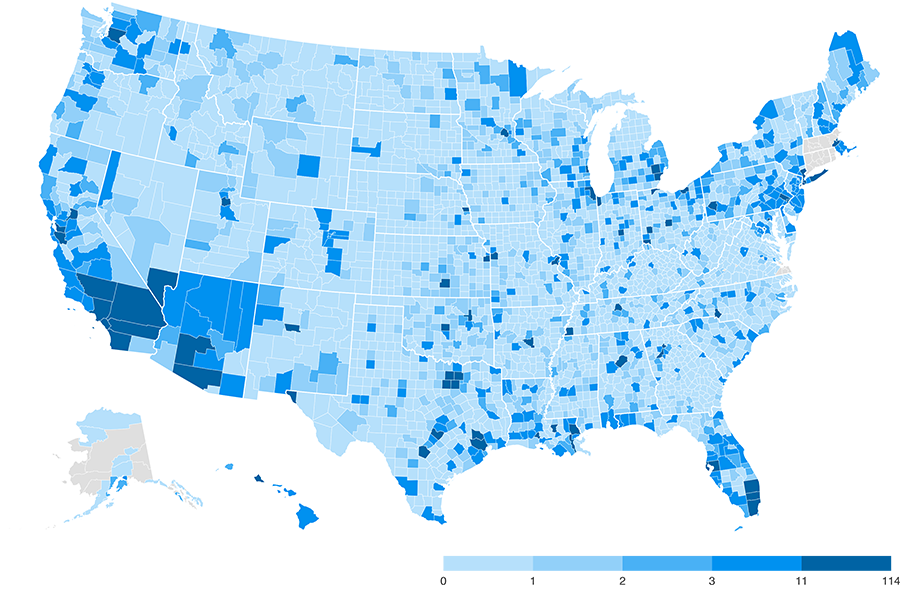 Click here to view the map in County Explorer.
Health
Eagle County (Colo.) is asking residents to fill out an online form if they believe they are experiencing symptoms, since they do not have the testing capacity. This allows them to track data in real time, and to target their COVID-19 testing.
Many counties are starting up drive-thru testing sites to help expedite the COVID-19 testing process, including: Toledo-Lucas County (Ohio), Westchester County (N.Y.)
Jails and Justice
2017 Child Food Insecurity Rate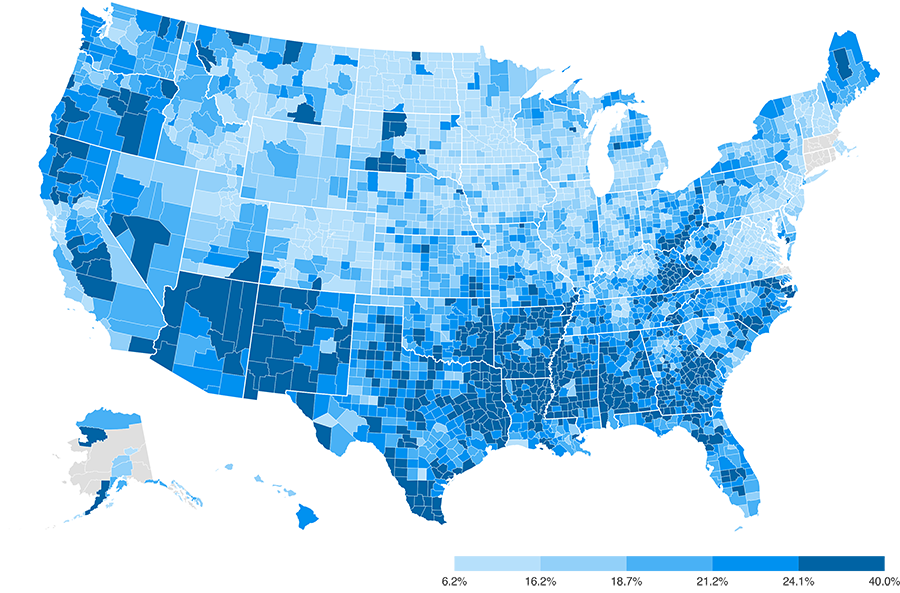 Click here to view the map in County Explorer.
Housing
A number of counties have decided to postpone evictions and foreclosures until after the outbreak subsides. Among them are Alameda County (Calif.), Hudson County (N.J.), Miami-Dade County (Fla.), Montgomery County (Md.), Multnomah County (Ore.), Orange County (Fla.), Miami-Dade County (Fla.), Orange County (Fla.), San Francisco City & County (Calif.), Montgomery County (Md.), and Travis County (Texas) and others.
Sacramento County (Calif.) is partnering with hotels and motels to house residents who are homeless during the outbreak.
Children and Families
Henderson County (N.C.) has made grab-and-go pickup meals will be available at no cost to children ages 2-18 at 12 school sites. Meals On the Bus has also begun delivering meals..
County Employees
Dona Ana County (N.M.) has mandated a fourteen day self-quarantine for all employees that travel outside the state of New Mexico. They have also provided more flexibility for employees to telework or stay home if sick or needing to care for children.
Hamilton County (Ind.) is giving all employees up to two weeks additional paid leave for COVID impacts, including having symptoms or a positive test, childcare, recent travel to a foreign country, or elevated health risk.
| | |
| --- | --- |
| | Find COVID-19 free software options and security tools. |
| | |
| --- | --- |
| | Nationwide: Avoiding Headline-Driven Investment Decisions |
| | |
| | |
| | |
| | Broadnet: Virtual Town Halls for COVID-19 Outreach and Education |
| | |
| | |
| --- | --- |
| |   |
| | NACo released an analysis of federal proposals and legislation, including The Families First Coronavirus Response Act (H.R. 6201). |
Federal Legislation
White House and Federal Agency Efforts
HELP OUR EFFORTS
During this critical time, NACo is focused on disseminating useful information, facilitating the exchange of effective strategies and highlighting best practices to ensure that we can help counties protect the health of their residents.
Please consider helping us collect this critical information by providing information on your county response strategies through this 5-minute survey.
Blue