Reports & Toolkits
County News Hot Topics: Economic Recovery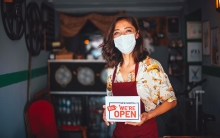 Error message
In order to filter by the "in queue" property, you need to add the Entityqueue: Queue relationship.
Document

County News Hot Topics: Economic Recovery

Back to the not so familiar: Counties forge a way forward in this new frontier

Back to the not so familiar: Counties forge a way forward in this new frontier

2021-02-08

Reports & Toolkits

2021-02-23
Related News
Related Resources
Related Resources
Blog

On March 22, the U.S. Senate confirmed Marty Walsh to serve as the twenty-ninth Secretary of Labor by a bipartisan vote of 68-29. Walsh, who served as the Mayor of Boston since 2014, was virtually sworn in by Vice President Kamala Harris the following day. As the head of the U.S.

Blog

On March 29, the Centers for Disease Control and Prevention (CDC) extended the federal eviction moratorium from March 31 to June 30, 2021. The moratorium, which bars residential evictions for nonpayment of rent, seeks to prevent the spread of COVID-19 by keeping people in their homes and out of congregate settings, such as homeless shelters.

Blog

National Community Development Week (CD Week), held annually during Congress' spring recess, recognizes the importance of the U.S. Department of Housing and Urban Development's Community Development Block Grant (CDBG) and HOME Investment Partnerships (HOME) programs.
Video

With U.S. tenants in billions of dollars of debt with their landlords, housing insecurity is a critical issue for millions across the country that has only been worsened by the economic impacts of the COVID-19 pandemic.

Video

U.S. Secretary of Commerce Gina Raimondo offers remarks during the general session at the 2021 NACo Virtual Legislative Conference.

Press Release

WASHINGTON – After the House of Representatives passed for a second time, today President Biden signed the American Rescue Plan Act into law.