Vice President Kamala Harris emphasizes infrastructure, elections at NACo Annual Conference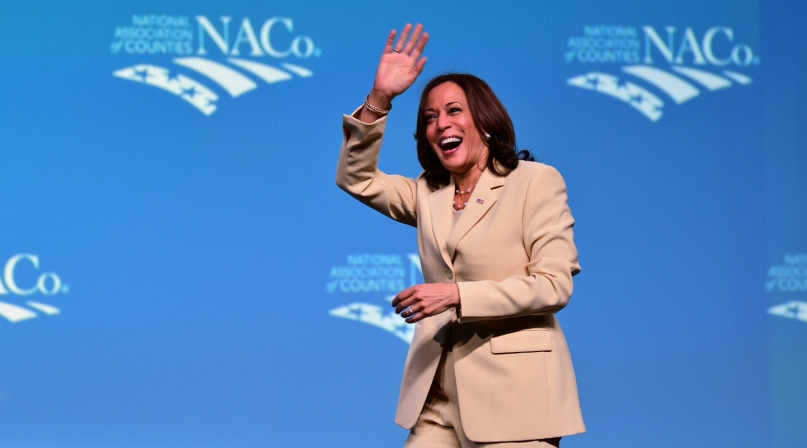 Key Takeaways
Vice President Kamala Harris emphasized infrastructure and elections Friday afternoon in her first in-person conference as vice president at the National Association of Counties (NACo) 2021 Annual Conference at the Gaylord National hotel and conference center in Prince George's County, Md.
Harris, who got her start working in county government as the district attorney for Alameda County, Calif., spoke with county officials about the crucial services counties provide.
"It's wonderful to be with you, the county leaders, who have been holding it down and holding it up all at the same time," she said. "You really are in that way such incredible national leaders."
Harris highlighted the roles county leaders have played throughout the COVID-19 pandemic from freeing up hospital beds to providing social services and setting up food distribution sites. 
"People have looked to you to provide reassurance," she said. "They have searched your eyes for comfort and for confidence to know that everything is going to be OK."
"Even when you weren't sure, you never gave up," she said. "No matter how tired you were. You woke up every morning to get the job done."
She thanked county leaders for their service, listing the variety of essential services that counties provide from behavioral health care to fixing potholes. 
"Each and every day, you take our nation's ideals and you make them real," she said. "You see the needs of our people and you meet them."
President Joe Biden's administration sees county leaders as partners as they work to rebuild the country, she said, adding the administration is determined to make improvements that are real and tangible, with one improvement focusing on infrastructure. 
Harris said infrastructure in the country is in desperate need of updates across the country. 
"For too long, counties have been trying to maintain or repair infrastructure that simply needs to be updated," she said. "Many of you have had to stretch already tight budgets to make that happen, to put Band Aids on the problem." 
The proposed bipartisan infrastructure agreement represents the largest long-term infrastructure investment the country has made in nearly a century, she said.
The agreement provides solutions for high-speed internet and broadband access, areas where the pandemic has revealed even more stark disparities across the country.
"The bipartisan infrastructure agreement will help connect every American to high-speed internet and through that agreement, we will expand our broadband infrastructure, we will open up competition to bring down prices and we will close that digital divide," she said. 
Harris asked county officials to share their stories and expertise to let others know about infrastructure needs on the county level. 
She also emphasized the role county officials play in elections with overseeing polling locations, hiring, training and employing election workers and ensuring ballots are counted in a fair and transparent process.
"Protecting the right to vote is about as American as apple pie," she said, adding that county leaders are the backbone of elections. 
Harris said there are many obstacles for local election officials when it comes to voting, with many facing threats and harassment.  
"The president and I are extremely grateful for your service, and we have your back," she said. "We are going to work and provide you with the resources that you need to carry out our elections with integrity." 
With many individuals having their first interaction with government on the local level, Harris said the strength of democracy depends on local leaders.
"You are the leaders the American people look to," she said. "You are the leaders the American people trust. You are the leaders who deliver for the American people."
"Thank you for everything you have done and everything you will do."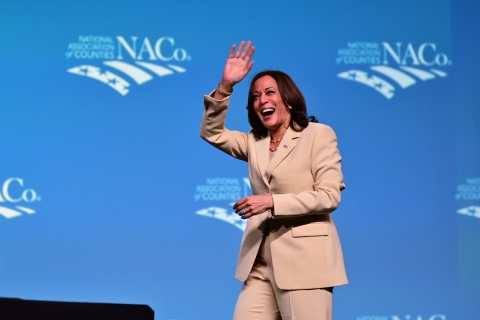 Related News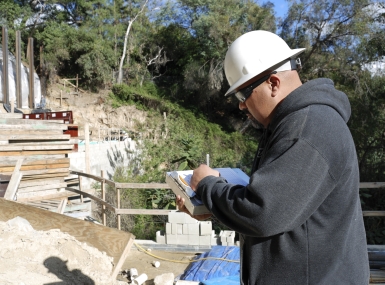 Counties can use this funding to advance hazard-resistant construction while increasing their competitiveness for future infrastructure grants.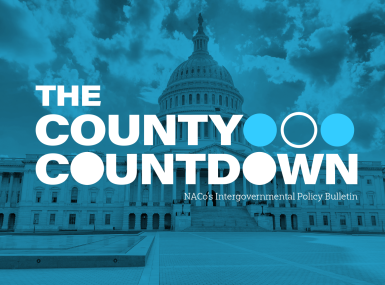 Every other week, NACo's County Countdown reviews top federal policy advocacy items with an eye towards counties and the intergovernmental partnership.