These are tough times for government. Across the nation, local governments are under enormous pressure to maintain and improve performance, while at the same time doing more with less.

One proven response to this leadership challenge is to improve the level of employee engagement. After all, the primary resource we have in government is talent. If our people are engaged and perform well, government will also perform well.
Decades of research have shown that improving employee engagement can be a key to improving organizational performance, including in local government.
As I detail in my book, Engaging Government Employees, engagement is linked to outcomes that are important in government such as achieving strategic goals, delivering responsive customer service, promoting innovation, retaining good employees, driving high attendance, and keeping workplaces safe.
The "engagement value chain" shown in Figure 1 illustrates why engagement matters in local government: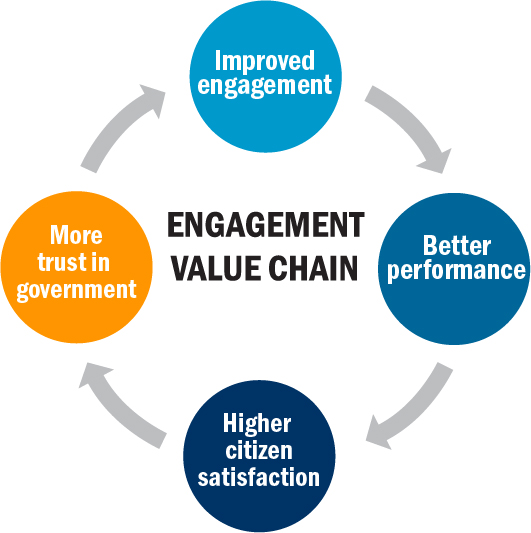 As this cycle shows, measuring and improving engagement is not just a touchy-feely activity or exclusively the domain of the human resources department. Instead, creating a culture of employee engagement — the ultimate goal — requires commitment and action across the entire organization.
Engagement is low
Despite the link between employee engagement and performance, the results from a national poll reveal that the level of employee engagement is low across the U.S. economy, including in local government.
The poll, conducted by my organization, the CPS HR Institute for Public Sector Employee Engagement, included responses from 1,946 public and private-sector employees. The results are nationally representative of the private and public sectors, as well as the three levels of government.
The results, shown in Figure 2, and soon to be released in a more detailed institute report, revealed that 44 percent of private-sector employees are fully engaged compared to 38 percent of public sector employees overall. This difference is statistically significant. In the public sector, we also found variability across the levels of government. Employee engagement in local government, which includes counties, is higher than in the other levels of government, and is also on par with the private sector. However, the level of fully engaged employees in local government is 47 per 50 percent of local government employees are fully engaged.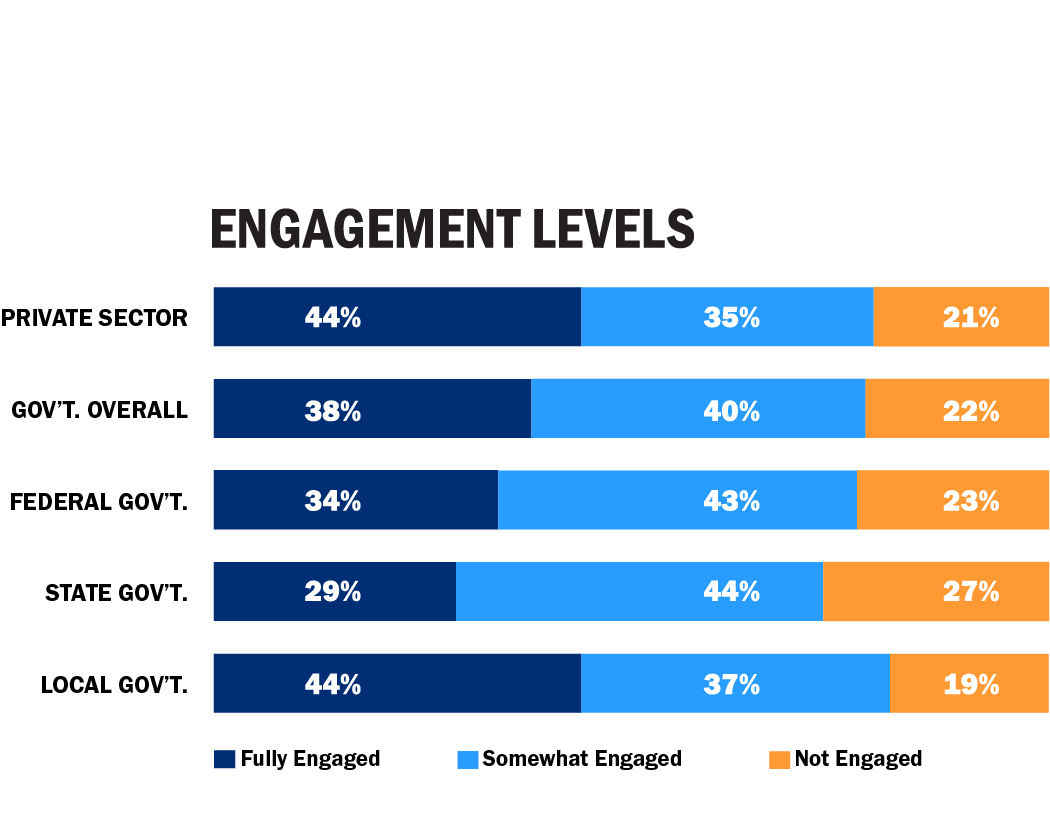 What drives engagement in local government?
In addition to assessing overall engagement levels, our goal was also to understand the factors that have the biggest impact on employee engagement — the key drivers of engagement, statistically. In other words, which workplace factors will generate the highest return on an investment in improving engagement?
Based on previous research, we analyzed potential drivers such as leadership, supervision, training, appreciation and inclusion.
In local government, we found that the top workplace drivers are:
Leadership and managing change
My supervisor
Training and development
Employee recognition
The opportunity to come up with new and better ways of doing things.
In other words, these are the areas that, in general, local government employees feel most strongly about.
How did local government score?
The rest of this story involves the actual local government scores for these engagement drivers. We found that the score for local government is significantly lower than the private sector for the top driver, leadership and managing change. In business, 65 percent of respondents are positive about leadership and change management in their companies, compared to 59 percent in local government.
For the next two local government drivers, supervision and the local government scores (68 and 66 percent positive, respectively) are on par with the private sector.
However, these scores still show that about one-third of local government employees responded negatively to the questions in these categories.
In response to the question, "I feel valued for the work I do," 68 percent of local government employees agreed, compared to 72 percent of private-sector respondents.
The final driver we found is "I feel encouraged to come up with new and better ways of doing things."
Despite the importance of this factor across sectors, only 68 percent of local government respondents agree with this statement, almost equal to the private sector score (70 percent).
Applying the results
So what do we conclude, and what is actionable, from our research?
Engagement in the public sector is lower than in the private sector
Local government employees have a higher level of engagement than employees in federal and state government
Priority areas to improve engagement in local government include:
Leadership and managing change
Supervision
Training and development
Appreciation/recognition
The opportunity to identify better ways to operate

While our results are useful and revealing, there isn't a one-size-fits-all solution to improving engagement in government, especially since there are more than 90,000 government jurisdictions just in the U.S.
Instead, each county should survey its own employees to identify where it is succeeding and where it can improve. Then, the organization needs to take action to build a culture of engagement.
Hero 1