Stafford County Testbed fosters 'smart-city' technology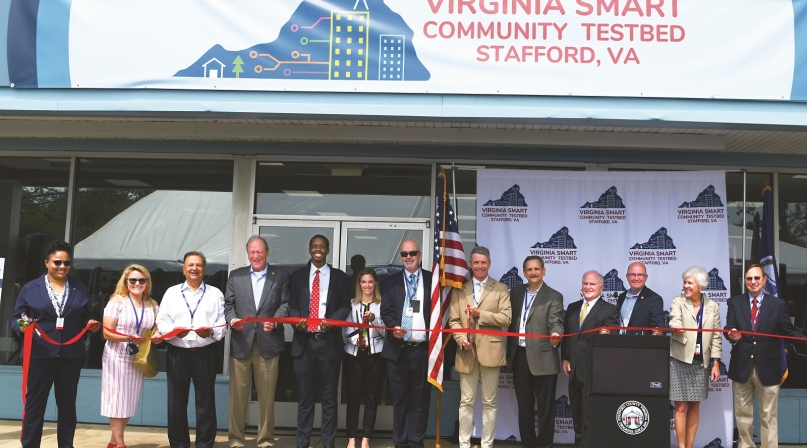 A former 7-Eleven in Stafford County, Va., is being used to help the county become a "smart community."
Located outside the county government center, the former 7-Eleven is now home to the Virginia Smart Community Testbed, one of the first in the nation built around an Internet of Things platform, according to Andrew Spence, the county's director of community engagement.
Officials held a ribbon-cutting ceremony at the facility at the end of May to launch the testbed, which will fully integrate 5G and other emerging technologies.
"We like to call it a living laboratory for new generations and to foster business investments," Spence said.
The Virginia Smart Community Testbed is the first in the state and is dedicated to supporting companies as they test their products and build case studies around new technology.
Spence described how emerging technologies often need an area to test certain aspects of a project, which technology companies can do at the testbed in Stafford County.
"In today's markets, it's really hard to build up some of these emerging technologies in your garage," he said. "You need a place to develop and really test your product."
Stafford County, located between Richmond and Washington D.C., is the second fastest-growing county in Virginia. Spence said it is a prime location because it is uniquely positioned off Interstate 95.
"We're just well positioned to really have an opportunity for innovative companies who want to test certain emerging technologies in a place like this that doesn't have as much development," Spence said.
The goal of the county-owned Virginia Smart Community Testbed is to produce innovative solutions using emerging and smart technologies to help communities across the country while also implementing them in Stafford County.
Projects have already started through a partnership with Verizon which led to the installation of one of the region's first 5G towers outside the testbed. Another partnership will install flood sensors on specific county roads that frequently flood.
"We're ready to partner with all types of emerging technologies and become a smart community that really moves our community to that next future step," Spence said.
The testbed is a partnership with the Center for Innovative Technology (CIT), an extension of state government, which creates technology-based economic development strategies to increase innovation. 
The partnership began when CIT Chief Technology Officer David Ihrie met with Stafford County's chief technology officer at a conference and the two discussed Stafford County's goals of becoming a "smart destination."
CIT will facilitate the space, which Ihrie said will have large television screens, furniture and space to foster collaboration. There will be full-time staff in the facility to help students or support entrepreneurs.
"The intent is that we want it to be a space where we can do educational kinds of things where we can have seminars, where we can work with entrepreneurs, maybe work with students, as well as test out different types of technology," he said.
Ihrie said he hopes the testbed validates new technologies and provides public outreach and education to the community.
"We want the testbed to be a resource for every location, every locality and certainly in the Commonwealth," he said.
Stafford County Economic Development Director John Holden described the testbed as a space that can host pilot projects around smart technology as well as a space for innovators and entrepreneurs to test products around technology.
He said the testbed is located in an area of the county that he hopes to see develop as a more urban, downtown environment, which the county does not currently have.
"It's a growing community, a suburban, bedroom community that's been seeking to define a place that would call downtown," he said. "The time is right including with this partnership with the testbed that we may be able to start the development of a more urban place that we can call downtown Stafford."
Through a partnership with RIoT, a non-profit that will act as a facilitator between the county and businesses to attract entrepreneurs, the county launched a new entrepreneur accelerator program based at the Virginia Smart Community Testbed. The program will be focused primarily on technology and the Internet of Things and bring smart technologies to the area.
He said through the project, the county has combined the idea of downtown development with CIT's desire to create a smart community while expanding entrepreneur opportunities in the area.
"It's about business retention, expansion, attraction and entrepreneurship," Holden said.