Six months after launch, how is 988 doing?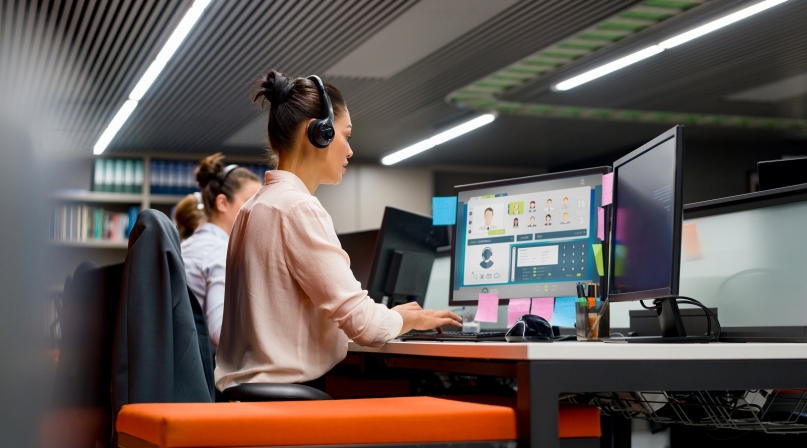 Key Takeaways
Counties across the country play a key role in developing a behavioral health continuum of care to support community members living with a mental health or substance use disorder or experiencing a suicidal, mental health or substance use crisis. As one element of the continuum, counties may operate a crisis hotline or "warmline" for people to call during times of distress. On July 16, counties added another tool to this part of the continuum when the National Suicide Prevention Lifeline transitioned to the 988 Suicide and Crisis Lifeline. The three digits provide an easy-to-remember number that connects callers to trained crisis counselors who can triage the call, offer mental health support and provide connections to local resources.
After the transition, more people across the country dialed, texted and chatted using the 988 number and were connected with services through the Lifeline. Between November 2021 and 2022, the total number of calls, texts and chats increased 33 percent, with the number of texts increasing six-fold. Despite the increase in volume, the overall answer rate improved from 63 percent to 92 percent and average wait time to speak with a counselor decreased from three minutes and seven seconds to 36 seconds.
Counties and 988
The 988 line offers an entry point into the local behavioral health continuum of care. Local resources play a large role in community members' long-term well-being and stability. Over the past six months, counties, alongside state, city, tribal, federal and private partners, have implemented various policies and practices to bolster local community services and access to treatment. Building local capacity through increased 911/988 interoperability, added mobile crisis teams, enhanced crisis stabilization units and increased peer-led support is critical to providing people in crisis with the right intervention at the right time and place.
Learn more

For more information on 988 and resources, visit:

Behavioral health continuum of care
NACo's Toolkit for Counties: 988 Crisis and Suicide Lifeline
SAMHSA's 988 site
SAMHSA's partner toolkit
Montgomery County, Ohio (Pop. 537,309)
Early in 2022, Montgomery County launched Crisis Now, a three-pronged approach to delivering crisis services. The launch included a crisis hotline and mobile crisis response teams. A crisis receiving center will open in early 2023. When 988 launched, the crisis hotline also began taking local 988 calls. Over the first six months of Crisis Now, 89 percent of calls to the hotline were resolved over the phone and 77 percent of the mobile crisis responses were resolved in the community.
Philadelphia, Pa. (Pop. 1,603,797)
Philadelphia leaders have supported the transition to 988 by offering a "no wrong door approach" so community members can access 988 and related services regardless of the agency they contact. One of these avenues includes embedding behavioral health crisis counselors within the 911 call centers who can join active 911 calls to deescalate the emergency and offer a connection to services. To help ensure callers can access the right intervention at the right time, Philadelphia adjusted the script for 911 call takers to improve the handoff between 911 and 988.
Burlington County, N.J. (Pop. 461,860)
After the transition to 988, Burlington County Commissioners reminded residents to call, text or chat 988 to receive immediate help during a suicidal, mental health and/or substance use crisis. Local leaders hope that this hotline will help reduce the stigma surrounding mental health. Last year, county commissioners passed a resolution designating the county as stigma-free in an effort to combat misperceptions about behavioral health and increase awareness of local resources.
Santa Clara County, Calif. (Pop. 1,936,259)
The Santa Clara County Department of Behavioral Health Services set up a call center with 10 employees and 75 volunteers to support local 988 response. During the transition to 988, the county streamlined the path to connect callers to local services by sending all calls to one line. This centralized process allows call takers to connect callers with the right response, which may include immediate support from the county's adult, youth or trust teams. Since 988 launched, only three of the more than 1,700 calls to the county's hotline have been diverted to 911.
Douglas County, Kan. (Pop. 118,785)
County leaders launched a 24-hour, seven days a week crisis line linked to 988 and new mobile crisis team to serve county residents and support 988 callers who may need in-person support during a behavioral health emergency. Additionally, law enforcement officers who respond to calls requiring a behavioral health response have access to a dedicated call line to access the 988 crisis call center. Soon, local Public Safety Answering Points will have the ability to seamlessly connect 911 callers experiencing a behavioral health emergency, without a criminal or medical component, to the 988 call center.
Charleston County, S.C. (Pop. 408,235)
To ensure callers receive connection to local care and strive for a 100 percent in-state answer rate, state legislators set aside funding in the budget to support a back-up 988 call center in Charleston County. The additional center will not only increase connections to local resources for the 25 percent of calls that are currently routed to out-of-state backup centers but also reduce the wait time to speak with a counselor.
County opportunities
To continue supporting 988 and building accessible and high-quality local behavioral health services, county leaders can consider:
collaborating with state behavioral health partners to support linkages between state and local planning
partnering with PSAPs, first responders and law enforcement to educate about and encourage health first responses to behavioral health crises
promoting awareness of 988 and local services and tailoring the message for underresourced communities, and
Working with 988 Lifeline centers to ensure the centers have updated resource information for referral and linkage to county crisis services and community-based care.
John Palmieri, M.D., M.H.A., is a senior medial advisor at SAMHSA. Chelsea Thomson serves as the senior program manager for Behavioral Health and Justice at NACo.
Related News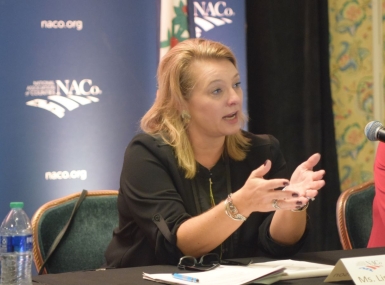 Elected officials can help promote the use of a more holistic approach to combatting substance use disorder.