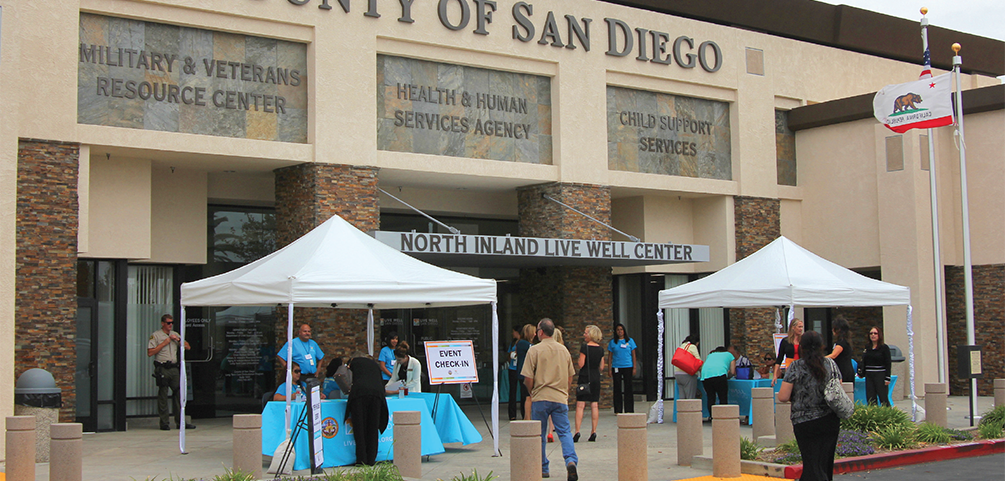 RESOURCES FOR LEARNING MORE
Cumberland County, N.C. is home to Fort Bragg, along with roughly 50,000 veterans. Given its Tarheel setting, the best metaphor for its, and many other counties' veterans service office is that of a point guard, putting veterans in the right place to get what they need.
"We help them with claims and refer them to other agencies that can assist them with their issues," said Eric Redrick, the county's veterans service director.
Those referrals may be to other county departments — employ­ment, the federal Department of Veterans Affairs or a ballooning number of nonprofit organizations focused on helping veterans — gen­erally helping them to navigate the bureaucracy.
Quantifying veterans service funding is difficult, because the benefits the veterans obtain are paid to them, not through the county, but Martin Carroway County, veterans service officer (CVSO) for Redwood County, Minn., said the benefits don't go unnoticed.
"In politics and government, we like numbers," he said. "If you can show you can save the country money or make the county money; you're a valuable asset. We make the county money in a way you have to be creative to see. If a veteran gets $1,500 from disability, they're going to spend it in local shops, paying a mortgage, that money is coming back into the community."
Getting the Word Out
The consensus among county veterans service officers is that communication about federal benefits has increased substantially in the 21st century, so the outreach efforts are largely targeting at older veterans who don't keep tabs on what is available to them, though those CVSOs also agree that a much more comprehensive explanation of benefits is necessary. The better the military does, the less counties will need to do as follow-up.
"They came off active duty and they just went back home, blended back in, went to school, got a job and lived their lives," said Jim Duff, Veteran's Service Office director for Milwaukee County, Wis. "Most veterans don't connect up with the VA as part of their lifestyle. They're anonymously living next door, and they're who we're trying to find."
Those veterans, while eligible for benefits, often don't seek them out after a few years of leaving the service and finishing school.
Duff said the key to outreach ef­forts was "zig" where more veterans "zag" — to go where veterans are least likely to hear of updates to their benefits the way they would at VFWs or American Legion posts.
"We target a lot of retirement communities, or anywhere else we can reach a lot of people over 50 who have lost touch with what they can get from the government."
Chief among them are Vietnam War veterans, who, given their reception when they returned, can be hesitant to acknowledge their cold service record or seek help from the government, but Carroway sees things improving dramatically for them.
"The Iraq and Afghanistan wars are the best thing to happen to Vietnam vets," he said. "They put veterans' issues back into the forefront, in Congress' mind. How are we going to treat these veterans? There was a lot of recognition of what they did wrong after Vietnam, and the pendulum of appreciating veterans' service, despite disagree­ment with the war(s), is swinging back in veterans' favor."
Susan Lewis, an assistant veterans service officer in Travis County, Texas, said she meets a lot of veterans who, despite leaving the service with a less than honorable discharge, have benefits coming to them they don't expect.
"And (the prototypical veteran) feels like the military wanted noth­ing to do with him when he left the Army; he doesn't want anything to do with me," she said. "A lot of people don't know that if you have a bad discharge that doesn't mean you can't get disability."
Carroway warned, however, that county veterans service offices have to be prepared for the fruits of their outreach labor.
"When you do a good job of reaching the veterans, you become inundated on rather short notice," he said. "Your phones are ringing off the hook, your foot traffic is crazy, and you can't take the ap­propriate amount of time."
As in Cumberland County, N.C. that means not just explain­ing benefits, but doing complete evaluations and filling out forms for the veterans.
"We don't just handle their claims, we file them and make sure anyone who comes in gets exactly what they deserve," Redrick said. "We're with them every step of the way."
Out-of-network Benefits
Helping veterans get the as­sistance they need beyond the claims-filing service can mean referring them to outside, non­profit organizations dedicated to their issues. They number nearly 40,000, with a 41 percent increase in the number of organizations since 2008.
"Veterans issues are a popular cause these days, with a lot of attention, money and fame," Lewis said.
"You have organizations from California setting up shop in Aus­tin, and they have no connection to the community," she said. "They come here because that's where the opportunity is, but we've been here and we, as a county, want to try to take care of our veterans.
Carroway said the habits county veterans service offices have adopted over the years make them frugal — and combined with low overhead — make them especially productive.
"If you hire someone and give them good training, you'll have decades of great work out of that officer," he said. "The work is rewarding and they can see it provide a meaningful service for veterans."
A Different Day in Court
In addition to maintaining veterans service offices, counties are helping veterans by forming veterans court diversion programs in the judicial system to intervene in nonviolent cases.
The alternative court settings, which now number more than 100 across the country, are more therapeutic than punitive and are aimed at addressing the underlying causes of the veterans' behavioral problems. Veterans court judges are more familiar with the various complications in veterans' lives — PTSD, traumatic brain injury and substance abuse, among others — and have a better understanding of services available to help mitigate these problems.
Successful completion of treat­ment, often lasting one year, will often mean a veteran's case will be dismissed or jail time will be downgraded to probation.
Not only does this save county courts money and — with any luck, resolve mental health issues in their county's veteran popula­tion — but it also helps connect veterans with their federal benefits.
Hero 1