Relations continue to improve with Forest Service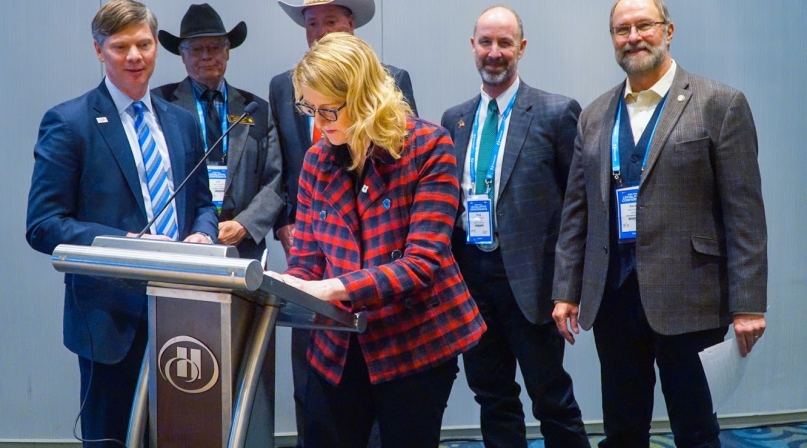 The improving relations between NACo and the U.S. Forest Service culminated in the signing of a renewed memorandum of understanding March 1, outlining the priorities and expectations of both counties and the Forest Service. 
Before the signing, U.S Forest Service Chief Vicki Christiansen spoke to the cooperative relationship necessary to succeed while addressing members of NACo's Western Interstate Region (WIR).
"We really understand that counties and communities have such a close cultural, social and economic tie to the land, the national forests and the grasslands, they've always had special importance for those communities in terms of economic health and livelihood," she said. "We really get that and we're really trying to get better at this, at recognizing how interdependent these lands are across shared landscapes and throughout communities."
It was her third such appearance at a NACo Legislative conference in three years; the first was as deputy chief for State and Private Forestry in 2017.
"I'm trying to set a really different tone in the Forest Service, and to say we really share the responsibility, we share the ownership, we share the outcomes of what we want to create on these lands," she said, pointing to Agriculture Secretary Sonny Perdue's shared stewardship initiative in 2018 as a catalyst for that, which has resulted in 13 signed agreements and 25 in the works. "This is a way for us to up our game, frankly. But we have scale mismatch. We're not responding in a way that matches the size of the challenge, with a billion burnable acres, with catastrophic insects and disease, with a need to amp up our rural economies."
She touted a 21-year high in timber sales in 2019 — 3.3 billion board feet, and the forest service is on pace for 3.7 billion board feet in 2020.
"We're improving forest conditions and that's all about more active forest management," she said. "We're using every tool and every authority that we have."
In 2019, the Forest Service sold a 21-year high 3.3 billion board feet of timber, and it is on track to see 3.7 billion in 2020, with a goal of 4 billion in 2021.
She reported that the two signed Good Neighbor Authority agreements were an early success, but work remains in Congress to allow counties and tribes to keep their timber receipts.
Years of fighting wildfires led to a growing maintenance backlog for the Forest Service, and the bill currently stands at $5.2 billion — $3.6 billion of which is roads and bridges. Christiansen acknowledged frustration with road conditions and pledged to work with counties and push the envelope with innovations, estimating a $445 million annual investment over 10 years to catch up with deferred maintenance. 
"We've got to have functioning roads and bridges to be able to treat the forests, fight the fires and reduce the risk," she said. "It just doesn't happen without those roads and you rural Americans need functioning roads and bridges for their daily use," and it ties together the fabric of rural America.
She promised Secure Rural Schools counties would receive their payments by the end of March.
Christiansen said the draft revision to the National Environmental Policy Act (NEPA) had received more than 100,000 comments, and a final rule would be released later this spring.
"In our reform of NEPA, we intend to be science-based and meet our environmental responsibilities and to keep the public included and have a clear voice and transparency," she said. "But it doesn't take all the steps that we're doing today to get to that bottom line.
"We have layered on all kinds of processes over the years, all good intended, but there's process after process that isn't really helpful to meet our environmental responsibilities nor to include the public like we should." 
The John D. Dingell Jr. Conservation, Management and Recreation Act of 2019 created the national "open unless closed" standard, codifying standard Forest Service practice. The service is close to meeting the one-year requirement of publishing the first public list of priority lands that have access issues.
"We have set up a process, along with our counterparts in the Department of Interior, of where the public can really inform us where there's not legal access," she said. "That will help inform the priorities of where we can gain access in the future." 
In addition, the Land and Water Conservation Fund is permanently reauthorized.
Sublette County, Wyo. Commissioner Joel Bousman and NACo's Forest Service liaison Randy Phillips gave the caucus a preview of a guidebook that would serve both frontline Forest Service personnel and county officials to understand how each organizational structure works and protocols for cooperation. The guidebook is in the finishing stages.
"If we can set some common understanding, to understand the roles and responsibilities that county government and our forest service line officers have, we can really make good on that commitment to work with the local county governments," Christiansen said about the guide.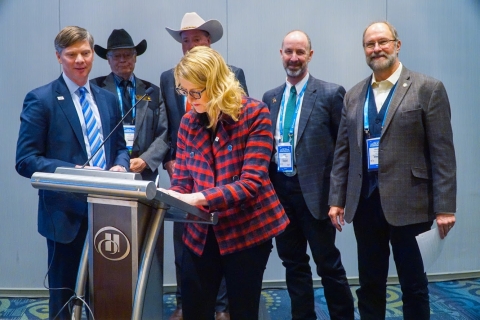 Related News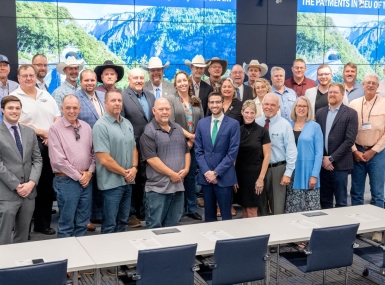 County officials from across the country traveled to Washington, D.C. to advocate for federal public land policies, sharing stories with members of Congress of how the PILT and SRS programs help counties fund essential services.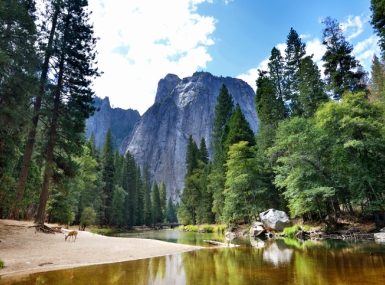 On Friday, August 11, the U.S. House Natural Resources Committee held an oversight hearing titled "Conservation in a Crown Jewel: A Discussion About Wildfire and Forest Management." The hearing investigated the tangible consequences of poor and failed forest management policies and the impacts of catastrophic wildfires.