ILLINOIS
KANE COUNTY closed on a $27.8 million bond sale last month to fund construction of the Longmeadow Parkway Corridor toll bridge over the Fox River, county CEO Joe Onzick told The Courier-News. A 4 percent interest rate on the bonds, based on its AA+ rating from Standard and Poor's Financial Services, means that the county will save an estimated $21 million in interest over 30 years. "This is good news worth repeating," Board Chair Chris Lauzen said.
"It's like saving interest on a mortgage, 4.3 percent versus 6.49 percent. It's like night and day. In our case, it's like a $21 million night and day."
Tell us More

News from Across the Nation is compiled by Charlie Ban and Mary Ann Barton, senior writers. If you have an item for News From, please email cban@naco.org or mbarton@naco.org.
INDIANA
WAYNE COUNTY's syringe exchange program took in more needles last month than it handed out for the first time since the program started. In a quarterly report to the state department of health, the county reported it saw 4,249 syringes turned in from July to September and 3,959 handed out, USA Today reported. Nine counties in the state are authorized to run needle exchange programs, which began two years ago in an attempt to deal with elevated numbers of hepatitis C and HIV, diseases that can be spread through the sharing of needles. "The second goal of this syringe exchange is to extend a non-threatening means of entering into treatment and recovery to those who are suffering from addiction," Commissioner Mary Anne Butters said.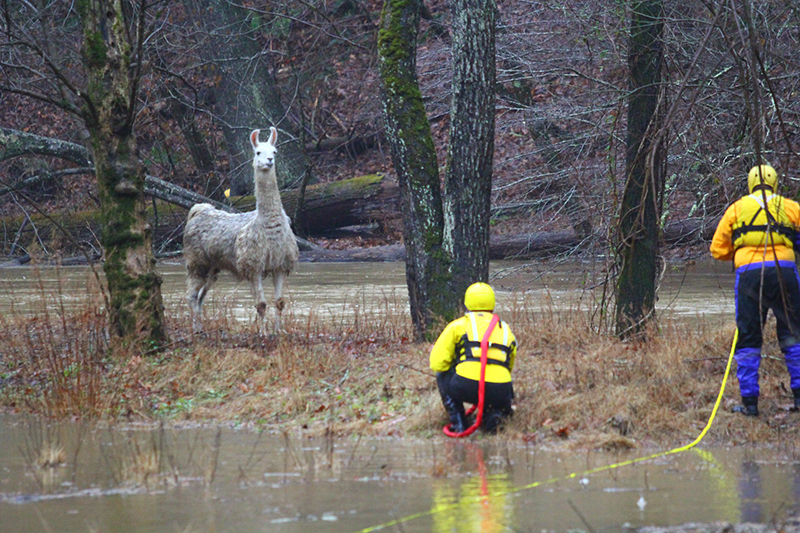 MARYLAND
County rescue crews are used to the unexpected. That's what fire and rescue personnel were in for recently in HOWARD COUNTY, where they rescued a llama from floodwaters, radio station WTOP reported. After a long weekend of rain hit the area, crews were called to help the llama from a flooded field near the Patuxent River. Crews assisted the owner by using a line tied to the animal's harness to lead it to safety.
ANNE ARUNDEL COUNTY recently announced it was ending its contract with the federal government to screen detainees for immigration status. The county, with a population of more than 500,000, was the largest in Maryland with such a contract, WBAL-TV reported. "Our county detention staff should be focusing on local law enforcement responsibilities rather than furthering controversial federal immigration policy," said County Executive Steuart Pittman. "We have a criminal justice system and we have to respect that. I think it's an insult to our criminal justice system to suggest that we need (Immigration and Customs Enforcement) to tell us how and when to deal with our criminals."
Pittman noted the expense of county employees doing work that ICE employees used to do. He said the county paid 12 employees while they received training for a month. "We found that it cost us," he said. "We were having to pay our people to do the work of ICE, and now ICE will do that work." Separately, Pittman said the county will continue an agreement with ICE to hold up to 130 male detainees who are 18 or older in a medium- to low-security detention center.
The county receives $118 a day per detainee, which added up to about $4 million last year. He said the money will be used for public safety, with a portion of it used for legal representation for detainees.
MISSOURI
A pre-trial program is saving dollars in COLE COUNTY, the News Tribune reported.
Through the program's first three years, the county has seen a 71 percent success rate with the majority of participants completing probation and parole. The daily cost of holding a prisoner is $70.78; keeping a person in a pre-trial program costs $4.35 per day. A pre-trial coordinator screens those who are unable to make bond for more than three days. Supervision services include call-ins, drug-testing, monitoring of violations and verification of residency and employment.
NEVADA
Concerns that the needs of medical marijuana patients are being ignored have prompted the CLARK COUNTY Commission to indefinitely delay licensing for recreation-only dispensaries. Nine business owners had pending recreational licenses. Existing dispensaries serve both recreational and medical users, who receive a 10 percent discount on sales and can buy specified medicinal products, The Las Vegas Sun reported. While the moratorium is indefinite, three new county commissioners will be seated for the next meeting Jan. 7.
NEW YORK
ERIE COUNTY smokers have fewer places to light up after the county Legislaturevoted to prohibit smoking with anyone under age 18 in a car or near bus shelters. That goes for e-cigarettes too. Pharmacies and other healthcare institutions are barred from selling tobacco products and have until the end of February to remove them from their shelves, WKBW News reported. ROCKLAND COUNTY has also banned smoking in cars with kids.
OHIO
The HAMILTON COUNTY Board of Commissioners wants to shed some more light on county governance by meeting more after dark. After a decade of lunchtime meetings, the Board will add a 6:30 p.m. meeting once a month to allow citizens to attend after the workday, The Cincinnati Enquirer reported. The Board is also considering holding meetings away from the downtown courthouse on a rotating basis.
"We've heard that holding meetings during the workday can be an impediment to some residents who wish to participate in our meetings," Commissioner Denise Driehaus said in a statement. "So, once a month, we will hold a meeting in the evening to give those residents a chance to attend."
OKLAHOMA
Although their road falls outside of public road construction standards, eight property owners have donated almost $14,000 to PAYNE COUNTY to cover the cost of improvements. The county has agreed to assume maintenance responsibility once the roads have been repaired and improved. The families entered into an inter-local cooperation agreement with the county to help cover the cost of buying the materials and transporting them to the site. The county has made it a general practice over the past decade to refuse to take on responsibility for any new roads, according to The Stillwater News Press.
OREGON
JACKSON COUNTY's search and rescue department is advising drivers to ditch GPS directions this winter. Why? Most of the road closures due to snow are outside of cellular phone range, making a call for help difficult or impossible.
"Jackson County is 2,800 square miles and there's probably 1,400 square miles of that not covered by cell service," said Deputy Ian Lance. "There's no data. There's no nothing because there's literally nothing there."
Deputies told News 10 that they have responded to a number of calls involving people who followed mobile navigation systems and ended up stranded.
PENNSYLVANIA
ALLEGHENY COUNTY has introduced a new call center, website and smartphone app designed to address residents' questions.
The website allows residents to track their requests and see frequently asked questions, and in the app they can submit photos and see requests near their location.
The call center staff handles questions and service requests for the public works, parks, property assessment and real estate offices, with plans to add more over time, with health and weights and measures next up, The Pittsburgh Post-Gazette reported. Emergency requests related to parks and public works will be forwarded to the relevant departments, while all other requests will be dealt with during business hours.
TEXAS
FORT BEND COUNTY offered a drive-through service last month for residents paying their property taxes, The Houston Chronicle reported. "Instead of trying to find a parking spot and then come inside and wait for your number to be called, you can stay in your car and hand your payment to one of our staff," Patsy Schultz, the county tax assessor/collector, told the newspaper. The county, located about 35 miles southwest of Houston, set up two drop-off locations on two dates, with cones and directional signs to aid the traffic flow.
Staff stand by to accept payment, which must be in the form of a check or money order in an envelope with a return address clearly marked on the outside of the envelope; cash isn't accepted at the drop-offs. Residents can go online to print a receipt roughly five days later or the office will mail a receipt if residents request one.
UTAH
A transportation bill passed recently by the Legislature has allowed the UTAH COUNTY Commission to revive a 0.25 percent sales tax that had been defeated by voters in 2015. The bill gave counties the option to put the tax increases on the ballot or enact them themselves. Utah County's tax does not apply to food and is projected to generate $22 million per year for transit and road projects, The Deseret News reported.
WASHINGTON
The state Supreme Court ruled against a challenge to KING COUNTY's $232 million youth jail and courthouse. The court said End the Prison Industrial Complex failed to meet a 10-day deadline to file objections to ballot measures put to voters. The group sued the county over the property tax increase on the 2012 ballot measure that voters approved, generating $210 million, The Seattle Times reported.
WYOMING
A golf course altered the banks of the Snake River. TETON COUNTY says it has to go back to the way it was. The Snake River Sporting Club has been navigating "after-the-fact" permitting processes for building erosion and flood-control structures over several years without permission. County staff also identified a couple of inland projects as problems and the permits have been denied for all of those projects, The Casper Star Tribune reported. The club will also have to demolish a pickleball court built without a permit.
Hero 1