CALIFORNIA
SACRAMENTO COUNTY is one year into its $5.1 million program designed to house and offer wrap-around social services to residents who are costing the county the most money in the use of social services. A man in the program who used more services than any other homeless person in the county (to the tune of $150,000 per year), secured an apartment, a job and a car and recently graduated from "re-entry court," a criminal justice realignment program, The Sacramento Bee reported. The program was approved two years ago by the Sacramento County Board of Supervisors as one prong of a major multimillion-dollar, four-part initiative to curb homelessness. The program, called Flexible Supportive Re-Housing, was initially budgeted for $5.1 million to run for 18 months through June 2019.
GEORGIA
DEKALB COUNTY CEO Michael Thurmond recently proposed committing $9 million in additional contributions to strengthen the county's employee pension fund.  The contributions will be made annually over the next five years to help reduce the county's unfunded pension liability. "DeKalb County's goal is to get the employee pension fund on firm financial footing," said Thurmond. "The proposal is a long-term strategy to strengthen and stabilize the employee pension fund and ensure financial integrity in the fund going forward."
IOWA
SCOTT COUNTY hopes to decrease the number of auto thefts committed by juveniles by putting first-time offenders face to face with their victims and hold the youth accountable for repairing the harm they caused, Quad-City Times reported. "All court proceedings would be put on hold" while the juvenile has three months to complete the agreed-upon plan. The program is modeled after similar programs in New Zealand and Oakland, Calif., that have been effective in lowering recidivism and providing satisfaction to the victims and promoting accountability.
VIRGINIA
Dogs looking for a home are making some friends and getting some exposure through a new program with the CHESTERFIELD COUNTY Sheriff's Office.
The dogs are paired with officers who are walking the beat through a new patrol program, Community PAWtrolling. The canines are adorned with yellow "adopt me" bandannas.
Sgt. James Kuzik told Richmond's CBS affiliate that the dogs also help "build the bond" between police and the community.
 "They're very approachable. The children are wonderful, not only do they talk about the dogs, they talk about issues in the community," he said.
KANSAS
The state House in Kansas recently advanced a bill to authorize four counties — THOMAS, RUSSELL, JACKSON and DICKSON — to hold votes on raising sales taxes to cover local projects, the Ottowa Herald reported. The money would pay for economic development, and work on roads and infrastructure. If passed, the increases would have a limited time span.
MARYLAND
OAKLAND COUNTY's workforce development arm has created a program to help local businesses retain workers due to today's competitive job market, The Oakland Press reported. The program will give employers access to a success coach, who will connect employees to resources to help with various issues such as stress management, affordable childcare, public benefits, relationship management and other topics.
MINNESOTA
After a boulder fell off a landscaping truck and killed two people, the DAKOTA COUNTY Sheriff's Office decided to hire a full-time officer to enforce safety rules for commercial trucks, which are increasingly common on county roads as they haul gravel and construction supplies to new developments, The Star Tribune reported. Improper load securement is a top problem, a special duty deputy told the newspaper. Funds from the county's transportation budget will pay for the new position.
A WADENA COUNTY employee who was overpaid $18,000 said he plans to pay it back, the Duluth News Tribune reported. The employee was hired to serve as both county highway engineer and county coordinator, with funds coming from two different budgets. County commissioners set a $6,000 cap to resolve the issue, approved the hiring of accountants to investigate the matter and prepare necessary tax forms for the employee. The employee said he's eager to pay the money back in order to avoid paying taxes on money he didn't actually earn.
NEVADA
Prompted by a medical incident that landed the county manager in the hospital, LYON COUNTY commissioners have given themselves a little more personnel flexibility. They passed an ordinance giving the Board the authority to appoint an interim county manager in case he is unable to perform his duties. The one-day absence of the county manager prompted examination of the existence ordinances, which gave no guidance. The board can now appoint an interim manager at a regular meeting, the Reno Gazette Journal reported, or call an emergency meeting with three days' notice.
NEW YORK
OSTEGO COUNTY is centralizing its arraignment system for after-hours arrests.
Anyone arrested within the county when courts are no longer in session will be arraigned in the lobby of the Otsego County Sheriff's Office in Cooperstown, rather than a town's jurisdiction. The Cooperstown Crier reported that town and village judges and public defenders would be placed on monthly rotating on-call schedules for arrests made at night, on weekends or during holidays.
NORTH CAROLINA
Another county jail is thinking twice about housing immigration detainees. The FORSYTH COUNTY jail will stop accepting detainees from U.S. Immigration and Customs Enforcement when its contract with the federal government ends April 30. The Winston-Salem Journal reported that Sheriff Bobby Kimbrough Jr. said the sheriff's office "never will be an extension" of immigration services. Kimbrough said U.S. Marshals can continue to keep their fugitives in the jail.
OHIO
Faced with costs of prosecuting four suspects charged in the slayings of eight people that could total one-tenth of its annual budget, PIKE COUNTY could use some financial help, and Ohio's attorney general is in favor of giving it. Dave Yost thinks the state should cover the majority of the costs, which would still leave the county picking up $1 million. That total would include defense lawyers who are experts in death penalty cases, investigators and expert witnesses.
"It's a budget wrecker for a small town," Yost said. "Justice shouldn't be a matter of how much pocketbook you have."
The Associated Press reported that Ohio lawmakers will need to approve that spending, which it did for an initial $100,000 in 2018. The sheriff's office has spent $600,000 on the case so far.
OKLAHOMA
OKLAHOMA COUNTY Sheriff P.D. Taylor and Commissioner Carrie Blumert will create a citizens' advisory board in an effort to help improve community relations between the sheriff's office and the public.
The Oklahoman reported that the county will develop an application process for residents interested in serving on the board and that various community groups will help select board members.
PENNSYLVANIA
Correctional officers and lieutenants at the CENTRE COUNTY prison will wear body cameras, following approval of a contract with a camera and software supplier.
"This is really about officer safety and inmate safety," Commissioner Steve Dershem said. "It allows both groups to function together in a comfortable environment ... with the knowledge that if there is something going on that we'll have a record of it ... and be able to review it and make better decisions."
The cameras will continuously record in 30-second intervals without audio, and when an incident with an inmate occurs, the officer will tap the camera to save that 30 seconds and record video and audio going forward. State law says that video recording of incidents can only be obtained after an official investigation has been completed, or when the footage would not compromise a law enforcement investigation, The Centre Daily Times reported, and every incident will be reviewed by prison administration and they will decide whether to release it.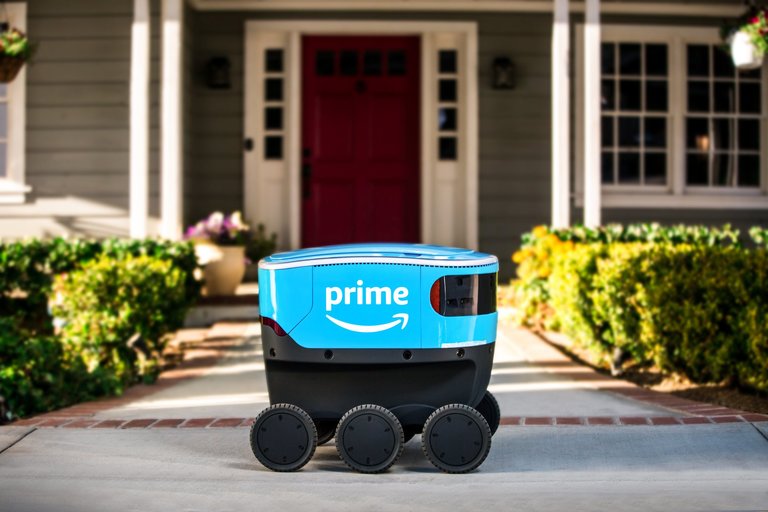 WASHINGTON
SNOHOMISH COUNTY has allowed Amazon to test autonomous delivery robots on the sidewalks of one of its neighborhoods. Six robots, called "scouts" have been rolling around sidewalks at a "walking pace" and navigating around obstacles, including pedestrians and pets. The cooler-sized scouts are out and about during daylight hours on weekdays, Bloomberg reported.
Hero 1