NACo launches national broadband task force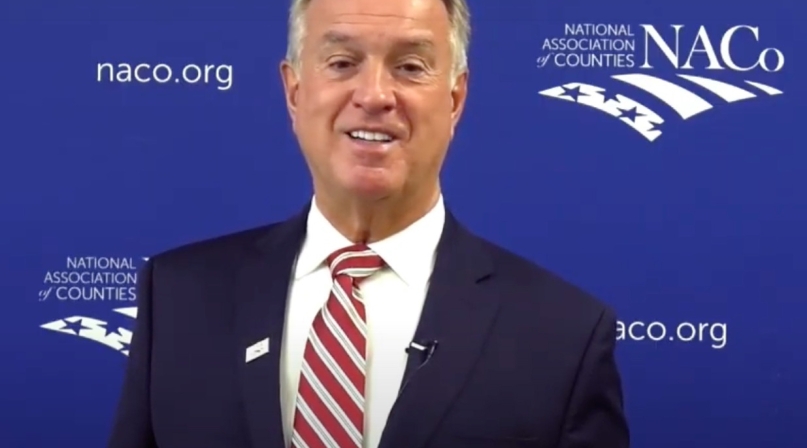 NACo President Gary Moore announces NACo's Broadband Task Force during the NACo Virtual Federal Policy Summit.
Click here to learn more about the task force. Click here to view the full Federal Policy Summit.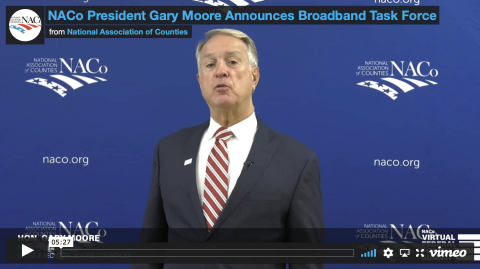 NACo President Gary Moore, Boone County, Ky. judge/county executive has launched the NACo Broadband Task Force in an effort to bring together county government officials from across the country to focus on the challenges and opportunities facing unserved and underserved communities and populations. The task force is starting with the premise that "if you can't connect…you can't compete."
The NACo task force will examine the intersection of public, private and non-profit sector efforts to deploy and sustain advanced, affordable and accessible broadband and other communication technology solutions with the aim of eliminating the digital divide. 
In addition to reviewing the current federal and state policy landscape, the group will research and showcase noteworthy practices and innovative solutions involving county governments as essential community partners, as conveners, collaborators, policy makers, regulators, investors and even operators.
At the leadership of the group's co-chairs, and with the assistance of the NACo Advisory Council, the task force will identify and build on specific policy and practice solutions using the following framework to help draft a blueprint to broadband deployment.  Ultimately, the task force will help develop an overall report as well as other products and resources to assist county officials throughout the various stages of broadband deployment.  
The scope of work includes:
A. Preparing for broadband 
     Complete and accurate data 
     Broadband surveys and feasibility analytics and forecasting
     Partnership-building, including aggregating demand 
B. Barriers to buildout 
     Federal policy landscape
     State-imposed policies and pre-emption 
     Local regulations and procedures
     Geography: Cellular vs. fiber vs. satellite vs. emerging technologies  
     Adoption rates with accessibility, affordability and bandwidth for residential vs. commercial 
C. Digital divides (digital equity) 
     Urban/Suburban/Rural/Tribal 
     Ethnic/racial disparities
D. Future-proofing and the "Global" economy 
     Basic service to 5G to 10G future 
     E-rate and remote learning/training 
     Dig-once 
Timeline
The task force leadership will identify the best possible times to schedule the first meeting with a goal of mid-November with a goal of concluding the task force by late February – mid March. A very preliminary timeline includes:
Mid-November: Virtual Convening #1  Task force members will each provide a summary of broadband connectivity challenges and solutions from their respective counties and briefly discuss the scope and mission.  Task force members will also use this session to divide the group into focus areas aligned with the scope and mission.  This meeting with help the task force establish a baseline for the work ahead.
Early January: Virtual Convening #2  Task force members will hear from the Advisory Council representatives on a wide range of topics as it relates to the scope and mission established by the task force. This meeting will help ensure the work of the task force effectively captures the challenges and solutions provided by the private sector and other broadband stakeholders. 
Early-February: Virtual Convening #3  Task force members will meet with a variety of federal and state representatives to discuss the unique challenges and solutions to broadband deployment across the country. Guest speakers will include representatives from the Federal Communications Commission, members of Congress and various federal and state agency representatives. Immediately following this meeting, task force members will begin assembling a report and related resources and toolkits to be released during NACo's 2021 Legislative Conference. 
Pre-Legislative Conference: Virtual Convening #4 – Task force members and Advisory Council will meet to make final preparations for the release of the broadband report including key recommendations and findings. This includes sharing noteworthy practices with the federal policy makers, county officials, partners, the general public and media.   
NACo Broadband Task Force members
The following group of task force members (representing 21 different states) presents a balanced representation of geographic and demographic interests.  As part of the virtual task force meetings, all NACo members will be invited to participate and listen to the task force events through MS Teams Live. 
| | | |
| --- | --- | --- |
| NACo President Gary Moore, County Judge/Executive, Boone County, Ky.   | Jeffrey Earlywine, County Treasurer, Boone County, Ky.   | Deborah Lieberman, Commissioner, Montgomery County, Ohio   |
| Nils Andreassen, Executive Director, Alaska Municipal League  | Craig Rice, Council Member, Montgomery County, Md.   | Jason Carini, County Treasurer, Rogers County, Okla.    |
| Joseph Wood, County Judge, Washington County, Ark.  | Jim Storey, Commissioner, Allegan County, Mich.   | Jason Brinkley, County Judge, Cooke County, Texas   |
| John Peters, Supervisor, Mono County, Calif.   | Mike Slavik, Commissioner, Dakota County, Minn. | Terry Ocaña, IT Director, Chippewa County, Minn.  |
| Terry Burroughs, Commissioner, Okeechobee County, Fla. | Rich Sve, Commissioner, Lake County, Minn.   | J.D. Clark, County Judge, Wise County, Texas |
| Gregg Weiss, Commissioner, Palm Beach County, Fla.   | Tarryl Clark, Commissioner, Stearns County, Minn.   | Glen Whitley, County Judge, Tarrant County, Texas   |
| John Matelski, Chief Innovation and Information Officer, Dekalb County, Ga.   | Chuck Weed, Commissioner, Cheshire County, N.H.   | Renee Couch, County Treasurer, Comal County, Texas   |
| George Emami, Commissioner, Monroe County, Ga.   | Will Calvin, Commissioner, Chaves County, N.M.  | Kim Halfmann, County Judge, Glasscock County, Texas   |
| Scott Johnson, Manager, Columbia County, Ga. | Terry Buchanan, IT Director, Robeson County, N.C.   | Bruce Adams, Commissioner, San Juan County, Utah   |
| Jonathan Pitts, Commissioner, Jones County, Ga.   | Frank Williams, Commissioner, Brunswick County, N.C.   | Nathan Davis, Commissioner, Ferry Couty, Wash.  |
| Carol Moehrle, Director of Public Health District, Nez Perce County, Idaho   | Ryan Moore, County Administrator, Warren County, N.Y.   | Rick Hughes, Councilmember, San Juan County, Wash. |
| David Zimmerman, Chairman, Tazewell County, Ill. | Benjamin Swanekamp, Deputy Budget Director, Erie County, N.Y.   | Lauren Schoenfeld, Commissioner, Sweetwater County, Wyo. |
Advisory Council Members
In recognizing the importance of service providers, private industry, academic researchers, and other key stakeholders, the NACo Broadband Task Force will also have access to an advisory council of experts. The Advisory Council will have the opportunity to participate and present during Task Force meetings and other engagement opportunities throughout the course of Task Force efforts. 
The list of advisory council members includes:  
| | | |
| --- | --- | --- |
| Measurement Labs   | Farm Credit | UltraMontgomery |
| Land O' Lakes | Verizon | Student Internet Equity Coalition |
| Rural Community Assistance Partnership | Comcast | NRECA |
| Rural LISC | AT&T | The Rural Broadband Association (NTCA) |
| National Association of Development Organizations | UnitedHealthcare |   |
| Consortium for School Networking | Netsmart |   |
Related News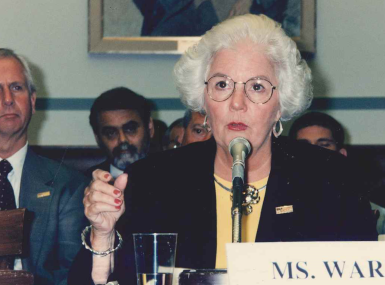 Her involvement with her children's PTAs drove Betty Lou Ward to run for the Wake County, N.C. Board of Commissioners to work to improve schools, libraries and parks.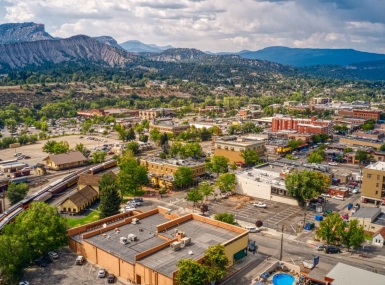 "We all want high speed Internet, we want HD Netflix to be able to watch on our TV, but for the commissioners of both counties, our major concern is making sure that our phones work when we need them."