People who face hunger who aren't eligible for SNAP benefits can be found in nearly every county across the country, according to a new report released last month by Feeding America
In Dodge County, Neb., ground has been broken for a new chicken plant that will bring up to 1,000 new jobs to the region. The $300 million poultry processing center is expected to ship 400,000 birds a day, raised by local farmers, to Costcos around the country.
This region of eastern Nebraska is already home to other meat-processing businesses including the Hormel hog plant, the nation's largest producer of Spam. The meat-packing industry has changed the cultural landscape of the Cornhusker State somewhat, with many workers from Guatemala, Mexico and Honduras settling there to work at the plants.
Ironically, in an area filled with food-related jobs, some of the industry's workers have trouble finding groceries. With little in the way of public transportation, some pockets of the county are food deserts.
"You've got to bring those services to where they live, work and play," said Kathy Kneifl, an assistant educator with the Nebraska Extension office for Dodge, Saunders and Washington counties in Nebraska, who manages the Healthy Food Retail Recognition program.
The population helped by Kneifl and others in Nebraska are a mix of those who qualify for the Supplemental Nutrition Assistance Program (SNAP) as well as some who do not.
Across the country, about 42 million people use SNAP to purchase food, which costs taxpayers $64 billion a year. It works out to about $125 per person per month.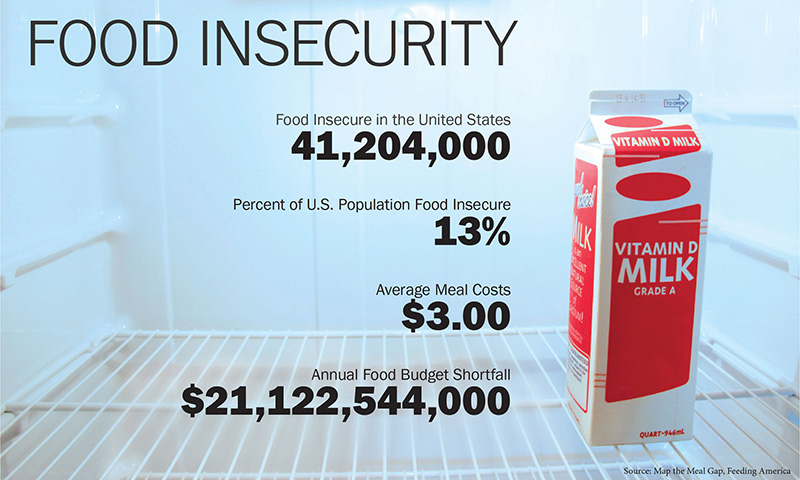 People who face hunger who aren't eligible for SNAP benefits can be found in nearly every county across the country, according to a new report released last month by Feeding America, a non-profit that tracks hunger issues. The report shows families in 97 percent of counties as "food insecure." Food insecurity is a measure defined by the Department of Agriculture as lack of access, at times, to enough food for an active, healthy life for all household members.
For the people who don't qualify for SNAP benefits but can't stretch their dollars enough to buy groceries on a regular basis, they mainly rely on food banks to put food on the table. Feeding America's network of 200 food banks provides about 4 billion meals annually; for every meal Feeding America provides, SNAP provides 12.
Key findings of the new report show that food insecurity exists everywhere — from Jefferson County, Miss., where 36 percent (the highest rate in the study) are food insecure, to Loudoun County, Va., where 4 percent (the lowest rate) are food insecure. Rural and southern counties tend to have the highest rate of food insecurity, according to the findings.
Some counties are getting creative when it comes to making sure their residents don't go without healthy food choices. Kneifl, in Nebraska's Dodge County, works with convenience stores in food deserts.
At Brady's Meats & Foods, a small grocery and gas station in Dodge County, located in an industrial area down the street from a grain elevator, she has worked with store management to beef up the run-of-the-mill convenience store offerings to add more groceries that the local residents are most likely to buy: cuts of lean beef, more organ meats, fish and rice and beans.
She also holds community events, including at Brady's, where she partnered with a local food truck that regularly does business in the parking lot. With a grant, they were able to purchase meals for residents and brought in interpreters to talk to them about healthy eating. 
Food deserts litter the country. With grocery stores located "in town" and no public transportation in outlying areas, it's difficult for some residents in Davidson County, N.C., located about 20 miles south of the Winston-Salem area, to find healthy food choices.
The Davidson County Health Department began cold-calling smaller "quick marts" several years ago asking them to sell local produce with an assist from the county, said Jen Hames, health education supervisor. In turn, the county offered to furnish the convenience stores with a cooler, produce scales, display racks and signage purchased with grant funds. The stores get the produce from local farms and a wholesale market.
Three stores are currently participating and one in particular is a "poster child" for the program, Hames said. The store owner "really understood the link between healthy eating and the business side of it and he's community-focused, so it was just a perfect fit with him." Some of the markets, as well as several farmer's markets, take SNAP payments.
For counties trying to help residents who live in food deserts, Hames advises starting by connecting with convenience stores. "Cold calling's not fun — the first one we cold-called said 'No one's going to buy produce from a gas station.' … It's just boots on the ground."
Boots on the ground is what kick-started a food desert study several years ago in a county in Texas. The Waco-McLennan County Texas Health District partnered with Baylor University on the study, to find out the needs of local residents.
"All the grocery stores had moved toward the interstate," said Kelly Craine, public health information specialist with the health district. They went ZIP code by ZIP code, targeting residents who were particularly in need; public health workers and interns fanned out to knock on doors and get some answers. "We did a door to door survey — 'How many vegetables did they eat? How far did they have to go to purchase groceries?'"
One of the answers to bringing healthy foods to those in need was a mobile farmer's market. The health district got a grant to help purchase a van (dubbed the "Veggie Van") for a group called World Hunger Relief, which grows produce on a farm in the county. The Veggie Van sets up several farmer's markets around the county during its weekly stops.
The county spent grant funds to get the word out using paid advertising on billboards, radio and newspaper about the Veggie Van, farmers markets and nutritional cooking classes — some taught by local and celebrity chefs — held at farmer's markets and churches.
A different twist on the Texas county's concept can be found up north in DeKalb County, Ill. where a refrigerated 12-foot produce truck dubbed "The Grow-Mobile" takes fresh produce to pop-up markets across the county each week, according to Moria Nagy, president of the non-profit DeKalb County Community Gardens (DCCG). The truck, which is owned by the non-profit, is also used for educational workshops.
The produce is grown at more than 50 community gardens on 15 acres across the county managed by DCCG. Since 2012, the community gardens have produced more than 100,000 pounds of food for local food pantries, day care centers, schools, community meal locations, senior citizen centers and housing units, as well as to the Meals on Wheels program.
The community gardens have been in existence for about six years. Being able to take produce to other parts of the county starting last year "was kind of a big step for us," Nagy said.
In addition to produce, the Grow Mobile also offers free food from the Northern Illinois Food Bank, a distribution warehouse, that offers food to food banks donated by local grocery stores. "This is a wonderful resource we were able to tap into," Nagy said.
Another type of mobile market can be found in Tulsa County, Okla., where a former horse trailer was retrofitted into a one-aisle mobile grocery store, said Leslie Carroll, resource development coordinator at the Tulsa County, Okla. Health Department.
The mobile grocery store visits food deserts and was launched by the Healthy Corner Store Initiative, an affiliate of the Tulsa Community Foundation through its subsidiary R&G Family Grocers.
"They really try to pay attention to their customers — if it's a Hispanic community, they try to offer culturally appropriate items such as mangoes," Carroll said. Sixty percent of sales come from SNAP recipients.
The converted 36-foot long refrigerated trailer offers about 600 different food items for sale and last year served 17,000 customers in food deserts around the region. They make about four stops a day from 8 a.m. to 6 p.m. and visit 19 locations six days a week.
R&G Family Grocers has a waiting list of areas that want to be added to their route. The owners hope to have a second store up and running by next year.
---
The counties featured in this story were among local governments awarded funding from a partnership between the Aetna Foundation, the American Public Health Association and NACo. They joined the Healthiest Cities & Counties Challenge to create a positive health impact.
Hero 1