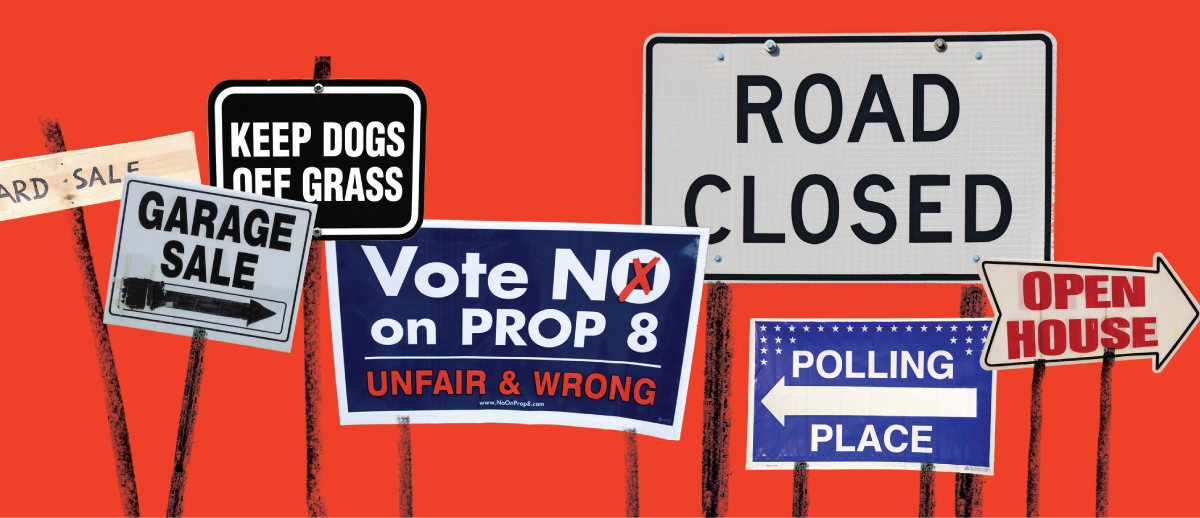 Pastor Clyde Reed's good news could spell bad news for counties.
When the U.S. Supreme Court ruled in Reed's favor in Reed v. Town of Gilbert this summer, it unanimously found the Arizona town's sign ordinance was uncon­stitutional.
"Reed is probably one of the most significant decisions affect­ing local governments in the past several years," according to Chuck Thompson, executive director of the International Municipal Lawyers Association (IMLA). "It has the potential to require all local governments to reexamine their sign laws and other regulations that may be considered content-based."
Rev. Clyde Reed sued the Mari­copa County town after it treated signs giving directions to his itiner­ant church differently from other short-term signs. Gilbert's sign code limited the size and length of time the church's signs could be displayed. But the ordinance allowed other types of temporary signs — including political and ideological ones — to be bigger and stay up longer.
The court found the ordi­nance to be content-based regulation of speech, which violates the First Amend­ment.
County Attorney Herb Thiele of Leon County, Fla. said sign laws will now have to pass the "strict scrutiny" test, meaning unless a locality has a "really significant" governmental reason for wanting to regulate sign content, "it's going to fail, and it's going to be found uncon­stitutional."
"In nearly every jurisdiction," said John Baker of the Minnesota law firm, Greene Espell, "the bar has been raised as far as what it takes in order to survive First Amendment scrutiny." He has represented several municipali­ties across the United States in defending their sign laws.
"The danger of course is that if you sit back and wait to be sued about this, by that point it will probably be too late."
And expensive, says Thomp­son.
"People in the sign business are willing to sue, and when they sue — and they base it on the First Amendment — they sue under Section 1983 (of the U.S. Code: civil action for deprivation of rights)," he explained, "so they're looking for attorneys' fees, and the costs of litigation can be staggering."
Thiele said for a county like his, with a staff five lawyers, the dollar costs would be indirect. But of Florida's 67 counties, only about half have in-house counsel; the other half would need to pay for outside legal help.
While the high court's opinion in Reed, written by Justice Clar­ence Thomas, doesn't mention billboards, lawsuits from the out­door advertising industry should be expected. That's because several other justices authored concurring opinions that seem to leave that door ajar for litigious businesses, Thompson said.
Justice Samuel Alito's con­curring opinion indicated that the court's ruling doesn't limit local governments' ability to regulate off-premise signs, such as commercial billboards, and on-premise signs affixed to local busi­nesses, according to Thompson.
He has little doubt that bill­board companies would want to use Reed "to challenge regulations that limit their ability to do their business."
Thiele, who will assume IMLA's presidency next month, said his association is in the pro­cess of developing a model sign ordinance that local governments across the country could use as a template. As an indication of the topic's importance — and the level of interest in it — IMLA will conduct three workshops on Reed at its forthcoming annual conference in Las Vegas, Oct. 3–7.
Other resources include a best practices guide authored for the Signage Foundation, Inc. by Wendy Moeller, an Ohio-based planner. While the publication — Best Practices in Regulating Tem­porary Signs — is being updated post-Reed, she said there's still value in its guidance.
"I think there are certain types of signs that may be more of an issue, and we're going to point that out in this update," Moeller said, singling out yard signs as an example. "As much as court cases help shape law, and help us clearly interpret law, sometimes the answer to one court case can raise questions for other issues."
In Reed's aftermath, some municipalities have imposed moratoriums on new signs, ac­cording to a spokesman for the International Sign Association, an advocacy and education group for the on-premise sign industry.
Questions local elected of­ficials might consider include completely deregulating signs. "That's a possibility," Thiele said, "that people could go back to the rows and rows of signs that everybody hated back in the 1970s…. Or are we going to try to go the other way, and every sign is going to have to get a permit, but we're not going to be able to deny it on the basis of whether something is written on it and what's written on it?"
County leaders are waiting for a sign.
Hero 1