The news that Ocean County, N.J. was receiving nearly $106 million from the Coronavirus Relief Fund was indeed a relief, but with the county in a safe financial position, county officials' thoughts turned to where it could do the most good.
Counties with populations of more than 500,000 received direct allocations from the Coronavirus Relief Fund, which totaled $150 billion among state and local governments. That money can cover expenses from the last 10 months of 2020 resulting from the COVID-19 pandemic that had not been budgeted for when the CARES Act passed March 27.
"Ocean County is very fortunate — we have a good surplus, so we were able to deal with the costs," said Julie Tarrant, the county's CFO. "If some of our revenues do not meet what we anticipate, I think we'll be OK, so from that standpoint, we were able to handle it."
Learn More

Webinar: Local Response to COVID-19: How Counties are Investing CARES Act Coronavirus Relief Fund Dollars
Ocean County had covered $93 million in debris removal costs in 2012 after Superstorm Sandy, and the county is again looking inward to fortify its small businesses.
Though the state is distributing $45 million among the 21 counties to assist small businesses, that won't go nearly far enough. Ocean County is putting $10 million of its CRF money into the New Jersey Economic Development Authority's Small Business Emergency Assistance Grant Program. That will aid businesses with fewer than 25 employees that had to close because they were deemed non-essential during the shutdown.
"You're looking at a lot of restaurants and clothing stores, employing local people," Tarrant said. "The profits are staying in the community."
The program had already been designed to meet the CRF reporting requirements, which accelerated the process. 
"It's all thanks to having a healthy rainy-day fund," Tarrant said. "Without that, we'd be trying to save ourselves and our businesses."
Additional guidance from the U.S. Department of Treasury has elaborated that any capital expenditures funded by the CRF must be completed by Dec. 30, 2020 — deliveries should be in hand and new construction should be close to completion. Funding can, however, be used to satisfy non-federal matching requirements of the Stafford Act, and that public health salaries can be paid for completely by the CRF.
Other staff expenses are trickier. Staff already on the payroll, who are simply doing more work as a result of COVID-19, are not covered, but staff hired to supplement workflows are.
The perspective different county workers take also figures in: While corrections officers provide public safety services, because they don't face the general public, their expenses generally aren't eligible unless their duties change significantly.
Williamson County, Texas
Shortly after Williamson County, Texas saw its first four positive COVID-19 cases on March 18, County Judge Bill Gravell Jr. called for a task force to get a grip on how the shutdowns would affect small businesses.
"If we could help our small businesses survive in this situation, we could also help with many of the other related situations that would occur with unemployment, with needs for housing and food," said Treasurer Scott Heselmeyer. "We take some pride from how we rolled this out."
What the county rolled out was the Wilco Forward grant program, allocating up to $30,000 to businesses located in Williamson County with fewer than 100 employees, based on the extent to which restrictions from the pandemic affected operations. Businesses that had to close completely could receive all of their grant amounts, businesses that had to close partially could receive 75 percent and businesses that didn't have to close could receive half.
"We knew every business was going to be affected one way or another," Heselmeyer said. "We had 500 applications in the first 30 minutes."
Grants could cover one month of labor costs using the same paperwork as the Paycheck Protection Plan, or two months' worth of fixed costs.
"Those are easy things to lay out — the actual enforcement for that was a little more challenging," he said, noting the reporting requirement on the back end of the grants is comprehensive.
With a few days to go before applications closed, the county had received nearly 3,800 applications and denied fewer than 400, mostly because they were duplicates.
"People either forgot their application had gone through or they got impatient and sent another," Heselmeyer said. "What we wanted to place a priority on was getting things put in the right buckets, and then we could work on the details in those buckets."
He said he also expects the school systems will have some needs by the end of the year.
Lee County, Fla.
The Gulf coastline of Lee County, Fla. is a beacon to vacationers, either to relax or attend spring training. COVID-19 cut down on all of that. Now, with roughly 40,000 businesses and nonprofits with 25 or fewer employees, the Lee Cares program is aiming to help them make comebacks from the closures or curtailed business operations.
Assistant County Manager Glen Salyer estimates one-third of those operations will be eligible for $5,000 grants to cover reopening expenses.
"We knew we couldn't make nonviable entities successful, so we're trying to provide stopgap funding," he said.
The call center the county set up at the start of the pandemic can help business owners apply for the $25 million, out of a total $134.5 million allocated by the Coronavirus Relief Fund. The rest of that funding will be split among human services costs ($45 million), government direct expenditures ($20 million) $20.5 million for unforeseen costs and with hurricane season on the way, the $24 million for public safety funding looms large, with the prospect of funding isolation shelters for displaced COVID-symptomatic residents.
The county will also begin taking applications July 6 for business rehire grants, offering up to $5,000 for each full-time equivalent employee brought back from COVID-caused furlough to a local business with 250 or fewer employees.
"The vast majority of our companies have not been able to access PPP loans for one reason or another, so we're trying to fill a gap," Salyer said.
A lot of the non-commercial funding will go toward additional COVID testing, contact tracing and quarantine housing costs.
"We're anticipating that if there is a second wave, rather than shutting down, we'd rather keep our economy open," Salyer said, "so we do anticipate some additional testing, contact tracing and quarantine housing costs."
Lee County received input from other counties and the Florida Association of Counties in determining eligibility criteria for its Lee Cares programs.
With childcare at a premium, the county worked with the United Way to provide $1,250 scholarships per eligible child and for personal protective equipment and cleaning supplies for childcare providers.
Kern County, Calif.
Like it or not, Kern County, Calif. is in the driver's seat right now. It is the only entity within its borders to receive any federal Coronavirus Relief Fund money ($157 million), and without any allocations yet from the state, that $157 million will have to be enough for everyone.
With an eye on a second wave, the county has funded six months of operations for an alternative care site at its fairgrounds, capable of supporting 1,000 people. In addition, coupled with trailer donations, the county is funding wraparound human services for homeless residents in addition to sheltering them.
A total of $20 million has been put aside to reimburse direct costs to cities.  Chief Operations Officer Jim Zervis said given the scope of Kern County's responsibility dispersing CRF funds, it has contracted with two banks and two credit unions to handle the grants.
"We tried to maintain as much flexibility for those businesses as possible," he said.
The county has also been distributing $10 million worth of personal protective equipment for small businesses. In lieu of renting storage space, the county is using 16 of its buildings that have been vacant during the pandemic.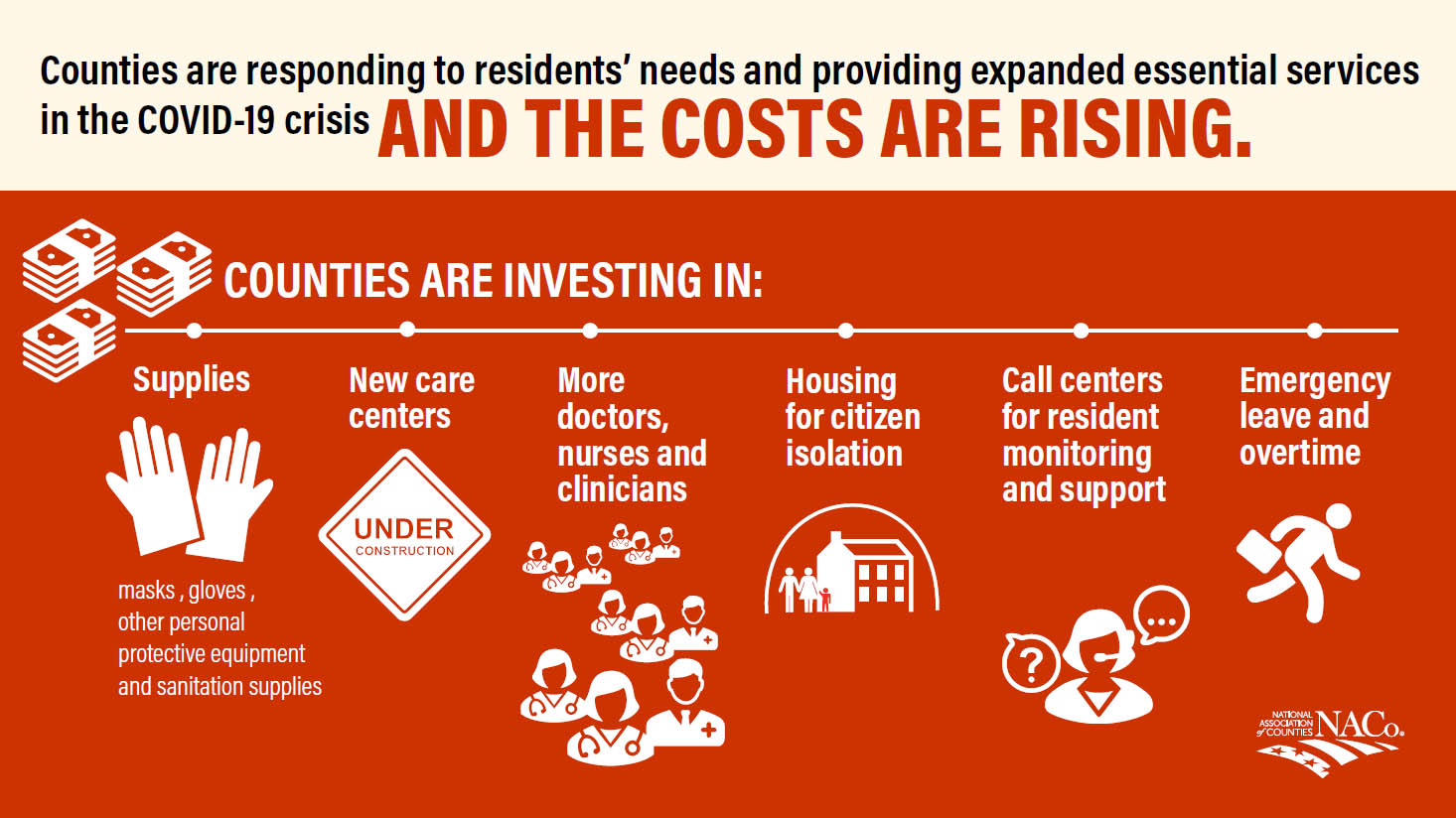 Hero 1