Counties build AI framework to harness its potential, bolster protection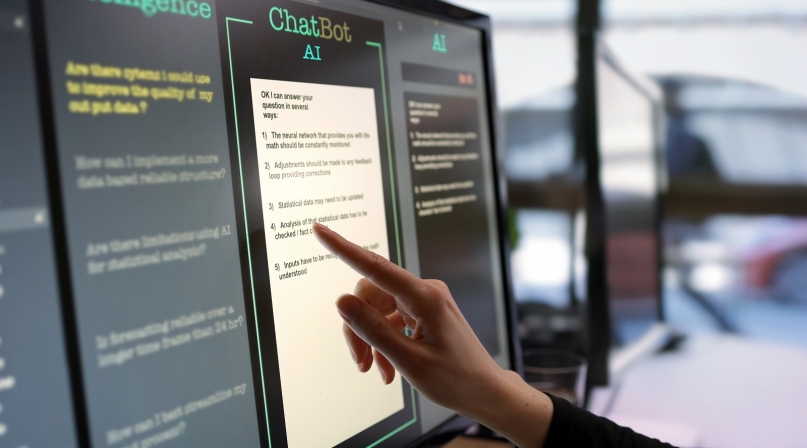 Key Takeaways
When Peter Crary left his job helping to develop software to read license plate numbers, he thought his days working in the nascent field of artificial intelligence were over.
He figured in his new role as senior manager of technology at the Texas Association of Counties, he would be working on much more practical matters, dealing with TAC's immediate equipment and networking needs. He was glad to be wrong.
Now he's one of the county leaders taking the initiative to figure out how to harness the potential of artificial intelligence and protect counties from its worst outcomes. Crary is a member of NACo's AI Exploratory Committee, which will meet over the next year-plus to determine a way forward with technology that could revolutionize service delivery, for better or worse.
Learn more

Sign up to receive updates from NACo's AI Exploratory Committee
He's helping to figure out what 2026 looks like. Or even 2024.
"When Chat GPT kind of took off, all of a sudden AI applied to different areas that TAC would have never earlier gotten involved in fully. All of a sudden, it's all in the forefront, it's in the news. It's everywhere."
Crary recognizes that the nature of AI development may be too fast for the committee to be too prescriptive, so he wants to set a framework to help counties properly vet applications for the technology.
"I'm worried that a county will get itself into a contractual agreement they find may not be favorable," he said. "I really do hope that we can give them guidance on what to do. If we can at least build guardrails and educate them on how to build the policies, what vendors are looking for, these are the questions you should ask."
The committee membership spans the spectrum of county government, including state association personnel like Crary, elected officials like Alameda County, Calif. Supervisor Keith Carson, specialists like King County, Wash. Chief of Staff Shannon Smith or appointed administrators like Peoria County, Ill. Administrator Scott Sorrel.
Sorrel hopes to voice the needs of mid-sized counties and recognizes the competitive disadvantage for local governments in adopting the technology. Experimentation must not come at the expense of consistent service delivery.
"The speed of evolution of the technology is going to be a challenge for county governments, because they do not move at the pace of the private sector," he said.
Tom Lynch, Cook County, Ill.'s chief information officer, wants to be sure the conversation is put in the proper perspective and grounded.
"I feel like AI is the next 'smart cities,' and I hate those kinds of buzzwords, because they're meaningless," he said. "The distinction between AI and generative AI is lost among a lot of these conversations."
For that matter, "generative AI" refers to applications that produce output based on a data set, often based on one or many predictive algorithms. That introduces an element of uncertainty, because the outputs are only as good as the data they draw upon, and even then, the predictive models may make logical leaps that don't hold up under scrutiny. If false information is dumped into the library from which a predictive model bases its work, the outputs may not just be wrong, they could be dangerous.
Wake County, N.C. Commissioner Shinica Thomas sees a county role in protecting citizens from fraud only escalating with the technology.
"People think that everything online is true, especially older communities who think that everything [is true] on Facebook," she said. "Lots of times, I feel like with this new information type of technology, we're really going to have to figure out what the delineation is."
'OKest-case' scenario
There is low-hanging fruit for AI applications in county government, including using advanced chatbots, intuitive phone menu systems, improving search functionality and record keeping and analyzing large quantities of public information. But those ideas are just the beginning.
The NACo AI committee is shooting for a moving target as members educate themselves about AI's capability and reliability, both of which are dynamic and more likely to expand than contract. The consensus of committee members is that AI could further automate mundane county functions.
For example, Stearns County, Minn. Commissioner Tarryl Clark sees an opportunity to outsource technical compliance tasks that weigh personnel down from pursuing higher-level problem solving.
Ricky Hatch has already started using ChatGPT as Weber County, Utah's clerk/auditor. He uses it to add to job descriptions, to streamline the processing of transactions, including processing accounts payable. But it's never without supervision.
"It can do check runs instantaneously when that usually takes me 20 minutes, and probably catches aberrations better than I could," he said. "It's a good second set of eyes, but we're not setting it loose to make decisions."
While AI can make short work of drudgery, Hatch worries what overreliance could mean for county staff skill levels.
"I worry that we are going to rely on our AI solutions too much," he said. "Whenever you automate any process, you run the risk of losing your comprehension of what that process is and what's involved in it."
But he plans to run all of his departments' public-facing documents through ChatGPT to see if they can be expressed more clearly.
Like Weber County, King County, Wash., has already used AI in a few instances. With five or six elections per year, the county streamlined frequently asked questions using a chatbot, county Chief of Staff Shannon Smith said. The county employs an "enterprise architect" whose main focus is on machine learning and AI.
"Our focus is not super-involved data grabs and predictive machine learning, but really trying to understand how we can use it to advance interactions with residents and understand the data better," she said.
King County's diverse population drives the application of AI to meet their needs.
"We have a baseline of six different languages and they're not necessarily the languages most counties need to address- Vietnamese, Hmong, Arabic," Smith said.
The county will also apply AI to help redact personal identity information on property tax records for seniors.
"It was 4,000 hours of work — it takes AI seconds," Smith said. "You still need human quality assurance, but we're reducing that immediate bulk lower-level work and providing an additional layer of security and privacy to our senior citizens."
King County is also applying AI to sort causes of death in overdoses to match CDC reporting requirements.
"The labels are very specific, and we don't always have the right materials in those reports to map to CDC reporting, because it's a pretty complex set of labels. That allowed us to get in front of the uptick in fentanyl overdoses," Smith said.
Maui County, Hawaii Assessor Scott Teruya sees the analytical nature of AI to be exactly what counties need, particularly when it comes to engineering efficiencies.
"I think government workers are just stuck in their ways a lot of times," he said. Rather than following procedures without question, a wide enough net by AI could find a better solution. "When you have been going through B to get from A to C, maybe there's a better way," and the human brain hasn't comprehended it yet," he said.
Wake County, N.C.'s Thomas said she also sees hope for using AI to take racial bias out of government processes.
Is change bad?
Berrien County, Mich. Commissioner Choke Pitchford doesn't hide his fears. "AI scares me," he said. "I think it could be used for good, but it honestly terrifies me."
What concerns him the most is if AI could generate audio that could implicate someone in a crime. "It's going to raise a whole new level of scrutiny in legal cases."
Chris Rodgers, a Douglas County, Neb. commissioner who made cybersecurity his priority as NACo president in 2012-2013, is concerned about the proliferation of misinformation and disinformation in what AI models learn, influencing their outputs. If counties perpetuate that bad information, it legitimizes it and could deteriorate a county's trustworthiness.
"Once it's out there, there's no way you pull it back in," he said.
For Carson, protecting personal information is a high priority.
Cass County, N.D. Commissioner Chad Peterson, meanwhile, is not convinced of any world-ending scenarios driven by AI.
"I'm never convinced that the 'Terminator thing' is going to be real," he said, referring to the science fiction franchise's self-aware AI network that defied human programming and tried to end life as we know it. "There's always going to be part of the machine that doesn't understand and can't think as fast as we can. Our brains are so unique.
"I'm safe in saying never in my lifetime."
He does see the potential for AI to make life dramatically easier for emergency dispatchers, building automated response systems for callers who need emergency services.
"We could automate that to the point where you have a faster response, faster dispatch times," he said. "You have an instantaneous answer for your 911 call, rather than a delay of three or four rings, you get the response going and then a human steps in, to help meet the caller's psychological needs.
"In a happy world, we'd be able to take that burden off our dispatchers entirely."
With all of the talk of replacing and reassigning work, Steve Acquario is concerned about the consequences for public sector labor unions, which will want a say in how the employment world changes. As executive director of the New York State Association of Counties, he has been attuned to the nuances of a heavy public sector union state.
"There's a sense that 'we've always done it this way,' and it's hard to break that inertia," he said. "The lack of understanding by most people will be the impediment to adopting it."
Fairfax County, Va. Administrator Bryan Hill would like to use AI to fill his county's 18% job vacancy rate.
"Unfortunately for me, all of those positions require someone to show up to work to do them," he said.
Even so, he thinks for all of his county's computing power, the outputs will be worthless without the context that comes from human judgment.
"AI, to me, is a cross between quantitative, qualitative and subjective," he said. "I can't figure out what it is if you don't say the right words. I can get the right information, but there's got to be some institutional knowledge to understand what the heck is being done."
Peterson recognizes workers' trepidation with what AI could mean for their jobs, but he sees opportunities for everyone to adapt.
"There was a guy who used to deliver ice to your house, then the refrigerator came along and took their jobs," he said. "How many people said 'What's the ice man going to do?' What he did was learn to fix refrigerators, and they're still in demand.
"Work will change to fit society's needs."
The road map
Lynch recognizes the delicate balance with regard to government AI regulation.
"Good-intentioned regulation can stifle innovation pretty quickly," he said. "The tricky part is that you don't want to just ban the stuff and then you lose the benefit of what the AI is capable of doing."
"I've seen the good and I fear the bad, but I think there's plenty of opportunity for counties to use this to their advantage," Acquario said.
Although optimistic, Hatch worries the most challenging pitfall may be thinking too small.
"How am I going to be able to think in a way that captures the benefit, captures the possibilities that AI can provide?" he asked. "That's going to be the real challenge."
Related News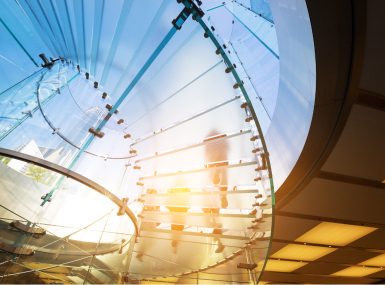 There's a new commissioner in town at the Federal Communications Commission (FCC). What does that mean for the future of internet policies?
Featured Initiative
Artificial Intelligence Exploratory Committee
NACo's AI Exploratory Committee covers emerging policies, practices and potential applications and consequences of Artificial Intelligence (AI), through the lens of county government governance, operations, constituent services, innovation, public trust, privacy, and security, and workforce productivity.