Bright Ideas - June 13, 2016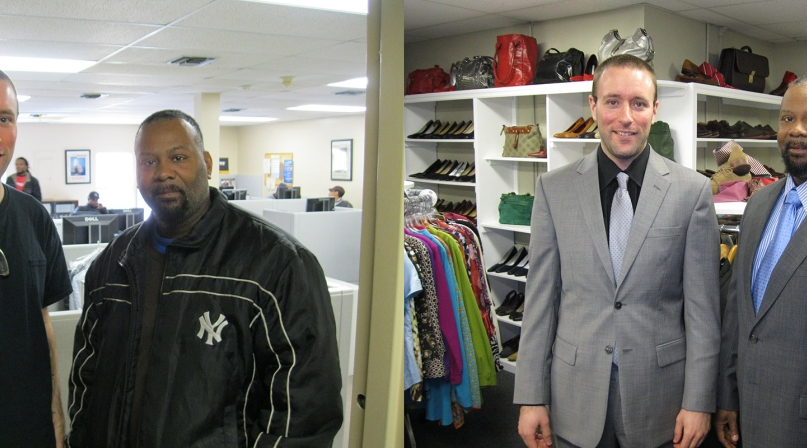 Two unidentified patrons of Suffolk County, N.Y.'s Career Couture Boutique are "interview-ready" in business attire that the boutique provides free to clients of the county's one-stop career center with upcoming interviews or job fairs. Photos courtesy of Suffolk County, N.Y. Career Couture Boutique Suits Jobseekers Just Fine
---
Problem: It can be tough enough to find a job when you're unemployed, tougher still if you don't have the right wardrobe for the job you want.
Solution: Provide free, donated business attire to jobseekers who need it, in the same building as the county's one-stop career center.
---
One sure way to get a ticket on the way to a job interview — at least from the fashion police — is to dress inappropriately for the job.
To make sure that doesn't happen, Suffolk County, N.Y. Executive Steve Bellone launched a Career Couture Boutique, located inside the county's one-stop career center.
"There's nothing more important than for us here in the county to work with those who need employment, to help grow our economy and to help support families," Bellone said on launch day in May 2014, "and that's what it's all about."
Anyone registered with the center who has a job interview or job fair coming up, but doesn't have business attire, can find an outfit at the boutique, free of charge. "We also cater to veterans — that's very important to us — shelters, nonprofit organizations," added June Kirby, who runs the boutique.
The shop accepts donations of "gently worn" items, including men's and women's suits, shirts and neckties, dresses, purses, shoes — even costume jewelry.
"It has exceeded expectations in being successful," Kirby said. "These people, sometimes it looks like [the clothes] are tailored to them. It's amazing."
The Career Couture Boutique is run out of a room at the county's Department of Labor, Licensing and Consumer Affairs. It's open Monday through Friday from 8:30 a.m. to 4 p.m.
Kirby has been employed by the county in various capacities for 20 years, so the program had no additional salary cost. Display racks and shelves were donated, and the space where the boutique space was empty prior to its conversion. The program won a best-in-category NACo Achievement Award in 2015.
She estimates that she's "suited" more than 1,000 jobseekers over the past two years. The clothing and accessories are donated by individuals and retailers, and a local nonprofit, EAC Network, helps to collect the clothing.
"Somebody's always walking out with something and very happy. It makes a big difference," Kirby said. In case a person can't find their size, Kirby takes their number and will give them a call when something comes in. But she said it's rare that there's nothing suitable in stock. Some donated items have never been worn.
"I do get some really wonderful stuff; some of it still has tags on it," she said, adding that donors are generous because they know their clothes are going to someone who needs it, and not to "an organization that's going to turn around and sell it."
And while the boutique doesn't sell anything, it does pay its good fortune forward on occasion: If Kirby receives items that aren't appropriate, she'll donate them to other nonprofits.
One of the most gratifying parts of her job as Career Couture advisor is hearing back from people she's helped. The jobseekers are grateful, not just for the clothing but for the care and concern that Kirby shows them (for privacy reasons, she asked that last names not be revealed).
"Everything looked nice and fit very well," Neil wrote in thank-you note. "Also, thank you for your kind words which gave me a confidence boost."
Another recent "customer," Lisa, wrote, "Because of your kindness, I am confident that my physical appearance will help me get respect and give me the peace of mind that I have made or will make a well-put-together professional appearance."
"It's very rewarding," Kirby said. "People come in there in a situation where they can't go out and spend the money on the interview attire, and I suit them.
"It's amazing from when they walk in the door how they feel about themselves and when they walk out they feel wonderful, and it's very gratifying."
---
Bright Ideas features noteworthy and award-winning programs.