Sept. 18 is National HIV/AIDS and Aging Awareness Day, an awareness campaign begun by the AIDS Institute in 2008. The day is designated to focus on the challenging issues facing a growing population of persons over the age of 50 with HIV.
The campaign focuses on:
People living with HIV who are aging with the disease or are already over 50 at the time of their initial diagnosis
Increasing the use of protection from HIV infection, especially among the baby boomer population, and
Supporting the increasing number of grandparents who are the primary guardians for children who have lost their parent(s) to HIV/AIDS.
Do More

Please share the images in this article and use the hashtags for National HIV/AIDS Aging and Awareness Day (NHAAAD) on Twitter, Facebook and Instagram: #nhaaad, #hivagingchat and #nhaaad.

If you have found this article helpful, please share it among your contacts either on social media, by email or snail mail to be a part of improving the health of our nation, one person at a time. 
Most adults over the age of 50 when they think about HIV prevention, testing, care and treatment tend to think it only pertains to younger people. It is, as if by chance, this is a disease you no longer need to have concern about as you get older. That couldn't be further from the truth. The need for prevention, research and data targeted at the graying population is needed more than ever before.
The advancements of modern medicine combined with increased understanding of the aging process continue to shed light on the impact of HIV/AIDS on our most seasoned population. HIV is no longer the death sentence it was in the early days of the disease. Many people live full and rich lives after diagnosis. The difference is largely linked to getting tested and knowing your status.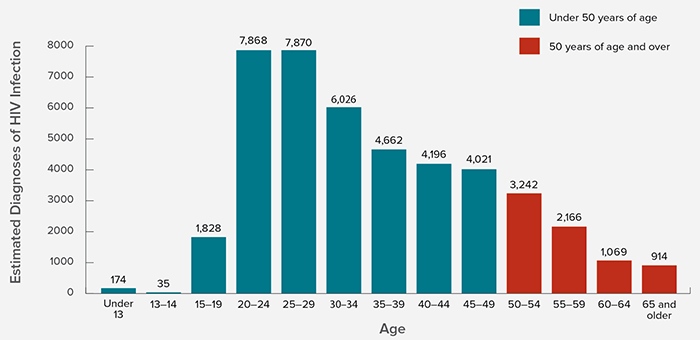 Challenges of preventing HIV among older people according to the CDC are:
1) Older people in the United States are more likely than younger people to be diagnosed with HIV infection late in the course of the infection, which results in their starting treatment late and possibly suffering more immune-system damage. Late diagnoses can occur when health care providers don't test older people for HIV infection, and older people may not consider themselves to be at risk of HIV infection or may mistake HIV symptoms for those of normal aging and not consider HIV as a cause.
2) Many older people are sexually active, including those living with HIV, and may have the same HIV risk factors as younger people, including a lack of knowledge about HIV and how to prevent getting it, as well as having multiple sex partners. Older people also face some unique issues.
3) Many widowed and divorced people are dating again. They may be less aware of their risks for HIV than younger people, believing HIV is not an issue for older people. Thus, they may be less likely to protect themselves.
4) Although they visit their doctors more frequently, older people are less likely than younger people to discuss their sexual habits or drug use with their doctors. And doctors are less likely to ask their older patients about these issues.
5) Stigma is a particular concern among older people because they may already face isolation due to illness or loss of family and friends.
Stigma negatively affects people's quality of life, self-image and behaviors, and may prevent them from seeking HIV care and disclosing their HIV status.
Aging with HIV infection also presents special challenges for preventing other diseases because both age and HIV increase risk for cardiovascular disease, thin bones and certain cancers.
Older HIV patients and care providers need to maximize prevention efforts against these conditions and remain vigilant for early signs of illness.
They also need to be careful about interactions between the medications used to treat HIV and those used to treat common age-related conditions such as high blood pressure, diabetes, elevated cholesterol and obesity."
The National Organization of Black County Officials, Inc. (NOBCO), in partnership with other national organizations funded by the CDC work to increase awareness, education, and action throughout NACo and will continue to share information with you.
Please reach out to us if we can be of service to you, your county or community in addressing HIV. It takes all of us working together to stop the spread of HIV and other infectious diseases.
Hero 1