Overview
The Economic Mobility Leadership Network (EMLN) is a NACo cohort of county leaders that examines the range of complicated issues that comprise economic mobility, including housing and food insecurity and an overall lack of opportunity. With the EMLN, NACo facilitates and incubates county-specific discussion and problem-solving on issues of economic mobility and helps county leaders identify and assess their current barriers to mobility and share scalable and transferable programs across the country. The EMLN is structured around a model of in-person convenings in which members participate in interactive, on-site and multi-day convenings in diverse counties across the country.
Goals and Objectives
The goal of the EMLN is to improve the capacity of county leaders to diagnose barriers to economic mobility and make data-driven decisions in pursuit of measurable mobility improvements. Learning objectives include:
Share insights into NACo's approach to economic mobility and increase county understanding of the factors that lead to persistent poverty and limited economic opportunity.
Explore persistent issues facing counties in the field of economic mobility.

Build a shared understanding of economic mobility and key issues.
Identify potential solutions and promising approaches.
Identify key challenges and priority areas of focus.
Build storytelling and data usage capacity to tell the story of economic mobility in local community.

Build new connections and relationships among participants to strengthen collaboration and communication of shared solutions.
Network Participants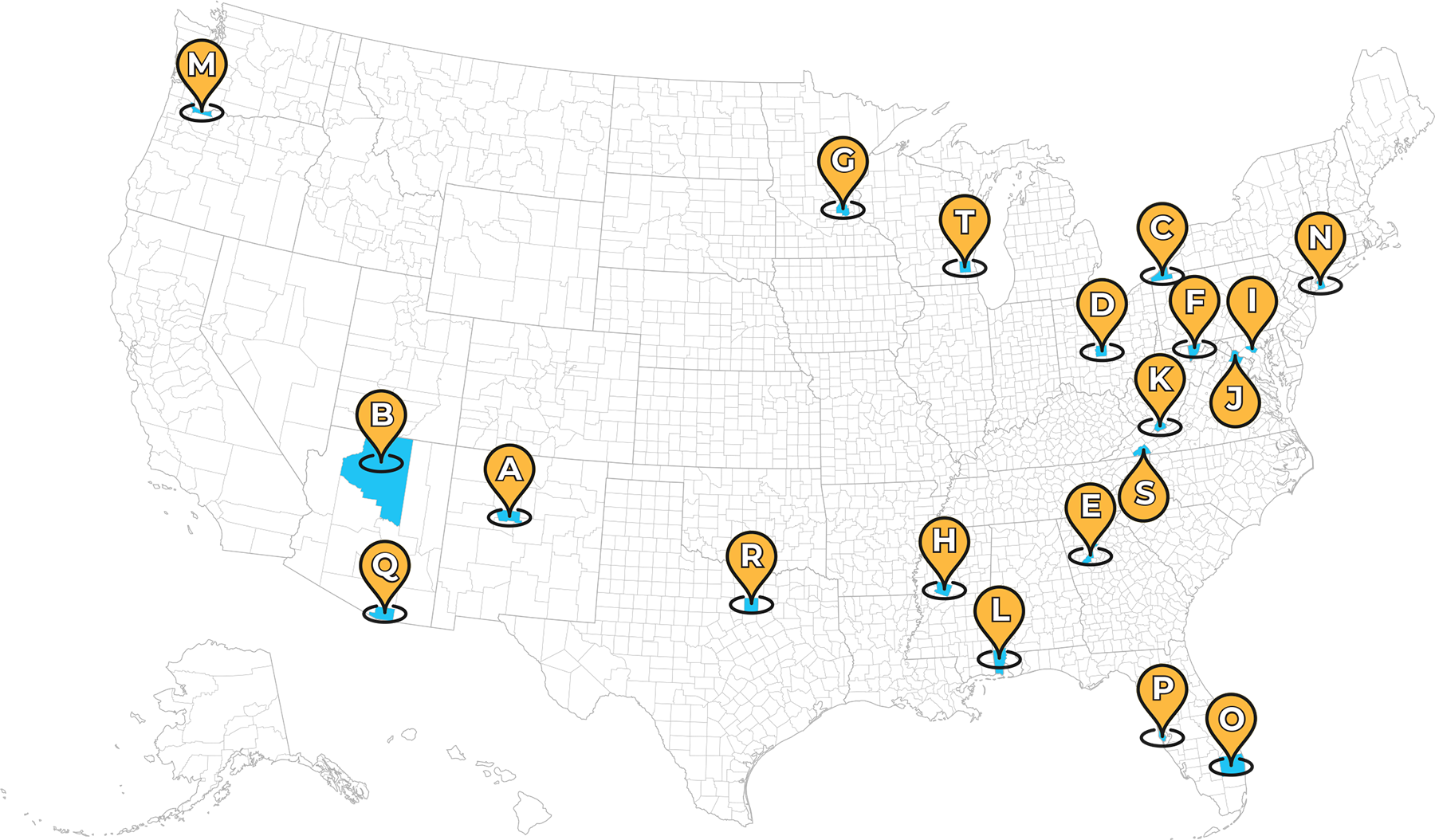 B.  Coconino County, Ariz.
C.  Erie County, Pa.
D.  Franklin County, Ohio
E.  Fulton County, Ga.
F.  Garrett County, Md.
G.  Hennepin County, Minn.
H.  Holmes County, Miss.
I.  Howard County, Md.
J.  Loudoun County, Va.
K.  Mercer County, W.V.
L.  Mobile County, Ala.
M.  Multnomah County, Ore.
N.  Nassau County, N.Y.
O.  Palm Beach County, Fla.
P.  Pinellas County, Fla.
Q.  Santa Cruz County, Ariz.
R.  Tarrant County, Texas
S.  Washington County, Va.
T.  Waukesha County, Wis.
Demographic Profile of Participating Counties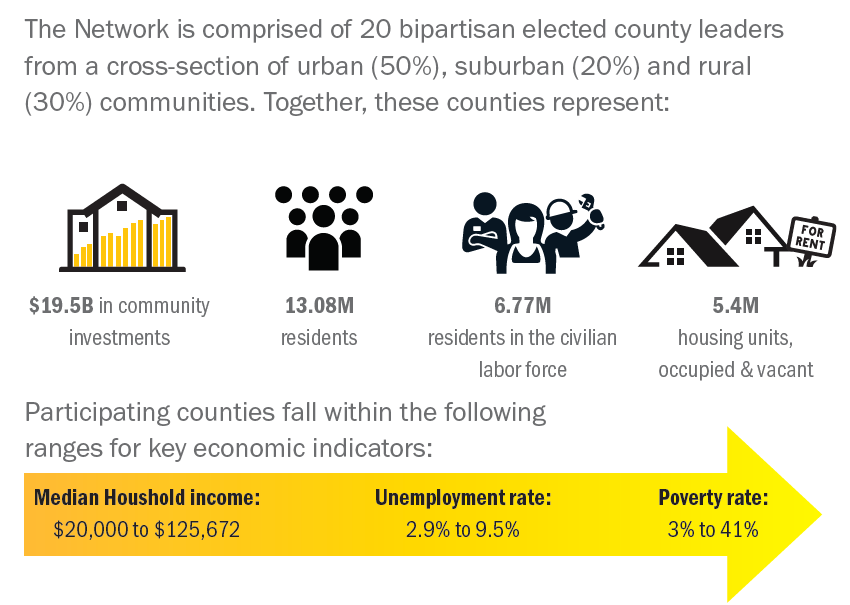 Participant Bios
Learn about which NACo member counties participated in the EMLN in 2019 and who represented them in the cohort.
Participant Survey
Review the results of a NACo survey of EMLN participants before the start of the project.
2019 Peer Exchanges
In 2019, the first year of the project, EMLN members visited Multnomah County, Ore., Hennepin County, Minn. and Garrett County, Md. to learn about the economic barriers faced in each community and how they are being addressed. These site visits and peer exchanges established a community-oriented and collaborative tone among the cohort that will serve the EMLN's work for years to come.
NACo kicked off the EMLN's convening series in Multnomah County to focus on their data-driven approach to economic mobility. The county's Marginalization Index, a tool that amalgamates various risk factors for marginalization, was used by county officials and local organizations to guide resource allocation, apply for additional funding for economic programs and ensure vulnerable populations are prioritized in the development and delivery of services. This robust tool assessed 22 indicators and GIS mapping software to assess health, justice, human services and other outcomes to identify particular needs of specific communities. The tool also allowed county leaders to garner resident input. County officials created large poster maps at community events to get input from residents on the greatest areas of need and solicit feedback on indicators (such as median household income, unemployment rate and density of populations of color) of most interest to the community.

In addition to hearing from the county and the mobile tour, the cohort participated in an in-depth overview of economic mobility, emphasizing the relationships between how race and geography impact poverty and economic inequality.

Hennepin County's success in creating a Workforce Council to address the skills gap, and engage local leaders across sectors in a comprehensive, community-wide, evaluated program, was the focus of the second convening. The county has faced hiring challenges and has strived to target underserved populations, particularly new refugees from the East African community, for services.

In addition to a mobile tour and deep dive into the county's Workforce Council, the cohort explored the relationships between race, geography and economic mobility in a vibrant keynote discussion. Diving into the historical context and data-driven research on the persistent and growing racial wealth gap, leaders called for alternative finance tools that specifically help Black and Latinx entrepreneurs and families, rent stabilization policies and strong public institutions during this session. 

The EMLN visited Garrett County for its third convening — a county that is aggressively and creatively addressing generational poverty across sectors of its rural community. This convening largely focused on rural poverty issues and the county highlighted their 2-Generation approach to poverty, developed in partnership with The Aspen Institute's Ascend Initiative, which emphasizes creating opportunities for and addressing needs of both children and the adults in their lives together. The key to the county's success is collaboration with community-based organizations, schools and business owners. Through the program, the county and its partners reorganized county programs to create systems that are more human-centered and implemented data sharing across agencies and service providers to better meet the needs of their residents. The Board also established a scholarship program to make college more accessible for all its youth.

NACo's Economic Mobility Leadership Network is in partnership with the Aspen Institute's Financial Security Program and generously supported by the Bill & Melinda Gates Foundation.
Related Resources