The Sixteenth Annual County Leadership Institute (CLI) will be held in Washington, D.C. on June 9 - 13, 2019.
CLI is a rigorous four-day program offered in partnership with Cambridge Leadership Associates. NACo aims to enhance the capability of county officials to identify and implement innovative solutions to complex challenges facing county government. Attendees learn how to effectively address the demands of personal leadership in a new era of government. This era is characterized as a "permanent crisis" by CLI Program Developer and Cambridge Leadership co-founder Marty Linsky.
To nominate an attendee, click here.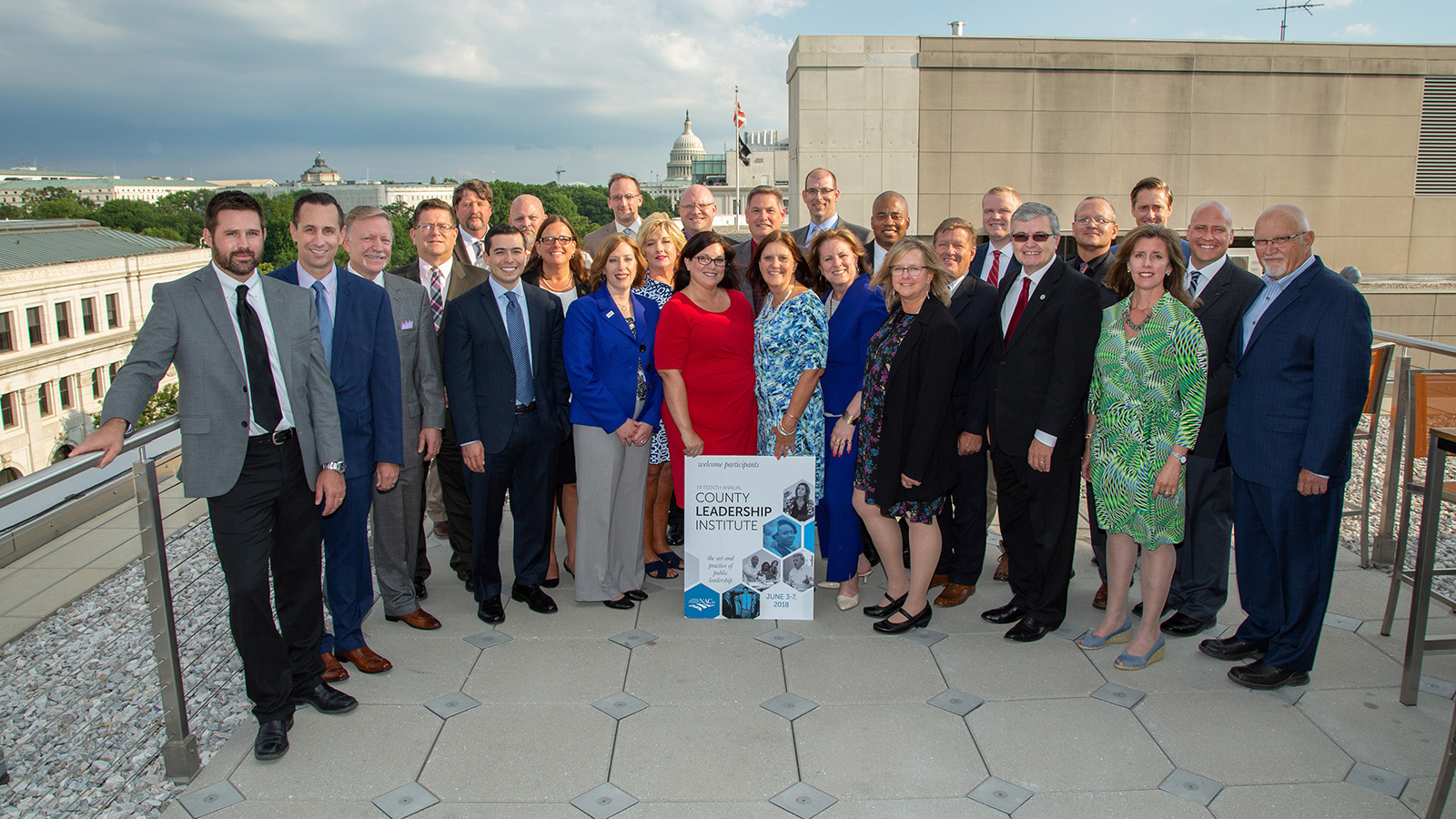 2018 County Leadership Institute Participants
Hon. Mary Ann Borgeson
Commissioner
Douglas County
Hon. Edward Bustin
Commissioner
Bradford County, PA.
Hon. Michael Covert
Councilmember
Beaufort County, S.C.
Hon. Carol Crawford
Commissioner
Grand Traverse County, Mich.
Hon. Jim Doherty
Commissioner
Morrow County, Ore.
Hon. Susan Flores
Commissioner
Otero County, N.M.
Hon. Shane Gorder
Commissioner
Richland County, Mont.
Hon. Casey Kozlowski
Commissioner
Ashtabula County, Ohio
Scott Lemley
Assessor
Wetzel County, W.V.
Michael Logsdon
Magistrate
Oldham County, Ky.
Hon. Bob Lucey
Commission Chair
Washoe County, Nev.
Hon. Demarcus Marshall
Commissioner
Lowndes County, Ga.
Jennifer Marson
Executive Director
Arizona Association of Counties
Hon. Shawn Milne
Commissioner
Tooele County, Utah
Hon. David Muhlbauer
Supervisor
Crawford County, Iowa
Wendy Nordwald
Assessor
Warren County, Mont.
Hon. Garrison Ortiz
Commissioner
Pueblo County, Colo.
Hon. Larry Phillips
Commissioner
Surry County, N.C.
Hon. Julie Rogers
Commissioner
Kalamazoo County, Mich.
Hon. Scott Schulte
Commissioner
Anoka County, Minn.
Hon. Karen Skoog
Commissioner
Pend Oreille County, Wash.
Hon. Jack Smith
Supervisor
Yavapai County, Ariz.
Josh Smith
Administrator
Rock County, Wisc.
Hon. Rob Williamson
Commissioner
Santa Rosa County, Fla.
Robert Wilson
County Administrator
Cass County, N.D.