The 18th Annual County Leadership Institute (CLI) will be held in Washington, D.C. in on June 12-16, 2022. Please view the 2022 Brochure and FAQ for more information. Please note that nominations are accepted from state county associations. If you are interested in attending the CLI program, please contact your state county association. If you are unsure of who to contact, please reach out to ahurley@naco.org.
State associations, please click HERE to nominate a CLI attendee. 
CLI is a rigorous program comprised of four days of in-person instruction and virtual meetings offered by NACo to enhance the capability of county officials to identify and implement innovative solutions to complex challenges facing county government. Attendees learn how to effectively address the demands of personal leadership in a new era of government. This era is characterized as a "permanent crisis" by CLI Program Developer and Cambridge Leadership co-founder Marty Linsky.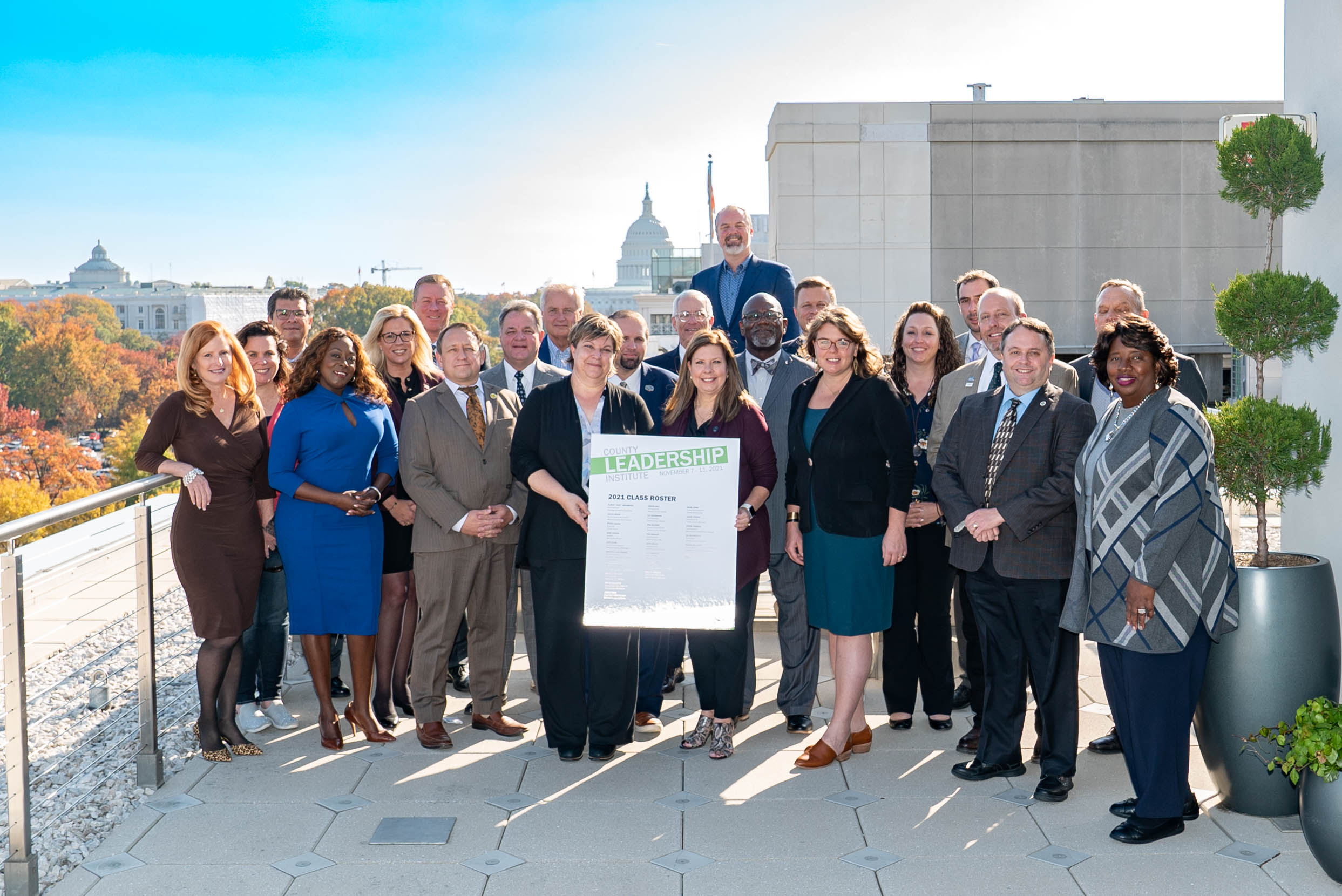 2021 County Leadership Institute Participants
Albert "Chip" Abramovic
Commissioner
Venango County, Pennsylvania
Helen Askim
Human Resources Director
Williams County, North Dakota
Renee Couch
Treasurer
Comal County, Texas
Mimi Cowan
Speaker
Will County, Illinois
Kate Dean
Commissioner
Jefferson County, Washington
Jonathan Delagrave
County Executive
Racine County, Wisconsin
George Dunlap
Chairman
Mecklenburg County , North Carolina
Felicia Franklin
Commissioner
Clayton County, Georgia
James Gore
Supervisor
Sonoma County, California
Cassie Hall
Commissioner
Mineral County, Nevada
Liz Hausmann
Commissioner
Fulton County, Georgia
Phil Kuyers
Commissioner
Ottawa County, Michigan
Ted Mercer
Commissioner
Miami County, Ohio
Greg Miles
Commissioner
Duchesne County, Utah
Bill Novotny
Commissioner
Johnson County, Wyoming
Todd Patzer
Commissioner
Lac qui Parle County, Minnesota
Rachel Seeber
Supervisor/Chairwoman
Warren County, New York
Mark Stahl
Commissioner
Ottawa County, Ohio
Jason Strouf
Commissioner
Custer County, Montana
Vivian Thomas
Commissioner
Henry County, Georgia
Ed Valenzuela
Supervisor
Siskiyou County, California
Frank Williams
Commissioner
Brunswick County, North Carolina
David Zimmerman
Chairman
Tazewell County, Illinois