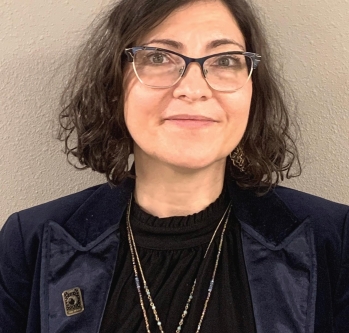 Jess Hegstrom
Suicide Prevention Coordinator, Lewis and Clark County, Mont.
About Jess Hegstrom
Jess Hegstrom is the suicide prevention coordinator for Lewis and Clark Public Health, the county public health department in Montana's capital city. Her work involves implementing evidence-based programs, organizing awareness events, and coordinating targeted prevention efforts. This includes delivering, organizing and overseeing regular mental health and suicide prevention training for three counties. Ms. Hegstrom is a facilitator for Applied Suicide Intervention Skills Training, Question-Persuade-Refer (QPR), Youth Mental Health First Aid and Suicide Safe Care Tools.
A proud advocate for mental health and suicide prevention, she believes in the power of turning grief and pain into hope and action for those touched by suicide. Following the suicide death of a parent and her own struggles with mental health, Ms. Hegstrom came to her heart's work, starting with a two-year service term in 2017 as an AmeriCorps VISTA for a small Montana school district.
Through her time with LCPH, she spearheaded the creation of the first Local Outreach to Suicide Survivors (LOSS) Team in Montana, which rolled out in April. She has been instrumental in developing the growing Safer Communities Montana lethal means campaign and facilitates the Lewis and Clark Suicide Prevention Coalition. She also serves with the Substance Abuse and Mental Health Services Administration's Mayor's Challenge to prevent suicide among Service Members, Veterans, and their Families.
When she's not at work, Ms. Hegstrom spends time with her husband and cat children, and does her best to not hurt herself while awkwardly learning aerial acrobatics.