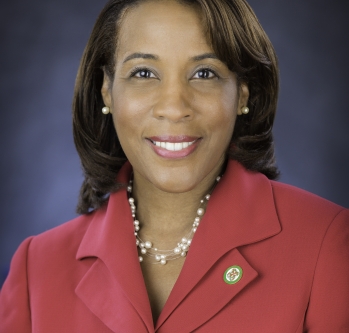 Hon. Phyllis Randall
Chair of the Board of Supervisors, Loudoun County, Va.
About Hon. Phyllis Randall
Phyllis J. Randall was elected as Chair of the Board of Supervisors in November of 2015. Chair Randall represents the county on the Board of Directors of the Metropolitan Washington Council of Governments (COG), the Northern Virginia Regional Commission, the Dulles Area Transportation Association, the Northern Virginia Transportation Authority, the Route 28 Transportation Improvement District Commission and the Loudoun County Disability Services Board.

Chair Randall has a long history of public service both locally and on the state level. At the state level, Governor Tim Kaine appointed Chair Randall to be the citizen representative on Virginia's Fair Housing Board in 2009. Governor Bob McDonnell retained her position on the Fair Housing Board where she eventually served as chair. In March of 2014, Randall was appointed by Governor Terry McAuliffe to the Virginia State Board of Corrections, where she currently serves as chair. She also serves on the Board of Supervisors' Finance/Government Operations and Economic Development Committee, the Joint Board and School Board Committee, and the Transportation and Land Use Committee.

As the Loudoun Chair, she oversees one of the fastest growing counties in the Commonwealth and the United States. Up to 70% of the world's Internet traffic passes through Loudoun County on a daily basis with data centers occupying more than 9 million square feet in the county.

Her election was historic as she became the first African American woman in the history of the Commonwealth elected to chair a county Board of Supervisors.

By profession, Chair Randall is a mental health therapist working with substance abusing offenders in a local Adult Detention Center; a position she enjoyed for over fifteen years. Her emphasis areas are substance abuse and offender services.

She and her husband Thaddeus (T.W.), are the parents of two sons, Ashon and Aaron.