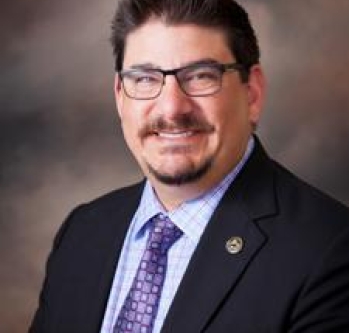 Hon. Phil Serna
First District Supervisor, Sacramento County, Calif.
About Hon. Phil Serna
​​​​​In June 2018, voters re-elected Phil Serna to serve a third term as supervisor of the first district on the Sacramento County Board Supervisors.
Phil grew up in Sacramento's Curtis Park neighborhood and attended local schools. The son of Sacramento's first Latino mayor, Joe Serna, Jr., Phil developed an appreciation for public service at a very young age. His respect for his family's humble​ beginnings and their efforts working with Cesar Chavez to secure rights for farm workers also shaped Phil's desire to serve.
After completing his undergraduate studies at California State University, Sacramento, Phil earned a master's degree in city and regional planning from Cal Poly, San Luis Obispo, graduating​​g with honors in 1994. While attending graduate school, Phil met his future wife Roxanna and they've been happily married for 23 years. They live in Sacramento's North Natomas neighborhood.
In addition to his service on the Board of Supervisors, Phil participates on a number of other boards and commissions, including: Chairing the Sacramento First 5 Commission, serving on the boards of Sacramento Regional Transit, Sacramento Area Flood Control Agency, Sacramento Metropolitan Air Quality Management District, Sacramento Solid Waste Authority, and Sacramento Library Authority, just to name a few. In February 2013, he was appointed by Governor Edmund G. Brown Jr. to serve on the California Air Resources Board. The California State Senate Rules Committee unanimously confirmed his appointment a year later.
The district Phil represents extends from the Sacramento-Sutter County line south to Florin Road east​ of Power Inn Road, and from the Sacramento River east to stretches of Watt Avenue. District 1 includes the Sacramento International Airport as well as McClellan Business Park, and many of the region's most established neighborhoods such as Downtown, Oak Park, Woodlake, and River Park.
Because most of District 1 overlaps with the City of Sacramento, many of the issues Phil deals with pertain to countywide services; i.e., services the County provides exclusively, separate from municipal services. These include health and social services such as mental and indigent health care, as well as protective services for children and the elderly. Phil is also focused on public safety and enhancing the environment. He routinely works to secure flood protection residents deserve, and to protect and improve the American River Parkway. Advancing these and other priorities take resources and that's why during a difficult economy, Phil is working to ensure the County is run efficiently and effectively, and that we actively retain and attract new businesses and jobs.
In what little spare time Phil has, he enjoys fly fishing, cooking for Roxanna, and playing bass guitar and drums with his bands.​