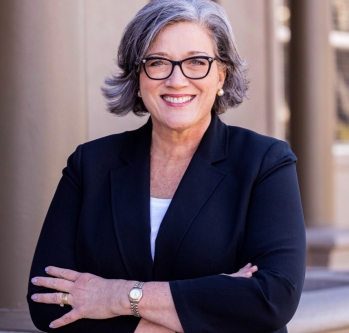 Hon. Lesley Dahlkemper
Commissioner, Jefferson County, Colo.
About Hon. Lesley Dahlkemper
Lesley Dahlkemper is a resident of south Jefferson County. She was elected to her first four-year term in November 2018. Lesley's professional career has focused on what she loves most – helping people, solving complex problems and giving back to our community. She has 30 years of combined experience in public policy, strategic communications, nonprofit leadership and journalism. Lesley has worked as a senior-level executive in both the private and nonprofit sectors on a state and national level, and served on leadership teams responsible for budgets ranging from $14 million to nearly $1 billion. As the former owner of a national award-winning communications firm, Lesley worked with clients to enhance student and teacher success. Her career began as a journalist for Colorado Public Radio where she also contributed stories to NPR, The Osgood File and the BBC. Most recently, Lesley served as the Vice President of Strategic Engagement and Communications for the Colorado Education Initiative, providing vision and strategy across the organization's five initiatives. Earlier positions include leading a $6.5 million grant at the Education Commission of the States for school improvement nationwide, and working with large urban school districts and national education leaders as a senior director with a premier communications firm in Arlington, VA. Committed to enhancing her profession, Lesley also served as a vice president on the national board of the Education Writers Association and is the past president of the Colorado School Public Relations Association. An engaged community leader, Lesley was elected county-wide to the Jefferson County school board in 2011 and served as board president for two years. She is also a past board president of The Action Center, which promotes pathways to self-sufficiency, and she chaired the Jefferson County Boys & Girls Club Youth Investment Committee. In 2014, the West Metro Chamber named her as one of Jefferson County's most distinguished women leaders.