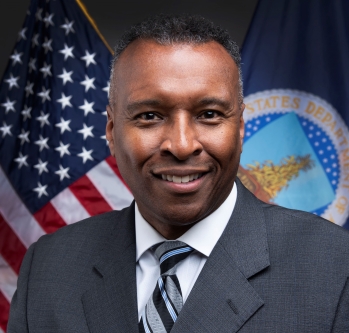 Dr. Basil Gooden
Director of State Operations for Rural Development, U.S. Department of Agriculture
About Dr. Basil Gooden
Dr. Basil Gooden serves as the Director of State Operations for USDA Rural Development. The State Operations Office's mission is to coordinate the delivery of plans, procedures, and policies necessary for efficient and orderly service of all Rural Development programs in the states. The office's primary focus is to support State Offices in advancing the mission of Rural Development in improving the lives and economic well-being of communities in Rural America.
Before being appointed Director of State Operations for Rural Development, Dr. Gooden served as a Visiting Scholar in the Sustainable Food Access Core of the Institute for Inclusion, Inquiry, and Innovation (iCubed) at Virginia Commonwealth University. From 2016-2018, he served as the 3rd Secretary of Agriculture and Forestry for the Commonwealth of Virginia.
Prior to that, Dr. Gooden served as the Virginia State Director for Rural Development at USDA. He has previously held roles as the Chief Deputy Director of the Virginia Department of Housing and Community Development, as an Extension Specialist in Community Vitality at Virginia Tech, and as a County Committee Advisor for the Buckingham/Cumberland County USDA-Farm Service Agency.
Dr. Gooden holds a bachelor's degree from Virginia Tech, a master's degree in social work from Syracuse University, a master's degree in public health and a Ph.D. in Social Work from the University of North Carolina at Chapel Hill. He is a native of Buckingham County, Virginia, where he and his family still own and operate a cattle farm.