County's mobile market closes the grocery desert gap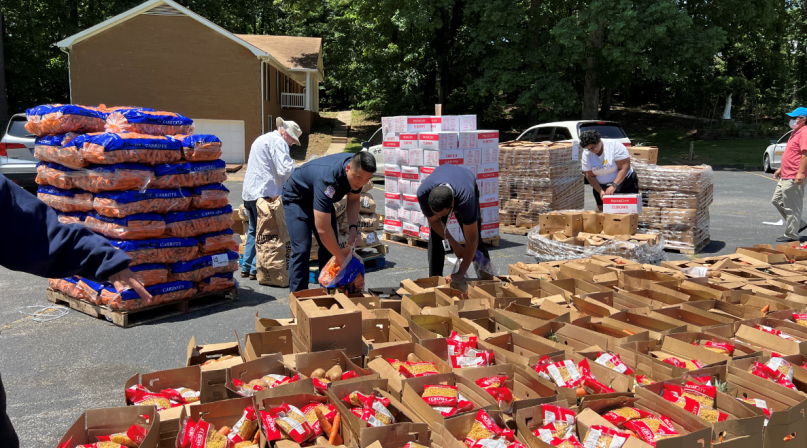 Key Takeaways
Gwinnett County, Ga.'s mobile community market is helping bridge a county gap in food equity, providing fresh produce, shelf-stable items and other forms of assistance to families at no cost and with no strings attached.
The Mobile Food Distribution Program operates through a partnership with the Atlanta Community Food Bank and Volunteer Gwinnett, a county government department created as an engagement and outreach tool for different departments within county government to recruit volunteers for various services.
The mobile market concept came out of the county's increased food insecurity during the COVID-19 pandemic, according to Muriam Nafees, Volunteer Gwinnett's collaboration manager. About 77,000 people in the county are food insecure, an estimated 44,000 of whom are under the age of 18.
"Some of the pantries and the co-ops that were dealing with some of that food insecurity initiatives here in Gwinnett were struggling to be able to get enough supply and struggling to be able to feed the additional amount of families who were now having to stay home and take care of sick loved ones, or just the loss of jobs, all the kids being home, so obviously now you're accounting for more food that you probably didn't necessarily account for," Nafees said. "A lot of what we kept hearing from our agencies here in Gwinnett was, 'Hey, we're unable to get the resources or unable to supply all these people or unable to process them.'
"Because one of the things that they have to do as agencies is they have more extensive processes they may have to do in order to vet the family and go through all the checks and balances before someone can participate, and at the height of the pandemic, it was really difficult to be able to go through all of those processes."
The program is unique in that it doesn't require participants to already be on government benefits or provide any paperwork to receive the food and other items, which include hygiene/personal care items and pet food. The only information Volunteer Gwinnett asks of participants is how many people are in their household to ensure they're providing an adequate supply of food, Nafees said.
"We want to make sure that we are serving all communities," Nafees said. "We don't want to collect any identification or addresses or make people feel vulnerable or make them feel any type of anxiety as they're coming to collect, so just to kind of get rid of those feelings, we purposely do not collect any information … We also encourage people who may be participating if they know of other families that they want to pick up for, whether it's a neighbor who may not have access or a family member with a disability.
"We do not require anything from anyone which truly sets us apart from any other organization that may be in the food realm, because they do require a lot of the paperwork."
Making the market mobile was another integral element to the program. Each box distributed has 40 to 50 pounds of produce and shelf-stable items, which feeds a family of five or six for between one and two weeks until the community market comes back to a given neighborhood within the county. Nearly 1.6 million pounds of food items have been distributed throughout the county since the program launched in 2020, reaching more than 49,727 households.
"We did not want to just serve one area or stick to one area when so many areas were in need and were hurting and were dire for that help, so we definitely just wanted to make sure that we were moving around Gwinnett and circulating and going weekly, place to place," Nafees said. "… Unfortunately, a lot of the areas here in Gwinnett are food deserts and they may not have access to fresh produce, so intentionally, when we were requesting what type of food items we need [from the food bank], we intentionally make that request for fresh produce — that way we're supplying families with something that is nutritious."
Volunteer Gwinnett aims to make the mobile market a source of joy for the community, so the department brings entertainment to the events and tries to make it a fun atmosphere, Nafees said.
"I never want someone to feel like they're in a line and they're feeling like they're a burden or already being very anxious to be in that line," Nafees said. "Nobody wants to look like they need help. People want to feel normal and that they can function on their own without needing that extra assistance, so we'll bring our DJs out, we really make it a fun day, so it's not that you're just necessarily getting the help."
Gwinnett County's program earned it a "Best in Category" NACo Achievement Award this year in the Volunteers category.
With over 195 community partners, the mobile market's use has expanded to offer a wide range of services including free flu/COVID vaccinations and HIV testing, car seat installations and early learning book distributions for families with young children.
"If people are food insecure, there obviously are other needs that they have as a family," Nafees said.
"And trying to realize what those needs may be and just making sure as county government that we're providing all our resources possible, and not just making this a food event, but a full encompass resource event [is important]."
Groups including emergency services and water resources will also come to the mobile market events to sign people up for smoke alarm installs and make sure people have access to the county's water assistance program to fix leaks or necessary repairs.
"A family was actually saved because of it," Nafees said.
"We were at a mosque, and we signed up a family for a smoke alarm install. They didn't have any prior education to smoke alarms, they were immigrants. And so, they accepted fire to come out to their house and install the smoke alarms, and a few months later in the middle of the night, one of their heaters tipped over.
"The entire house was in full blaze and the only way that the single mom got out with her children was because of those alarms. The entire house was engulfed, and I actually got a call back from the fire department saying had those alarms not been installed, it's very likely that that family would not have made it out."
The market is run by volunteers, many of whom are from Volunteer Gwinnett's 18,000-person database of active volunteers, while others volunteer through their places of worship or non-profits.
"We wanted to make sure that we're reaching all community members, whether they want to participate in the food or participate in helping get that food to the families," Nafees said.
"We've circulated through thousands of volunteers and continue to do so, and it's just amazing to see volunteers come out, feel that positive impact and then go back and recruit other people, so the word of mouth goes around and our volunteers have now become recruitment officers really for us to be able to go and get other additional volunteers to come out or get corporations to come out.
"A lot of corporations have now started dedicating 10, 15 employees at a time and they have them as part of their corporate workday, so volunteers are not necessarily having to take time off for work and they're able to give back to the community and that brings a sustainability piece to the organizations as well."
Related News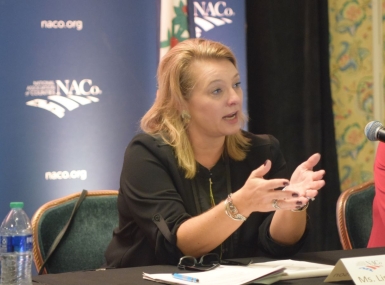 Elected officials can help promote the use of a more holistic approach to combatting substance use disorder.
Resource
Primer for Counties: 2023 Farm Bill Reauthorization