Each year, counties across the nation invest nearly $11 billion in housing and community development, with local governments playing a key role in housing affordability, community planning, land use and zoning. Counties also invest heavily in housing supportive services for individuals with disabilities, veterans and those experiencing homelessness. The importance of the county's role in housing cannot be overstated but becomes particularly apparent during times of crisis and emergency. Counties across the nation are working around the clock to mitigate the housing impact of the COVID-19 pandemic.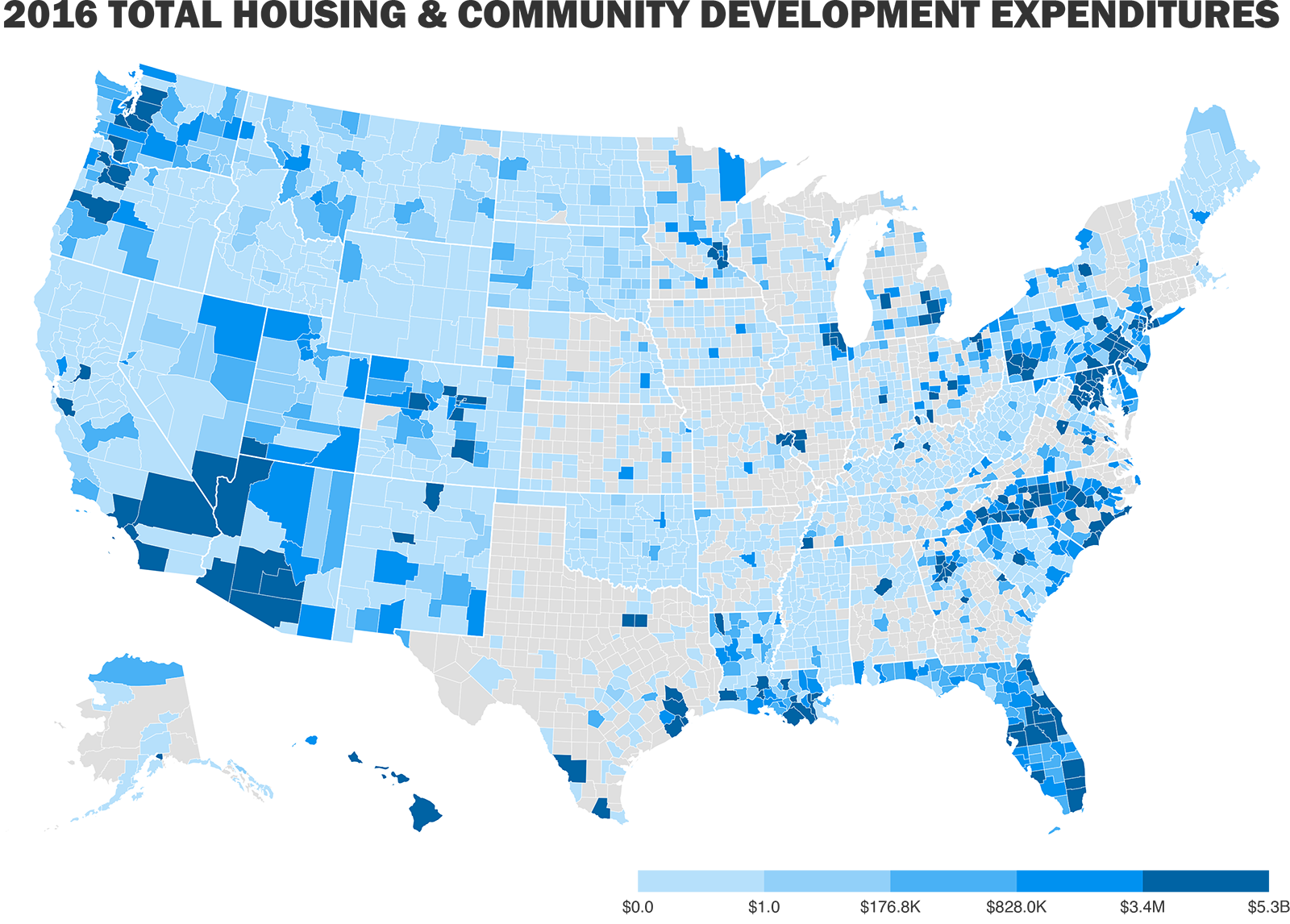 Assistance with Evictions and Foreclosures
Even before COVID-19, residents in counties of all sizes and in all regions of the country were struggling with housing affordability. In 2016, one-third of American households (34 percent) were burdened by housing costs, in that they spent more than 30 percent of their income on housing. This challenge is most pronounced in large counties, where 34 percent of homeowners with mortgages and 53 percent of renters were burdened by housing costs in 2016. Medium-sized and small counties are also struggling with housing cost burdens: half of renters in medium-sized counties, 46 percent of renters in small counties and 28 percent of homeowners with mortgages in both categories had housing costs that exceeded 30 percent of their household income.
As a lack of housing has been shown to contribute to poorer health outcomes, it is critical that counties put mechanisms in place to ensure residents can remain housed. Given the current economic climate and loss of jobs as a result of the COVID-19 pandemic, many counties are working with the courts and sheriff's offices to put a moratorium on evictions. Counties are also exploring ways to financially support individuals who may be facing eviction or foreclosure due to COVID-19.
Minnehaha County, S.D.

The City of Sioux Falls, Sioux Falls Area Community Foundation and local businesses have established the One Sioux Falls Fund. The goal of the fund is to support residents of the Sioux Falls Metropolitan Statistical Area (Minnehaha, Lincoln, McCook and Turner counties) in avoiding evictions and/or undue financial strain due to a loss of income resulting from COVID-19.

Essex County, N.J.

The Essex County Sheriff's Office announced an indefinite halt on eviction orders and foreclosures until state officials terminate the existing public health emergency declaration.

Multnomah County, Ore.

Multnomah County and Portland have placed moratoriums on evictions in response to the COVID-19 outbreak citing residents cannot be evicted for the duration of the county-declared state of emergency. The current moratorium applies to individuals who have suffered substantial loss of income as a result of their inability to report to the workplace due to a child's school closure or due to illness of a family member. Rent owed a landlord will continue to accrue for the duration of the state of emergency, with a six-month grace period for repayment.

San Bernardino County, Calif.

San Bernardino County has adopted a resolution, effective March 24, to suspend all evictions and foreclosures for properties within the unincorporated areas of San Bernardino County. While the resolution does not exempt residents from paying rent entirely, it states that no one can be evicted for failing to pay rent due to being impacted by COVID-19. Impact can include job loss or layoffs, loss of hours or wages, missing work due to illness and out-of-pocket medical expenses. The measure is currently in place through May 31.
Housing for First Responders
First responders are often the first line of defense in tackling a public health emergency like COVID-19. Providing support to these individuals, including housing and shelter, is key in maintaining a community's capacity in fighting the pandemic. Several counties are working to address the housing needs of our first responders as they navigate the personal and professional impacts of COVID-19.
Racine County, Wis.

Racine County Emergency Operations Center has rolled out a plan to support hospitals, essential workers and residents with special housing needs in response to COVID-19. The county has partnered with hotels to house essential workers who are unable to remain at home due to presence of a sick family member or essential workers who become sick and need a safe, non-medical setting for recovery. Residents with special needs who need safe shelter and have tested positive for COVID-19 are also eligible for housing under the new plan.

DuPage County, Ill.

Wheaton College is providing temporary housing for DuPage County first responders in response to the COVID-19 outbreak. The school is providing 28 apartments at no charge for use by DuPage County first responders such as firefighters, police officers and medical personnel. Units are available for individuals who have been exposed to COVID-19 but do not require hospitalization, those who have tested positive for the virus and have been instructed to self-isolate and as a precautionary measure for high-risk individuals.
Supporting residents in maintaining housing and addressing the housing needs of first responders will remain a critical component to mitigating the short- and long-term effects of the COVID-19 pandemic. In times of crisis, counties remain among the leading champions and advocates for residents and communities. As the outbreak unfolds, it is important that counties continue to serve as resources for one another.
Standard