FDA approves the Pfizer vaccine for emergency use, the first vaccine to be approved for the prevention of COVID-19
As key administrators of the vaccine, counties need additional fiscal support from the federal government in future COVID relief packages
On Friday, December 11, the Food and Drug Administration (FDA) issued the first emergency use authorization (EUA) for the Pfizer-BioNTech vaccine. The EUA authorizes the vaccine to be used for the prevention of COVID-19 in individuals age 16 years and older.
FDA approval came after an outside panel of experts on the Vaccines and Related Biological Products Advisory Committee (VRBPAC) made the recommendation to grant the EUA in a 17-4 vote on December 10. This authorization indicates that the Pfizer-BioNTech COVID-19 vaccine has met the necessary statutory criteria and that a review of the safety, efficacy and manufacturing quality data provides evidence that the vaccine may be effective in preventing COVID-19. Furthermore, the data supports that the potential benefits of the vaccine outweigh the risks.
Shipments of the vaccine began within 48 hours of the approval on Sunday, December 13, with the first doses arriving at vaccination sites within 1 day. Vaccines are being distributed to every state, territory and the District of Columbia as well as several major cities with assistance from FedEx, UPS and United Airlines and American Airlines.
On December 18, exactly a week after the approval of the Pfizer-BioNTech vaccine, the FDA issued an EUA for Moderna's COVID-19 vaccine for use in individuals 18 years and older. The Moderna EUA was issued after VRBPAC recommended the vaccine be approved in a 20-0 vote, with one abstention, on December 17. Shipments of the Moderna vaccine have already begun. 
On December 3, an independent committee recommended by vote that health care personnel and residents of long-term care facilities be vaccinated first, during what is being called Phase 1a of distribution. Counties own, operate and financially support over 900 hospitals, 824 long-term care facilities and 1,943 local health departments — all entities whose staffers will be vaccinated in this first phase of distribution and will be key administrators in later phase vaccinations.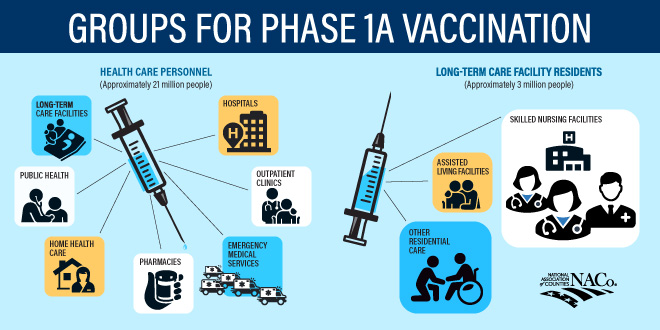 The infrastructure that counties need to prepare for the mass distribution of a vaccine is extensive and will require enhanced resources for vaccine storage, provider staffing and training and updating technology and data systems to track vaccine inventory and ensure that individuals are getting accurate dosages.
To date, the CDC has released approximately $200 million in funding to states and local governments for vaccine planning efforts, much of which did not reach county health officials. However, aside from this allocation, state health officials are estimating that approximately $8 billion will be needed in total, of which:
$3 billion would be used for workforce recruitment and training,
$1.2 would be used for cold supply chain management which includes transportation, storage, equipment and training for staff
$500 million would be used for technology and data system enhancements.
No official announcement has been made by CDC or the U.S. Department of Health and Human Services (HHS) on additional funding distributions to states and localities for vaccine planning and distribution efforts.
The approval of the Pfizer-BioNTech and Moderna vaccines comes on the heels of ongoing negotiations by federal lawmakers on the next round of COVID-19 relief. Despite attempts to reconcile differences on what should be included in this next relief proposal, aid to state and local governments continues to be a point of contention and has been left out of the final bill.
Now more than ever, counties need direct and flexible aid to meet the demands of COVID-19 vaccine administration in their local communities and continue to provide essential health services. We are calling on Congress to pass a package that will honor the work of our frontline workers by providing this additional aid.
For more information on counties and COVID-19 vaccine planning please visit www.naco.org/covid19/vaccine-distribution-plans.