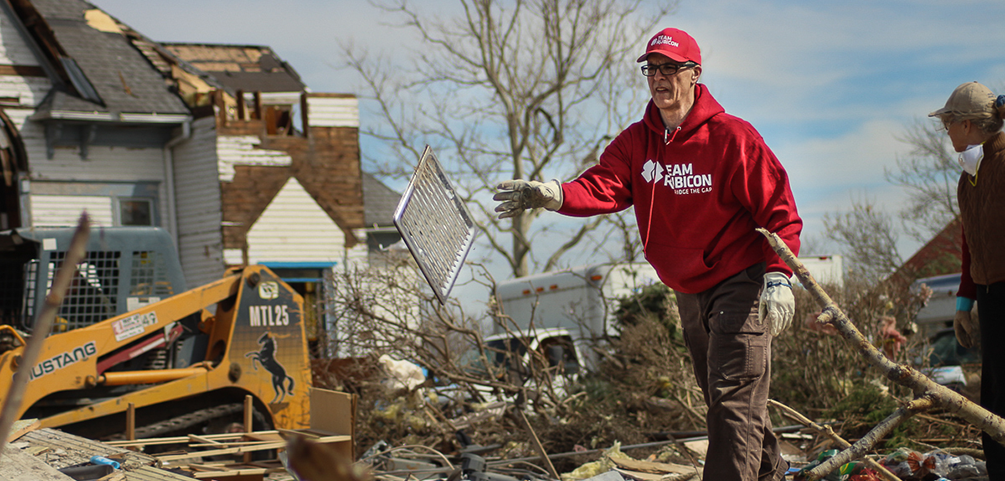 Labor of Love
Team Rubicon saved Ryan Creel's life, though not by pluck­ing him from flood waters or freeing him from rubble left by an earthquake.
A nonprofit organization, Team Rubicon (TR), based in Los Angeles, rapidly deploys military veterans to disaster sites, domesti­cally and abroad. Their mission, quite simply, is to do whatever recovery work needs to be done — be it debris removal, damage as­sessments or emergency structural repairs — all free of charge.
Creel was a combat photogra­pher in Iraq, where he documented "atrocities" carried out by Iraqi insurgents, according to Ken Harbaugh, Team Rubicon's chief operations officer. "He came back from Iraq pretty damaged and spent months in an inpatient facility" where he battled post-traumatic stress.
"Ryan has said to me with no equivocation that Team Rubicon saved his life," Harbaugh said. "I've got half a dozen stories like that, that I've been involved with directly, and dozens of others I hear about."
The organization recently received an award for social entre­preneurship from the Manhattan Institute that included a $25,000 prize to "nurture private solutions to difficult public problems."
"Disasters are very much like war zones,"' Harbaugh said. "Veterans are able to lead teams of disparate individuals; they are able to work in austere environ­ments. They are able to solve problems with a bare minimum of resources."
Counties Benefit from Rapid Response
TR has been active in counties throughout the United States since its founding in 2010. Last month, a team reported for duty in Richland County, S.C. in the wake of thousand-year flooding. That same month, another group was on the scene in Okanogan County, Wash., where fires charred the landscape, claiming the lives of three firefighters.
And Team Rubicon volunteers were in DeKalb County, Ill. in April, after tornadoes roared through the area.
"We were fortunate that they came onboard with us," said Dennis Miller, DeKalb County's emergency services coordinator. Without their help, "We'd still be there (six months later); buildings would still be half torn down, half demolished."
Volunteers have responded to scores of disasters in counties in California, Colorado, Florida, Vermont, Virginia and Wyoming, among other states.
TR is the brainchild of two ex- Marines, Jake Wood and William McNulty, its cofounders. In the beginning, five years ago, they were part of an eight-person team who traveled to Haiti in the aftermath of the January 2010 earthquake. Today, the organization says it has more than 30,000 volunteers nationwide, ready to respond at a moment's notice.
Crossing the Rubicon
Team Rubicon takes its name from the idiom, "crossing the Ru­bicon," as Julius Caesar did in 49 B.C. when he crossed the Rubicon River in Italy — committing to a course of military action from which there was no retreat.
The nonprofit's logo — a cross, on its side, one half red, the other white with a symbolic river run­ning through it — embodies TR's ethos: "We bridge the gap between disasters and when traditional aid organizations get to work. We bridge the gap between military and civilian life."
Today, Team Rubicon operates on a $7 million annual budget. Harbaugh, a former Navy pilot, isn't surprised by the growth. He has deployed on several TR mis­sions, including responding to Ty­phoon Hayan in the Philippines.
"For so long, the idea of re­integrating veterans has focused on taking care of them and providing for them, and seeing them as objects of the mission," he explained. "The fact that we have flipped that whole narrative on its head and tapped into this innate desire among the millions of post-9/11 veterans to continue serving their community and the wider world — that's really been the reason behind our success and our growth." Vets from other eras volunteer as well.
Too often, returned vets with problems — from homelessness to substance abuse to traumatic brain injuries — are viewed negatively. Somehow, they come to be seen as the rule, not the exception.
Veterans are "hungry" for an organization that recognizes the value they can bring back to their communities, Harbaugh said — "the fact that they're assets, not liabilities, and have a tremendous amount left to give."
Dollars and Cents
In Washington, Maurice Good­all, who heads Okanogan County's Department of Emergency Man­agement, said TR members are a bargain.
"These people are coming in at no cost to taxpayers, at no cost to the government, and they're put­ting their efforts forward through donations and what not, and they are helping clean up," he said. "You make the full circle. It's helping the [volunteer] that's cleaning up, it's helping the victim, and it's helping the public because of the govern­ment not having to step in and do all of this."
Team Rubicon catalogs re­sponse data for each of its missions. After Superstorm Sandy in 2012, it marshalled 350 volunteers who logged nearly 36,000 hours. The value of the work performed topped $3.8 million; that's based on national standard costs for volunteer hours, according to Jaya Vadlamudi, a spokesperson for the organization.
TR volunteers are about 80 percent veterans and 20 percent civilians, many of them are local or state first responders, or have special skills, Harbaugh said. A byproduct of that intermingling is veterans getting the chance to in­teract with civilians and vice versa.
"What we've found that is one of the best things for our vets who are struggling to reintegrate and re­adapt to civilian society," he added, "is building those friendships, those relationships with civilians, not just for creating a personal network but for learning how to interact, how to share their story. It can be a powerful bonding experience for our veteran members."
For most disasters, the vol­unteers who respond come from within a few hours' drive of the location, Harbaugh said. When free air travel is required, TR works with Airlink, a rapid-response, humanitarian-relief organization that links more than 30 airlines worldwide with prequalified non­profits.
Team Rubicon also provides training for its volunteers. It has a full-time mental health counselor and provides multi-day suicide intervention training, he said.
One of the tasks that TR re­sponders often take on is managing "spontaneous volunteers" in the wake of disasters, those just show up and want to help. Harbaugh recalled a response to tornadoes in Arkansas where 40 TR volunteers put 3,900 civilian volunteers to work.
"That has a real effect on the way those people think about the military vets thereafter," he said.
"They show up wondering what to expect and within minutes, they're organized and led by teams of confident and charismatic and inspiring veterans who aren't damaged goods; they're not PTSD-ridden — although they may suffer from it, but it's not debilitating," he said. "They're not hollow shells of their former selves; they are con­tributing members of society who are good at what they do because of their time in uniform, not in spite of it."
Happily Ever After
For Ryan Creel, the former Army photographer, Team Rubi­con helped him move beyond the trauma of war. He married Vanessa Valentine, an Air Force veteran he met on a TR deployment. They got hitched during another deployment — in September 2013 — in a Home Depot parking lot in Longmont, Colo. He was still a little muddy from mucking out flooded base­ments in nearby communities in Boulder County. Vanessa was able to change into some clean jeans.
Both now work for Wounded Warrior House, a veteran-serving nonprofit in Woodland Park, Colo., started by Creel's mother, Pamela.
Hero 1