This month marks three years since the launch of Stepping Up: A National Initiative to Reduce the Number of People with Mental Illnesses in Jails (Stepping Up).
Stepping Up was launched in May 2015 by  NACo, the Council of State Governments (CSG) Justice Center and the American Psychiatric Association Foundation (APA Foundation) to mobilize local, state and national leaders to achieve a measurable reduction in the number of people in jails who have mental illnesses.
Learn More
Since that time, more than 425 counties in 43 states, representing 40 percent of the U.S. population, have committed to building local leadership teams, identifying the number of people with mental illnesses who enter their jail systems, ensuring that those people are connected with services and developing a comprehensive plan for systems-level change.
May is also national Mental Health Month, providing an opportunity to raise awareness of mental health and the one in five Americans affected by mental health conditions.
To commemorate three years of Stepping Up and show support for Mental Health Month, the initiative partners have planned several activities to raise awareness of this important issue.
Building on the success counties have seen as part of their local efforts, Stepping Up is expanding its work to provide them with the tools they need to systematically identify people with mental illnesses who enter local jails. Stepping Up launched a national effort on May 1 to help counties collect accurate, accessible data on the number of people entering their jails who have mental illnesses. As part of the effort, seven rural and urban "Innovator Counties" have been selected as models for their expertise in accurately identifying these individuals and consistently collecting data on them.
Stepping Up's seven Innovator Counties — Calaveras County, Calif.; Miami-Dade County, Fla.; Champaign County, Ill.; Douglas County, Kan.; Johnson County, Kan.; Franklin County, Ohio; and Pacific County, Wash. — have each implemented this approach and will be sharing their experiences identifying and gathering data on the people who have mental illnesses entering their jails. Other counties that are already using or committed to using this approach are encouraged to become an Innovator County by contacting the initiative.
As part of this push, Stepping Up will provide technical assistance and resources to improve counties' mental health screening and assessment processes, and strengthen their data collection and tracking so that they are better equipped to deploy strategies that create a system-wide impact.
Stepping Up Day of Action
Since joining the initiative, many counties have taken significant steps toward reducing the number of people who have mental illnesses in jail. To continue this momentum, Stepping Up is organizing a national Day of Action on May 16.
During this Day of Action, county officials are encouraged to host an event or participate in local activities to share with constituents the progress they have made in addressing the prevalence of people who have mental illnesses in their jails, raise public awareness and understanding of this important issue and emphasize their commitment to creating data-driven, systems-level changes to policy and practice to achieve their Stepping Up goals.
More information and a toolkit for holding your own Day of Action events are available on StepUpTogether.org. Be sure to tell us about your event by emailing Nastassia Walsh at nwalsh@naco.org or using #StepUp4MentalHealth in your social media posts.
Livestream Event at NACo's WIR Conference
On Thursday, May 24, at 12:15 p.m. ET, NACo will host a Stepping Up workshop at its Western Interstate Region Conference in Blaine County, Idaho. "Stepping Up: Collecting Accurate and Timely Data on People with Mental Illnesses in Your Jail," will feature representatives from the three national Stepping Up partners, as well as presentations from Blaine County and three Innovator Counties: Douglas and Johnson counties, Kansas and Franklin County, Ohio.
The event will be livestreamed on NACo's Facebook page, Facebook.com/NACoDC. Join the conversation to hear about key strategies for accurately identifying people with mental illnesses coming into your jail and collecting consistent data on these individuals to better connect them to treatment and services and to inform strategic planning and funding to produce the best outcomes for your county.
---
Additional Resources
The initiative will continue to host regular webinars to provide counties with the resources they need to be successful in their efforts. The next webinar is on June 7 at 2 p.m. ET and will focus on Key Measure #1 of Stepping Up: Strategies to reduce jail bookings of people with mental illnesses. Register for all webinars at NACo.org/webinars. 
NACo recently released three documents to assist county's implementing Stepping Up:
— County Elected Officials' Guide to Talking to the Media and the Public About People with Mental Illnesses in their Jail
— County Elected Officials' Guide to the Six Questions County Leaders Need to Ask
— Stepping Up Six Questions Case Studies
Keep an eye out for upcoming resources from Stepping Up!
Stepping Up counties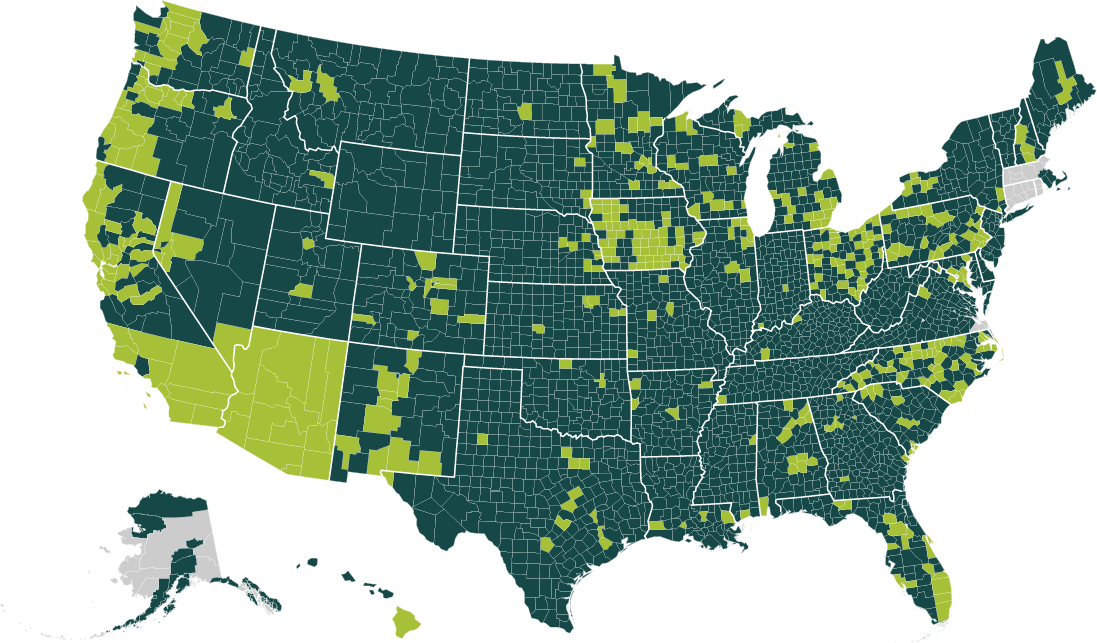 Hero 1